Modi gets tech chiefs to endorse 'Digital India'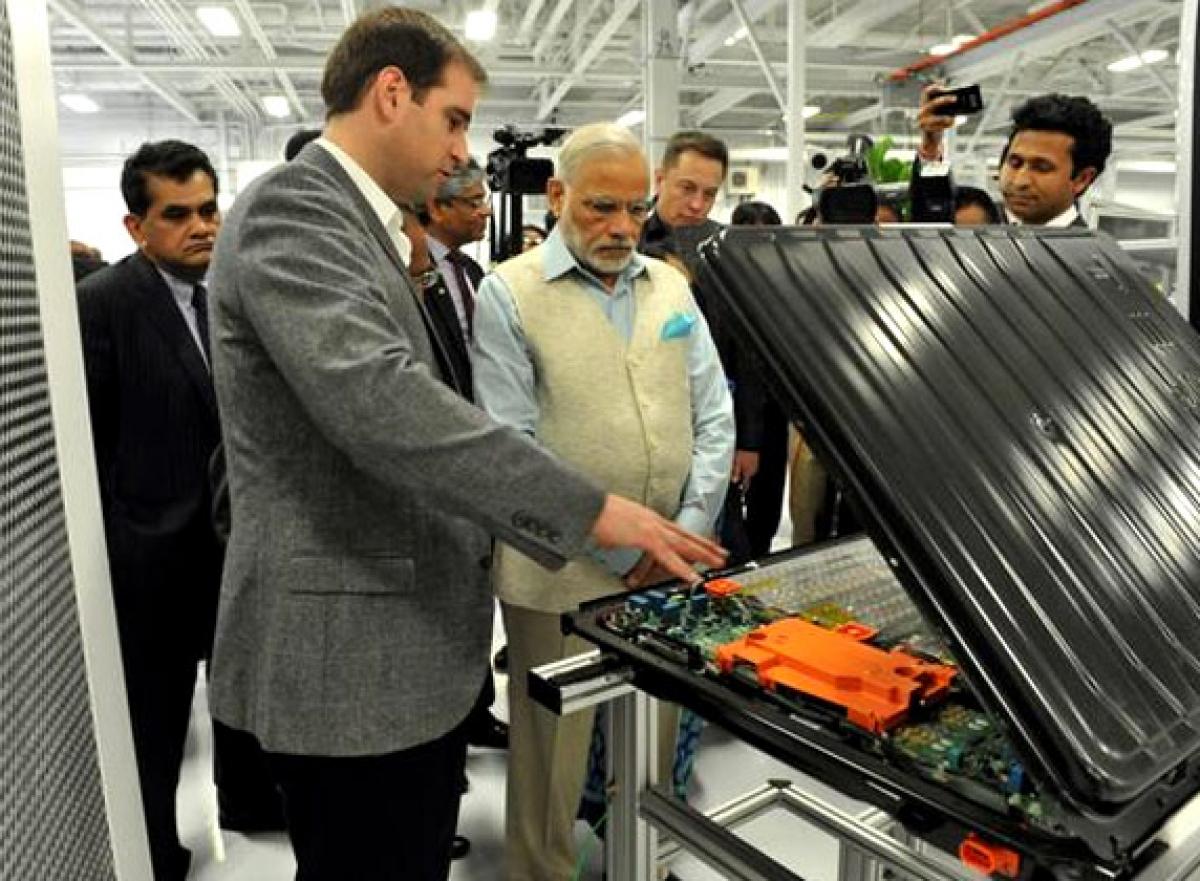 Highlights
Modi Gets Tech Chiefs To Endorse \'Digital India\' . Prime Minister Narendra Modi on Sunday left the tech world charmed at its very epicentre in Silicon Valley, securing an endorsement for his ambitions \"Digital India\" project..
ADVERTISEMENT
San Jose: Prime Minister Narendra Modi on Sunday left the tech world charmed at its very epicentre in Silicon Valley, securing an endorsement for his ambitions "Digital India" project from the chief executives of some of the world's top firms in the business like Apple, Qualcomm, Google and Microsoft.

The best in Modi's fame as a digital-friendly leader came at the dinner hosted for tech leaders at the packed ballroom of Fairmont Hotel, when he spoke of the virtues he saw by the adoption of new technologies in governance -- and even everyday life.
A fiery and forceful orator, Modi delivered a speech that was full of quotable quotes.
"If there was ever a gathering under one roof that could claim to be shaping the world, it is this," Modi said to an audience that included Apple chief executive Tim Cook, Microsoft's Satya Nadella, Google's Sundar Pichai, Qualcomm's Paul Jacobs, Cisco's John Chambers, Adobe's Shantanu Narayen and TiE's Venk Shukla.
"The status that now matters is not whether you are awake or asleep, but whether you are online or offline. The most fundamental debate for our youth is the choice between Android, iOS or Windows," the prime minister, himself an avid user of social media, said amid loud cheer.
None of his energy was lost at the final function of the day, after landing here in the late morning from New York -- the first Indian prime minister to visit the US West Coast since Indira Gandhi did in Los Angeles in 1982.
After exchanging pleasantries with the members of the Indin diaspora, upon landing at the Norman Y. Minte San Jose International Airport to a red carpet welcome, Modi immediately left for Tesla Motors' facility in Palo Alto for a tour of the company's trend-setting electric car plant.
He then met a host of tech leaders, before proceeding for the Digital India dinner. Earlier, a host of tech leaders said they were upbeat on engaging with India better.
"India under the prime minister's leadership is moving in the right direction with 'Digital India'," Qualcomm's Jacobs said, announcing a further investment of $150 million to fund Indian start-ups in areas from mobile to internet. The chip-maker already has invested in some dozen Indian firms.
Nadella appeared equally gung ho on India. "Now it is time for us to collectively empower people from all over the world," Nadella said, adding Micosoft intended to partner individual states, and tech companies in this regard. He said in Surat, the company was working with municipalities on data analytic systems.
Google's Pichai had a take on another of Modi's initiatives "Startup India" that intends to foster, nurse and promote entrepreneurship. "India is the fastest growing 'start-up nation' in the world," the Google chief executive said.
But they best, however, came from Modi himself, who spoke of how he and India have used technology, gained from it and intended to deploy it for the future -- and, more importantly, how he saw it as a key tool to empower people and make the lives of citizens better.
"I see technology as a means to empower and as a tool that bridges the distance between hope and opportunity," he said. "In this digital age, we have an opportunity to transform lives of people in ways that was hard to imagine just a couple of decades ago," he said.
The government, he said, was using technology to impart scale and speed to development and for this there was also a need to bridge the digital divide and promote digital literacy in the same way as ensuring general literacy.
"We want our 1.25 billion citizens to be digitally connected. We already have broadband usage across India go up by 63 percent last year. We need to accelerate this further."
Th other initiatives outlined by him included aggressive expansion of the National Optical Fibre Network to take broadband to each of India's 600,000-odd villages, connectivity for every school and collage, and expansion of public Wi-Fi hotspots at airports and railway stations.
"When you think of the exponential speed and scale of expansion of social media or a service, you have to believe it is equally possible to rapidly transform the lives of those who have long stood on the margins of hope. So friends, out of this conviction was born the vision of 'Digital India'."
Some of Prime Minister Modi's other remarks at "Digital India" dinner:
- From large corporates to young professionals in this great centre of innovation, each can be part of 'Digital India'
- We recognize that 'Digital India' cannot not be built without bridging the digital divide
- Status now is not whether you are awake or asleep. It is whether you are online or offline
- If Facebook were a country, it would be the third most populous one and the most connected
- Google has made teachers less awe-inspiring and grandparents more idle
- Twitter has turned everyone into a reporter
- After MyGov.in, we launched Narendra Modi Mobile App, which is helping me stay in close touch with people
- We will use information technology to set up Smart Cities in India
- Like airports, we will have WiFi at 500 railway stations in India with Google as partner
- We will connect all schools and colleges with broadband
- We will expand our public WiFi hotspots.