Meet of Pacific Trade Ministers today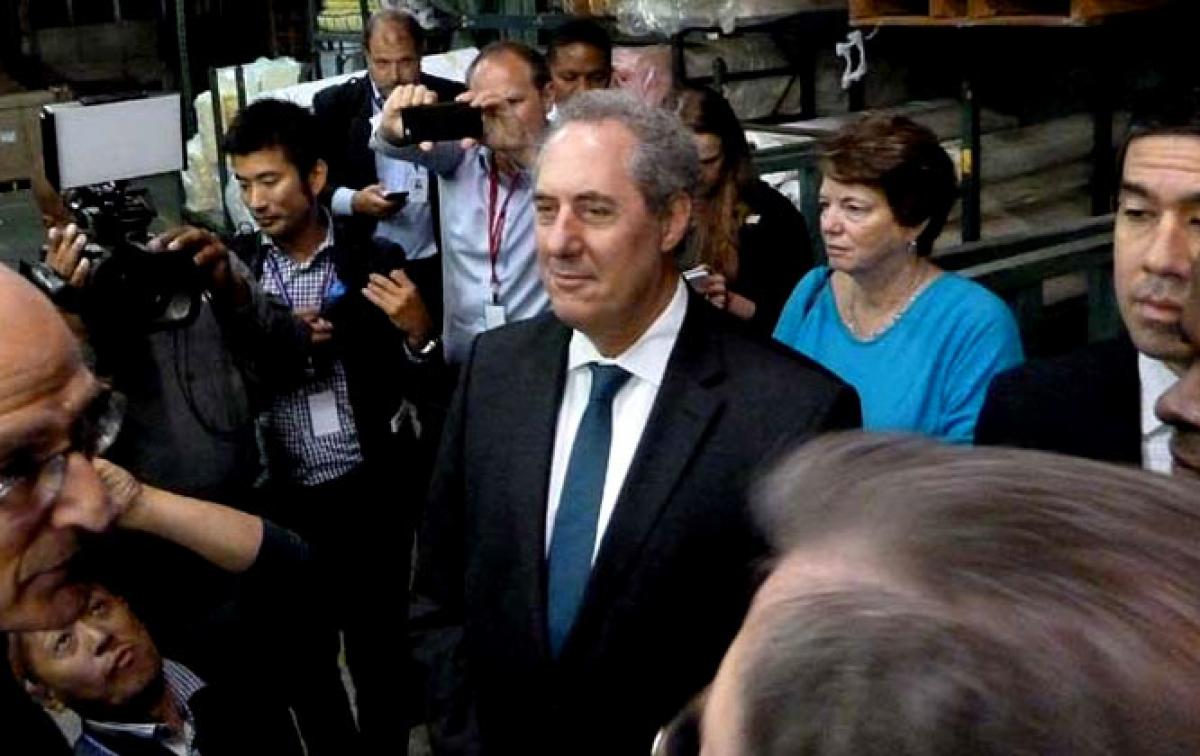 Highlights
Meet Of Pacific Trade Ministers Today. Trade ministers of 12 Pacific Rim countries failed again to conclude a deal on a huge free-trade area and will meet one more time today in hopes of reaching agreement.
Atlanta: Trade ministers of 12 Pacific Rim countries failed again to conclude a deal on a huge free-trade area and will meet one more time today in hopes of reaching agreement.


The ministers attempting to nail down a deal encompassing 40 per cent of the global economy began meeting late on Saturday with hopes of a breakthrough, but the talks in Atlanta broke up after only about 15 minutes, with little progress.

Already once this year, in July in Hawaii, trade ministers gathered with expectations of a deal and left empty-handed.

"The main issues are still biologics and the dairy trade, between the US and Canada and New Zealand. The automotive issues are mostly settled," said an Asian official after the latest meeting.

Officials said that Sunday will be the last chance for an agreement during this round, with Japan's economy minister Akira Amari due back in Tokyo for a cabinet reshuffle and others headed to Istanbul for a G20 meeting Monday.

The ministers have been meeting since Wednesday and have been stuck for most of the time on the same two problems

The toughest one is on US demands for longer patent protections than generally accepted for biologics, or medicines derived from living materials.

Amari told Japanese reporters after the meeting that the main difference was between Australia, which has defended its standard of five years of protection for creators of the drugs, and the US, which currently gives 12 years' protection but is willing to compromise at eight years.

But others, including Peru, are also not budging on higher protections, other officials said.

The other major sticking point is a mainly three-way tug-of-war over lowering barriers to the dairy trade, between the United States, Canada and New Zealand.

There was hope but no clear indication that the divisions could be surmounted Sunday.

The Trans-Pacific Partnership (TPP) is an ambitious idea pushed hard by the administration of President Barack Obama to create a free-trade area that would address "21st century trade issues" such as intellectual property protections, digital trade rights and protections for investors.

The Obama administration also hopes that China, the world's second-largest economy, would eventually be forced to accept the standards locked into place by the TPP, especially if other countries like South Korea join it as expected.

The negotiations have been carried out for several years under a tight veil of secrecy on the details of the agreement, with critics saying the beneficiaries will mostly be corporations.

Issue of drug costs

The most difficult point has proved to be patent protection for biologics, cutting-edge drugs derived from living organisms, sometimes through genetic manipulation, that are proving valuable sources of treatments for everything from arthritis to cancer.

Much of the world grants the makers five years of market protection from competition, while Japan and Canada give eight years.

Critics saying the result of longer protections will be higher drug costs for people and for public health programs like Australia's.

The global health organization Doctors Without Borders says the lengthy US protections will give drug companies "monopolies" on treatments, preventing others from making generic-like "biosimilar" drugs that can be sold more cheaply.

On the other side is US industry, which is pressing the talks via Congress which must ratify the TPP deal to defend the US standards.

A senior senator who enjoys close support from the drug companies, Orrin Hatch, sent a sharp warning on Wednesday to the US team.

"No one at least no one from our side of the negotiations should be in a hurry to close talks if it means getting a less-than-optimal result for our country... If the agreement falls short, I will not support it."

Interested in blogging for thehansindia.com? We will be happy to have you on board as a blogger.