Google Doodle hails 105th year of South Pole conquest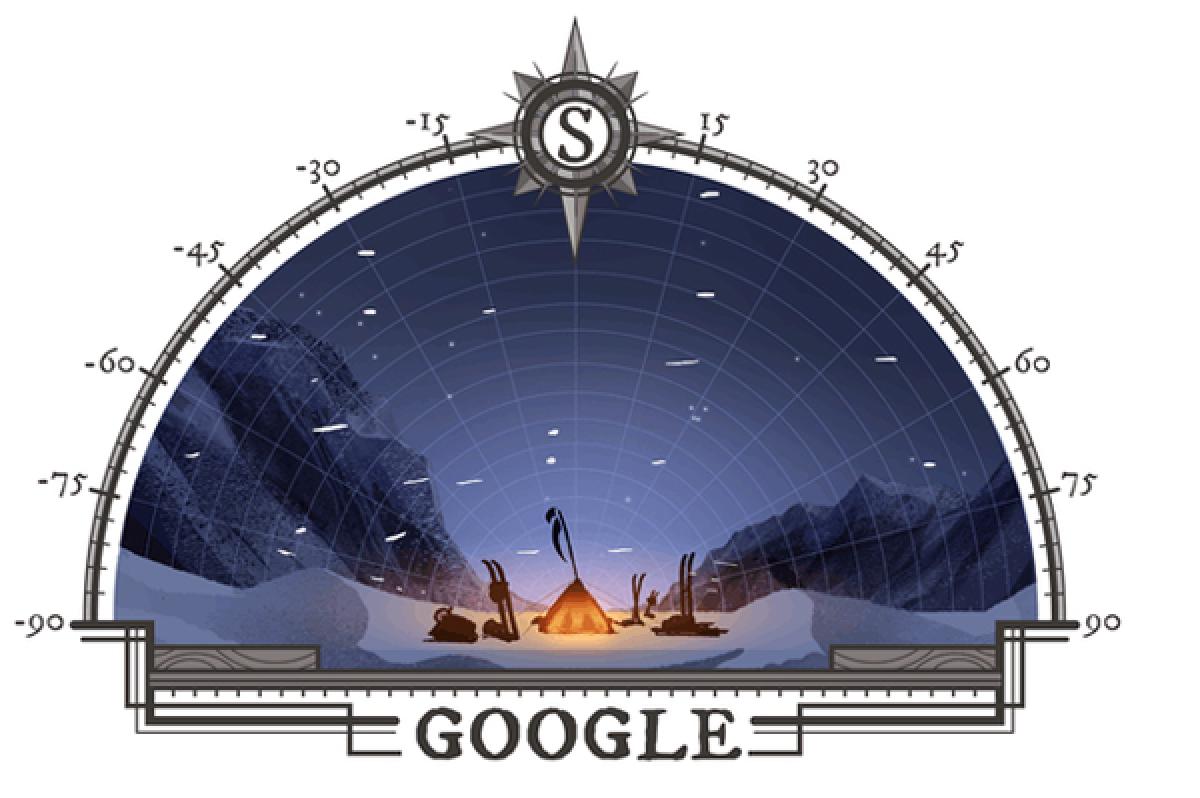 Highlights
Google on Wednesday saluted the 105th anniversary of the great Norwegian explorer Roald Amundsen\'s Antarctica expedition and conquest of the South Pole with a special Doodle dedicated to his epic journey on December 14, 1911. Amundsen\'s expedition comprised just 19 people and nearly 100 Greenland sled dogs, who along with the use of skis to cross treacherous terrain, were key to the team\'s success
Mumbai:Google on Wednesday saluted the 105th anniversary of the great Norwegian explorer Roald Amundsen's Antarctica expedition and conquest of the South Pole with a special Doodle dedicated to his epic journey on December 14, 1911.
Amundsen's expedition comprised just 19 people and nearly 100 Greenland sled dogs, who along with the use of skis to cross treacherous terrain, were key to the team's success.
Known as the 'last of the Vikings', the 39-year old Amundsen had raced another British explorer Captain Robert Falcon Scott and left his party behind by five weeks to reach the icy-cold 'bottom' of the world that day.
Amundsen, along with Helmer Hanssen, Sverre Hassel and Oscar Wisting erected a tent at Polheim and hoisted the flag of Norway, and at the bottom of the tent marked it 'Fram', the polar exploration ship on which the expedition was carried out.
The Doodle depicts the crew with a tent at the finishing line, skis, sleds, dogs, and the flag fluttering furiously, fighting a snow storm in a stark grey-white background, indicating the harsh conditions down there.
Later, Amundsen - a lifelong adventurer with a gift for organisation and planning said: "Victory awaits him who has everything in order" and his South Pole conquest was a perfect illustration of that principle.
Like the dogs, the explorers were aware that playfulness could help them endure the extreme conditions of the icy frontiers south under.
While prepping from Framheim, their base camp in the Bay of Whales, the team maintained a sense of fun -- playing games, holding 'guess-the-temperature' contests, celebrating birthdays and telling stories.
When a sub-crew made the final trek to the South Pole in December 1911, it was their camaraderie and meticulous preparations that helped them win the race to "the bottom of the world".
"In honour of that achievement, today's Doodle depicts the crew at the finish line, taking a moment to bask in the glory while the Antarctic wind whips outside their tent," the Doodle tribute said.
Amundsen, who also conquered the North Pole years later, disappeared along with four others while on an air rescue mission to the Arctic on June 18, 1928.
It was after five decades in 1960 that Indian Navy's Lt Ram Charan became the first Indian to set foot on the Antartica as part of an Australian Polar Expedition.
Indian marine biologist, S.Z. Qasim led the first Indian expedition to Antarctica in 1981-1982, paving the way for India's entry to the icy continent for research and setting up a permanent base there.
Later, Qasim guided seven other expeditions to the 'bottom of the world'. He died aged 89 in 2015.