UN Chief Ban ki-moon addresses to reports of running for president of South Korea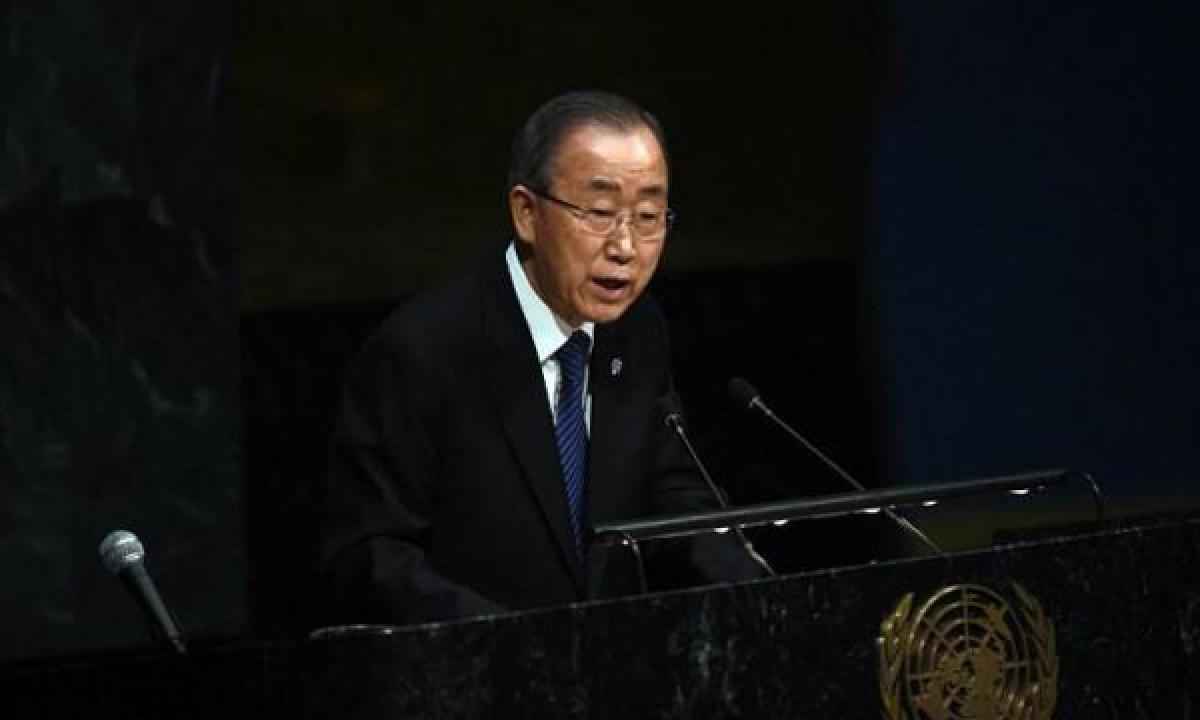 Highlights
Secretary-General Ban Ki-moon has addressed mounting speculation that he will run for president of South Korea, saying he will decide how to best help his country when he returns home in early January after 10 years as UN chief. Ban told his final UN press conference that after taking some rest he plans to meet \"as many people as possible,\" including political leaders, members of civil society
Secretary-General Ban Ki-moon has addressed mounting speculation that he will run for president of South Korea, saying he will decide how to best help his country when he returns home in early January after 10 years as UN chief.
Ban told his final UN press conference that after taking some rest he plans to meet "as many people as possible," including political leaders, members of civil society and his friends. "I will really consider seriously how best and what I should and I could do for my country," he said yesterday.
Ban said South Korea is "in turmoil" following the explosive corruption scandal involving President Park Geun-hye, whose powers were suspended last week after lawmakers voted to impeach her. "I can understand and share the anxiety of people about the future of their country," he said. "And this is one of the biggest challenges the Korean people are encountering."
Ban said the people of South Korea don't want to lose their hard-earned democracy and economic development that has transformed the country from a recipient of aid to a global donor. This is a source of pride and South Korea has been an example for other nations, he added. "I also understand the aspiration of people for a new type of inclusive leadership that can help them overcome the challenges ahead," Ban said yesterday.
He cited many issues, including reconciling differences in thinking, in income and on "regionalism" as well as tackling social integration. "At the same time, while all these seem to present great challenges for Koreans and (the) Korean government, I'm confident that the Korean people, with their resilience and very matured democratic institutions ... will be able to overcome these difficulties soon," Ban said.
Conservatives in South Korea appear to be pinning their hopes on the outgoing UN chief becoming a candidate for president after Park's scandal complicated politics for her conservative Saenuri Party.
In a presidential poll conducted last week by Gallup Korea, Ban and former Democratic Party leader Moon Jae-in were tied at 20% with Park critic Lee Jae-myung, the mayor of a satellite city of Seoul, surging to 18%.
South Korea's next presidential election is scheduled to be held in December 2017, but if Park's impeachment is upheld by the Constitutional Court, a new vote would take place in 60 days. Ban spoke about another major issue for his country, North Korea, when he was asked about prospects for northeast Asia.
He recalled that many people have said the 21st century will be "an era of Asia-Pacific," and northeast Asia has been seen as the powerhouse of economic growth in the region. "That means China and Japan, (South) Korea and these are very important drivers and have been commended, even envied ... by many countries around the world for their dynamic growth," Ban said.