50 dead, 100 injured in suicide attack on Sufi shrine in Pak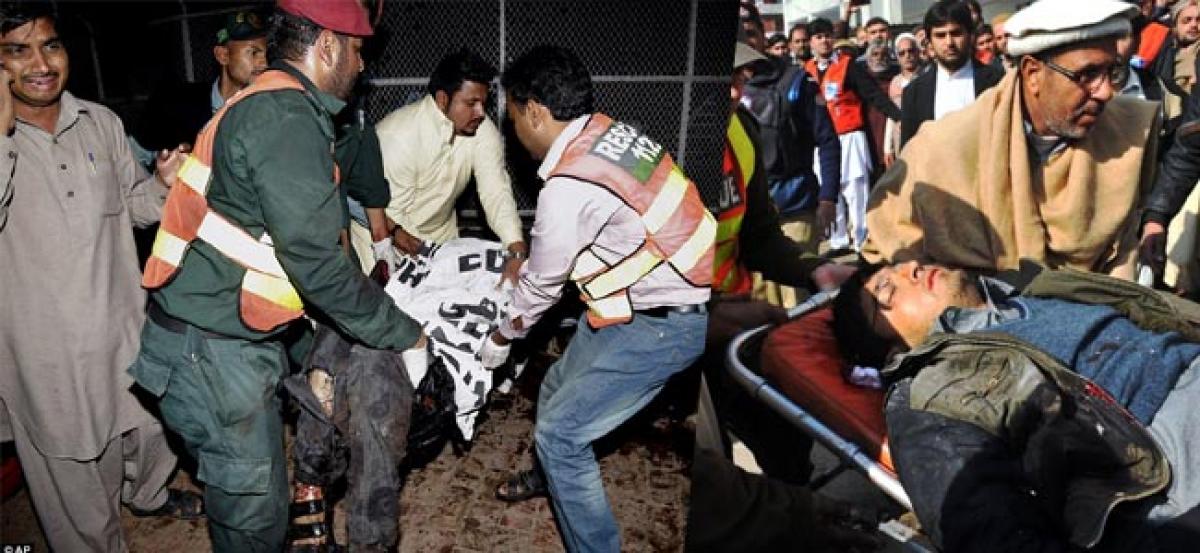 Highlights
Fifty people were killed and 100 others injured tonight when a suicide bomber blew himself up inside the crowded shrine of revered Sufi Lal Shahbaz Qalandar in Sehwan town in Pakistan
Karachi: Fifty people were killed and 100 others injured tonight when a suicide bomber blew himself up inside the crowded shrine of revered Sufi Lal Shahbaz Qalandar in Sehwan town in Pakistan's Sindh province, the fifth deadly terror attack in the country within a week. The bomber entered the shrine through its Golden gate and blew himself up near the site where the daily ritual of sufi dance 'Dhamal' was taking place. He first threw a grenade, which failed to explode, senior police officers said. Hundreds of devotees were present inside the premises of the vast mausoleum of the saint at the time of blast.
"He first threw a grenade to cause panic and then blew himself up," the Senior Superintendent of Police Sehwan said. Citing Taluka Hospital Medical Superintendent Moinuddin Siddiqui, Dawn reported that at least 50 bodies and more than 100 injured were brought to the hospital. Faisal Edhi of the Edhi foundation said the number of casualties rose to 50. "We have shifted some 40 bodies to hospitals in Hyderabad and Jamshoro so far," he said. No group has claimed responsibility for the attack. The Tehreek-e-Taliban militants have frequently targeted Sufi shrines across Pakistan. More than 25 shrines across the country have been attacked since 2005, according to reports.
Commissioner Hyderabad Kazi Shahid said since the shrine was located in a remote area, some 130 kms from Hyderabad, ambulances and vehicles and medical teams were being sent from Hyderabad, Jamshoro, Moro, Dadu and Nawabshah to the blast site to take care of the injured and move the bodies. "Emergency has been declared at hospitals in these places and rescue operations have started," he said. Sindh Chief Minister Syed Murad Ali Shah said that the Pakistan army had been requested to provide night flying helicopters to shift the dead and injured. "Yes it is a tragic incident and because the shrine is away from a major city there have been problems in providing rescue operations," he said.
Initial report suggests that it was a suicide bombing on portion reserved for women in the shrine, the Dawn reported, quoting SSP Jamshoro Tariq Wilayat. "It seems to be a suicide bombing according to initial information provided by Sehwan police to me and I am on way to Shewan," Wilayat said. Rescue officials said due to the non availability of adequate ambulances at the shrine the toll could rise. Devotees gather at the shrine of the revered Sufi saint every Thursday to participate in a dhamaal and prayers. Television channels reported that dead bodies and injured were lying inside the shrine of Lal Shahbaz Qalandar, a Sufi philosopher-poet of present-day Afghanistan and Pakistan.