Airport killing seen on CCTV, probe strains Malaysia-North Korea ties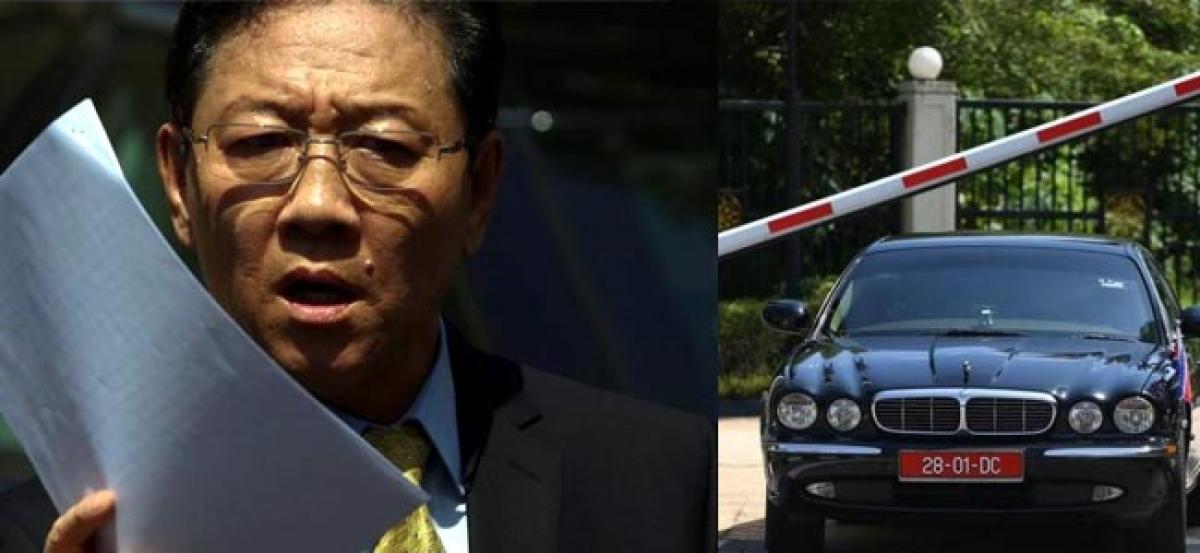 Highlights
Footage from airport cameras purportedly showing the assault on the half-brother of the North Korean leader emerged on Monday as a row between Malaysia and North Korea escalated over the handling of the investigation into the killing of Kim Jong Nam.
KUALA LUMPUR: Footage from airport cameras purportedly showing the assault on the half-brother of the North Korean leader emerged on Monday as a row between Malaysia and North Korea escalated over the handling of the investigation into the killing of Kim Jong Nam.
Malaysia recalled its envoy from Pyongyang and summoned North Korea's ambassador in Kuala Lumpur, who again cast doubt on the impartiality of the Malaysian investigation and said the victim was not Kim Jong Nam.
Malaysian police are hunting four North Koreans who fled from the country on the day of the attack, having already detained one North Korean man, a Vietnamese woman, an Indonesian woman, and a Malaysian man.
At least three of the wanted North Koreans caught an Emirates flight to Dubai from Jakarta late on the same day of the attack, on Monday last week, an immigration office official in the Indonesian capital told Reuters.
Malaysia's Star newspaper reported that all four had returned to the North Korean capital, Pyongyang.
South Korean and U.S. officials have said the killing of Kim Jong Nam was probably carried out by North Korean agents.
CCTV footage, released by Japanese broadcaster Fuji TV, purportedly showed Kim Jong Nam being assaulted in Kuala Lumpur International Airport by a woman, who is believed to have wiped a fast-acting poison on his face.
Reuters could not independently verify the authenticity of the video, and police officials were not immediately available for comment.
North Korea has sought to prevent Malaysia from conducting an autopsy, insisting the body be handed over directly.
Its envoy in Kuala Lumpur accused Malaysian authorities of "delaying" the release of the body.
"It has been seven days since the incident but there is no clear evidence on the cause of death and at the moment we cannot trust the investigation by the Malaysian police," ambassador Kang Chol told reporters after talks at the foreign ministry.
He said the embassy had only identified the victim as Kim Chol based on the passport found on the dead man, and suggested a joint investigation with Malaysian authorities. Kim Jong Nam had been caught using fake travel documents in the past.
Malaysia's foreign ministry announced the withdrawal "for consultations" of its ambassador in North Korea and said the body would be handed over to the next of kin, although none had come forward.
Malaysia's health minister said autopsy results could be released by Wednesday.
NORTH KOREA "GETTING BOLDER"
Acutely sensitive to events in its unpredictable and volatile neighbour, South Korea convened a meeting of its National Security Council on Monday.
Prime Minister Hwang Kyo-ahn told the meeting that it was nearly certain that North Korea was behind the killing.
Kim Jong Nam, 46, who has been living in the Chinese territory of Macau under Beijing's protection, had spoken out publicly against his family's dynastic control of isolated, nuclear-armed North Korea.
South Korean legislators last week cited their spy agency as saying the young and unpredictable North Korean leader, Kim Jong Un, had issued a "standing order" for his half-brother's assassination, and that there had been a failed attempt in 2012.
"The murder carried out in public at an international airport of a third country is an unforgivable and inhumane criminal act and clearly demonstrates the recklessness and brutality of the North Korean regime that will spare no avenues when it comes to perpetuating itself," Hwang said.
"The North Korean regime's terrorism tactics are getting bolder so we must be more vigilant about the possibility of terror by the North Korean regime against our government and people."
FINAL MOMENTS
The grainy CCTV images, posted on several websites, showed Kim, wearing a light-coloured jacket and pants and with a backpack on one shoulder, heading for an automatic check-in counter in the airport departure hall.
A woman approaches Kim from behind on the left and another - identified by Fuji as the Vietnamese woman, wearing a white shirt - walks rapidly up behind him from his right, before what appears to be a scuffle takes place.
In footage taken from another angle the woman in the white shirt appears to lunge from behind and throw something over his head, locking her arms around him briefly.
As she quickly walks away, the second woman also moves off rapidly in another direction, although it was not clear what role she had in the assault.
Later footage showed the portly, balding middle-aged man stumbling, wiping his face, and seeking help from people while gesturing to his eyes before being escorted to a clinic.
Just as he enters the clinic his steps appear unsteady, and as he goes inside medical personnel appear to move urgently.
The mother of the detained Indonesian woman told Reuters that her daughter, Siti Aishah, had been duped into believing she was part of a television show or advertisement.
According to Malaysian media reports, the Vietnamese suspect, Doan Thi Huong, told police she had been tricked into taking part in what she thought was a practical joke.
RISKING FURTHER ISOLATION
The row with Malaysia puts North Korea at risk of becoming even more isolated internationally.
Malaysia is among a dwindling number of Cold War-era friends with which North Korea - which has 53 embassies and other foreign missions, according to South Korean government data - has managed to keep up ties.
There is also speculation that China's patience with North Korea could be tested by the killing because Kim Jong Nam had been living in the Chinese-controlled territory of Macau, where he was headed when he was attacked.
China said on Saturday it had suspended all imports of coal from the North. China is seen to be irritated by the North's repeated aggressive behaviour, including two nuclear tests since the beginning of last year and a Feb. 12 intermediate-range ballistic missile launch the latest in a series of missile tests.
Coal exports to China are a vital source of revenue for the impoverished North.