Sand smugglers ditch rules, carry out biz as usual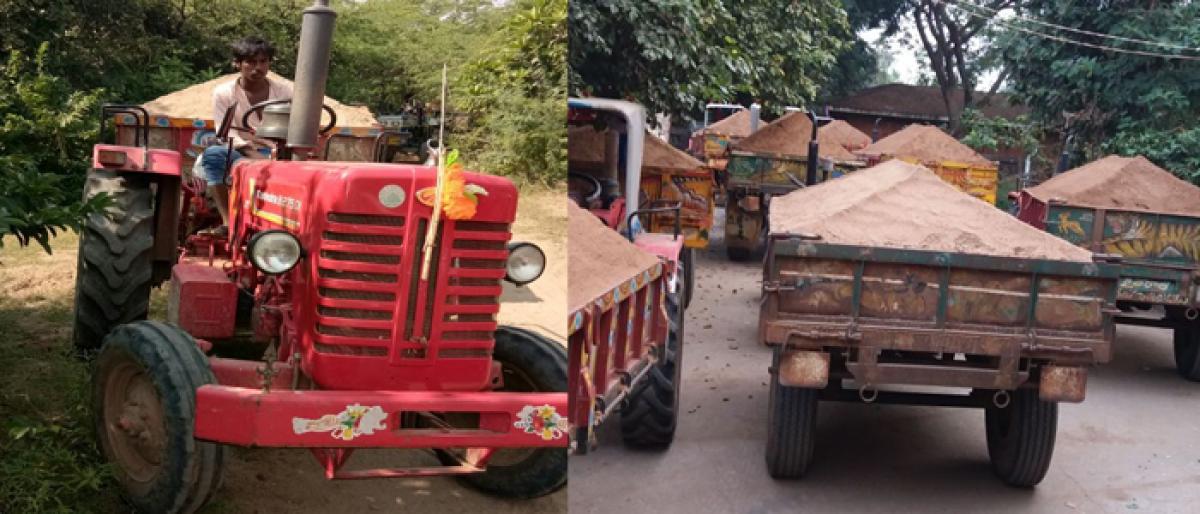 Highlights
Despite strict laws in place against sand smuggling, the Illegal transportation of sand is going unabated in the district, thanks to nexus between corrupt officials and sand dealers. The illegal transportation of sand from sand reach of Timmampet village of Mulkalapalli mandal and Kommandabanda Donka, Surnepalli and Painamaplli villages of Nelakondapalli mandal of Khammam district has been going f
Khammam: Despite strict laws in place against sand smuggling, the Illegal transportation of sand is going unabated in the district, thanks to nexus between corrupt officials and sand dealers. The illegal transportation of sand from sand reach of Timmampet village of Mulkalapalli mandal and Kommandabanda Donka, Surnepalli and Painamaplli villages of Nelakondapalli mandal of Khammam district has been going for the last few months.
There is a great demand for sand in Sarapaka and Bhadrachalam areas. Daily, around 60 tractors transport the sand from Timmampet sand reach to Sarapaka and surrounding areas of Bhadrachalam, where a tractor load of sand is being sold at Rs 3,000 to 4,000.
Meanwhile, some of the drivers engaged in transporting sand more than permitted load had said that they were not stopped at any check points as the owners would settle the issue with officials. "The sand is transported illegally to different regions of Sarapaka through Venkatapuram and Burgampahad mandals. Instead of keeping a vigil on sand smugglers, the officials are behaving negligently without taking any action against the offenders," alleged people of Burgampahad mandal.
From Kommandabanda Donka and Surnepalli to Painampalli and Chennaram villages, about 15 to 20 tractors of sand is transported illegally every day. The people of Surnepalli recently seized the tractors and handed over to Revenue officials. However, it is learnt that, the officials did not take any action against the offenders due to political pressure.
Meanwhile, the people are demanding the top rung officials of Police and Revenue departments along with motor vehicle inspectors of the mandals concerned to take immediate action and stop the illegal transportation of sand from sand reaches of Timmampet, Kommandabanda Donka and Surnepalli villages.