College dropout's sculptures doll up GES venues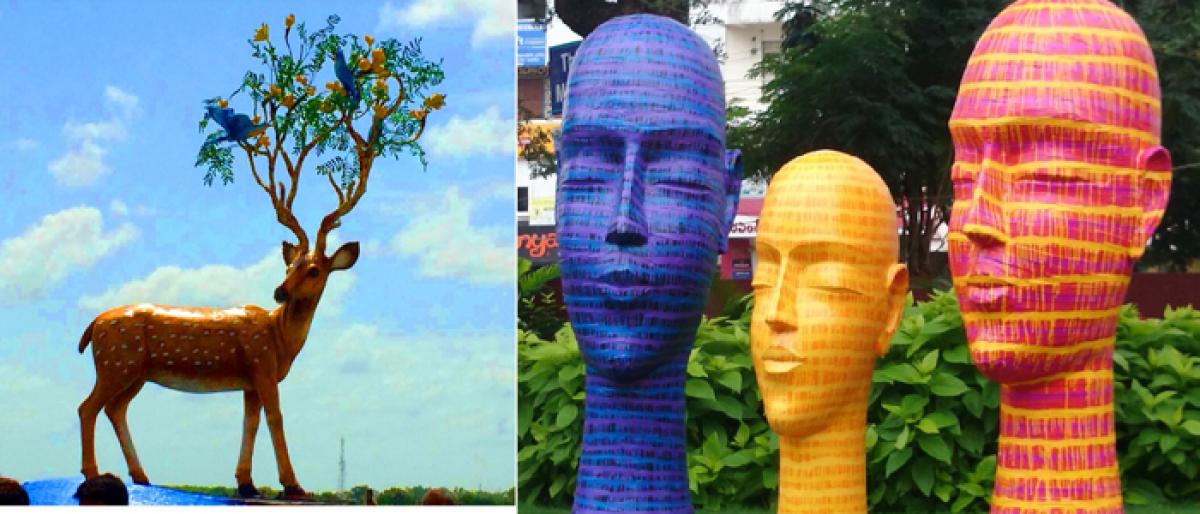 Highlights
His is a remarkable tale - from the dusty lanes of Abbanikunta in Warangal city to the lofty corridors of fine arts, from introvertish silence to gaining international acclaim. Chiluveru Manohar, whose sculptures that form major attractions at the three-day Global Entrepreneurship Summit (GES)-2017 to be held in Hyderabad from November 28, is someone who traversed across the world in his quest for
Warangal: His is a remarkable tale - from the dusty lanes of Abbanikunta in Warangal city to the lofty corridors of fine arts, from introvertish silence to gaining international acclaim. Chiluveru Manohar, whose sculptures that form major attractions at the three-day Global Entrepreneurship Summit (GES)-2017 to be held in Hyderabad from November 28, is someone who traversed across the world in his quest for interconnecting sculptural motifs.
The journey he had begun as a BCom dropout took a swerve on one fine day in 1991 when he decided to pursue five-year BFA (Sculpture) course. The gold medallist in BFA went on to complete MFA, besides adding quite a few expertise to his repertoire.
"It was a decision I took not out of melancholy stirred up by my scholastic backwardness but a soul-searching one. By then I found that sculpture is my forte and its where my life thrives," Manohar told The Hans India, reminiscing his childhood days. Inclination to arts has come like a natural corollary to the 47-year-old Manohar, the fourth of the eight siblings born to Lingamma and Ailaiah couple, in whose family someway or other way everyone has connection with painting or other art forms.
His mother, in Manohar's words, has so far painted 70-odd images for her Renuka Yellamma pictorial storybook and efforts are on to showcase it as Art for Old Age, projecting the initiative as 'art therapy'. It may be noted here that art therapy is a type of psychotherapy that utilises art and artistic mediums to help people explore their thoughts and emotions in a unique way. The idea is to encourage elderly persons take up fine arts in which they are adept.
Manohar's sculptures are thought-provoking and universal. His work exists in the space between spontaneity and preconceived ideas and thoughts. It begins spontaneously, travels through daily experiences and memories before it equates to the age that we are living in.
Talking about his passion for sculpting, Manohar said: "The four Keerthi Thoranas (gateway) at Fort Warangal, which I used to see enroute to school every day, might have invoked the sculpting legacy of the Kakatiya dynasty."
Manohar's sculptures are part of city beautification mission launched by Greater Hyderabad Municipal Corporation (GHMC) in association with his Kriya Odyssey Project at the Global Entrepreneurship Summit (GES)-2017. It may be noted here that Kriya Odyssey is a series of art works by Manohar, envisioned as a project that will travel to 24 art capital cities around the globe.
The maestro's works - Nava Devi, symbolising women empowerment, and Deer, said to be second largest in the world, etc – that occupy prime space on way to GES-2017 venue on Saturday could be cynosure of all eyes.
Manohar's artworks – 'Quest' near Urban Collectorate and 'Helping Hand' at Ambedkar statue can be seen in Hanamkonda. He thanked IAS BP Acharya, INTACH Warangal chapter convener Prof M Panduranga Rao, Banda Prakash, three of his classmates – P Kranthinath, KasamNamasivaya and S Santhosh who have supported him on his way to glory.