KCR delayed HMR launch: Congress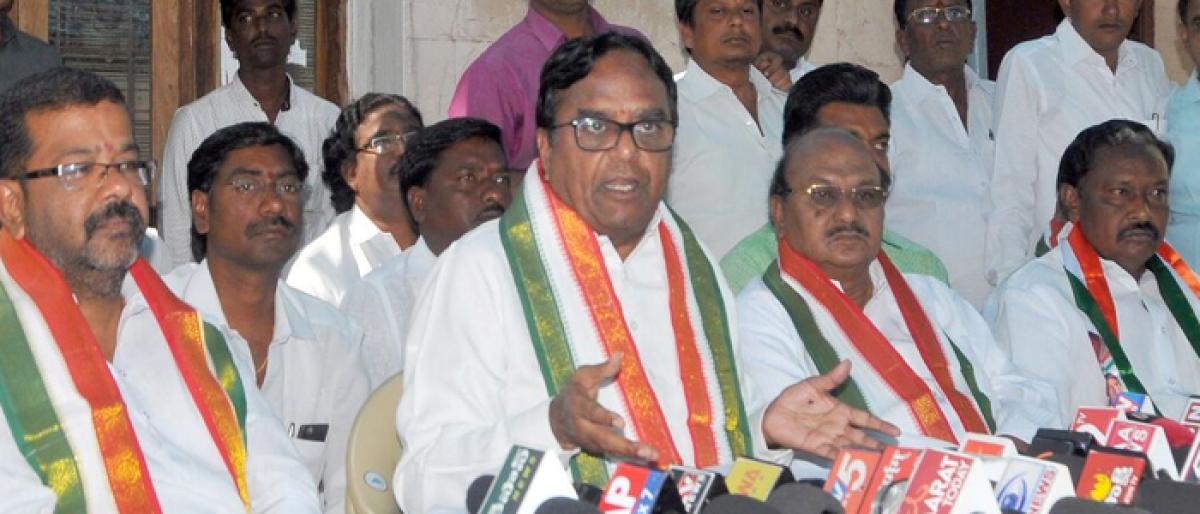 Highlights
The Chief Minister, K Chandrashekar Rao, was responsible for the delay in the completion of Hyderabad Metro Rail (HMR) and escalation of project costs, alleged Congress senior leader Ponnala Lakshmaiah. He said the escalation in the project costs resulted in higher travel fare in the Metro Rail. In the first slab, the fare fixed for two kilometres travel was Rs 10, which was equivalent of travelli
Hanamkonda: The Chief Minister, K Chandrashekar Rao, was responsible for the delay in the completion of Hyderabad Metro Rail (HMR) and escalation of project costs, alleged Congress senior leader Ponnala Lakshmaiah. He said the escalation in the project costs resulted in higher travel fare in the Metro Rail. In the first slab, the fare fixed for two kilometres travel was Rs 10, which was equivalent of travelling in a luxury car. Thus, the average price would be Rs 60, much higher than any other Metro Rail service in the country.
Speaking to presspersons in Hanamkonda on Tuesday, Lakshmaiah wanted the government to revise prices, which he said, were not within the reach of common people. He expressed qualms over the likelihood of success of Metro Rail on account of higher travel price, giving example of Delhi Metro, which lost nearly three lakh commuters after increasing the travel charges.
Saying the credit of conceiving and launching the Metro Rail project goes to previous Congress government led by late YS Rajashekara Reddy, he said the CM K Chandrasekhar Rao, who lacked vision, objected the project while in Opposition and delayed its execution for silly reasons for three years.
As a result, an additional cost of Rs 4,000 crore incurred. When L&T that executed the project wanted to recover the additional costs from the commuters, the CM has consented to it without any concern for the passengers. The CM must tender an apology for this, he said adding the government must bear the additional cost and bring down the Metro Rail prices. Further, the government had failed to honour protocol. Hyderabad Mayor was left out along with the Opposition leaders, he complained.
The Congress leader wanted the CM to get an assurance from Prime Minister Narendra Modi on delivering the promises made in AP Reorganization Act such setting up of Bayyaram Steel Plant, Coach Factory and Tribal University along with bifurcation of High Court at the earliest.
Lakshmaiah wanted the PM and the CM to respond on the ever increasing farmer suicides in Telangana. He described Chandrashekar Rao as an inhuman CM the State has seen as he failed to respond to the farmers' suicides.
On other hand other hand, the CM was making false claims on the floor of State Assembly on offering waiver of interest on crop loans. The truth was majority of farmers not even offered the loan waiver, let alone the interest, he alleged. Party leaders N Rajender Reddy, Rajanala Srihari, P Veeraiah, B Arogyam and EV Srinivas Rao were present.