Chintakindi Mallesham gets 1 crore govt aid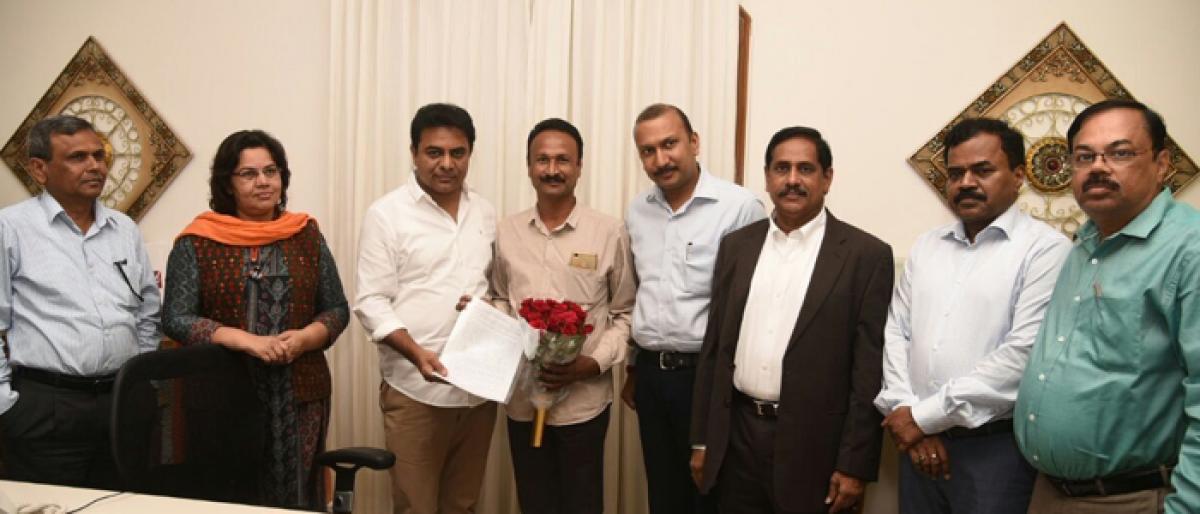 Highlights
IT and Textiles Minister K T Rama Rao on Tuesday said the government was giving complete support to handloom workers to get sustainable income for making better livelihood. He gave away a cheque of Rs 1 crore to Padma Shri Chintakindi Mallesham of Alair in Yadadri Bhuvanagiri district to produce adequate number of 'Lakshmi Asu' type of machines helpful for the handloom sector to increase cloth pr
Hyderabad: IT and Textiles Minister K T Rama Rao on Tuesday said the government was giving complete support to handloom workers to get sustainable income for making better livelihood. He gave away a cheque of Rs 1 crore to Padma Shri Chintakindi Mallesham of Alair in Yadadri Bhuvanagiri district to produce adequate number of 'Lakshmi Asu' type of machines helpful for the handloom sector to increase cloth production in a speedy manner.
Speaking at a programme here, the Minister appreciated Mallesham for developing the new machine. "There is a demand for 650 machines in the State right now and the government will support Mallesham to do research and make new inventions.
The machines are being produced from his home and now he can set up a company to manufacture the machines and make new inventions. The awardee can produce the machines which are helpful to handloom workers in producing Pochampally silk saris.
Funding by the government will help Mallesham to acquire machinery and get facilities required and boost the handloom sector by delivering them to the workers," Rama Rao said.
The Minister also promised to extend more funds for handloom development in future. Extending thanks to the Minister and the government, Mallesham said he would focus on producing the Lakshmi Asu machines to boost rural economy of handloom workers.