Bahujan Left Front will fight BJP, Cong, TRS: Tammineni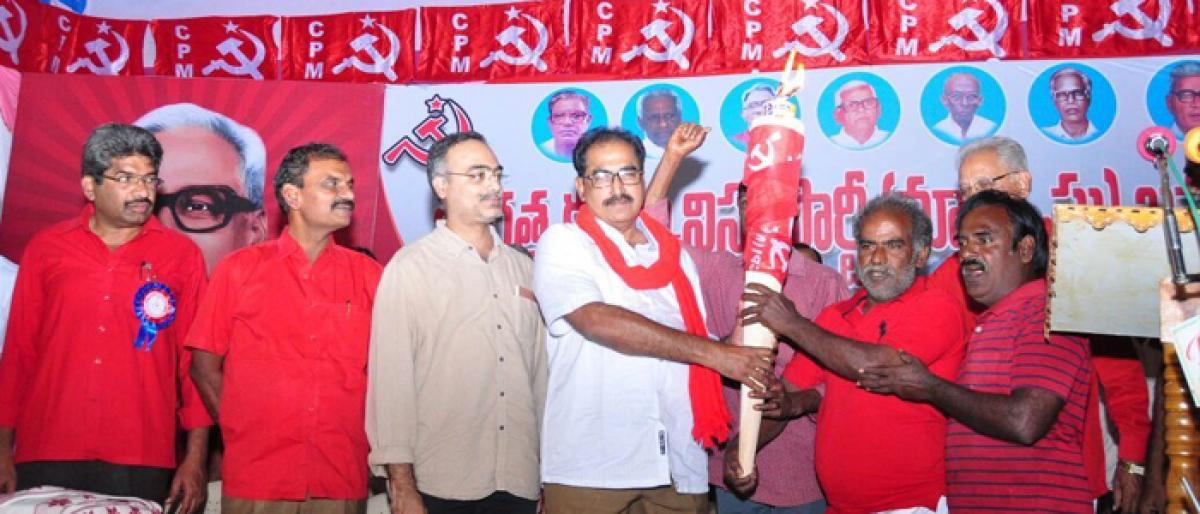 Highlights
State secretary of the Communist Party of India-Marxist (CPM) Tammineni Veerabhadram said CPM party was an alternative to Bharatiya Janata Party (BJP) and Congress. Speaking at the party's district-level conference at Wyra in Khammam on Tuesday, Tammineni said it was the best opportunity for the left parties to show the strength both at State and Centre as many drastic changes have occurred in the
Khammam: State secretary of the Communist Party of India-Marxist (CPM) Tammineni Veerabhadram said CPM party was an alternative to Bharatiya Janata Party (BJP) and Congress. Speaking at the party's district-level conference at Wyra in Khammam on Tuesday, Tammineni said it was the best opportunity for the left parties to show the strength both at State and Centre as many drastic changes have occurred in the field of politics in recent times.
Pointing out at the results of Gujarat elections, he stated that the people did not give expected majority to the Narendra Modi and to the BJP. Of the 165 Assembly seats, the BJP party won only 99, which showed that people were not on their side as they boasted during the election campaign.
With the union of about 31 parties, a 'Bahujan Left Front' will be formed and will contest in about 119 seats in upcoming up Assembly elections in Telangana to teach the ruling TRS party a befitting lesson, he informed, adding that an announcement in that regard would be done on January 28.
"The BLF will become an alternative to TRS and Congress parties in the Telangana State," he pointed, informing that the CPI had not given its nod to join in BLF, but might join in future. Tammineni further urged the leaders of various parties and people to join BLF to strengthen it.
Party leaders Nunna Nageswara Rao, Ponnam Venkateshwarlu, Y Vikram, Madineni Ramesh, Sk Bibi, M Radha Krishna, Y Srinivas Rao, Rama Rao, Narra Ramesh, Venkat Kumar, T Ramu, J Venkanna Babu, Ganta Bhumayya, Vastu Sai, Anantha Ramulu, Sagar, D Veera Babu, Sudharshan, Bheemaiah, Upendar, Venkatamma and Venkatadri were present along with others.