Beneficiaries gird up their loins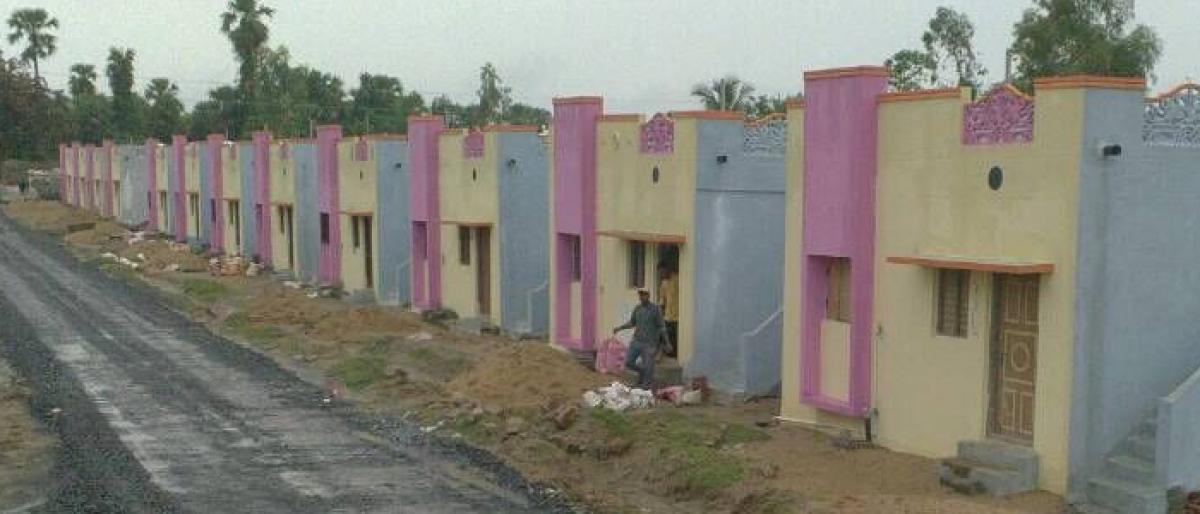 Highlights
So, what if the builders are shying away from taking up the construction of the double bedroom houses, when the beneficiaries themselves are ready to gird up their loins to make it happen and realise their coveted dream. In a first-of-its-kind initiative, the beneficiaries themselves came forward in Bhupalpally district to take up the construction of 2-BHK houses, this at a time when the governmen
Bhupalpally: So, what if the builders are shying away from taking up the construction of the double bedroom houses, when the beneficiaries themselves are ready to gird up their loins to make it happen and realise their coveted dream. In a first-of-its-kind initiative, the beneficiaries themselves came forward in Bhupalpally district to take up the construction of 2-BHK houses, this at a time when the government is feeling the pinch of tardy progress of its flagship programme.
The brainchild behind the initiative is none other than the District Collector A Murali, who is always prepared to go the extra mile to help the distressed sections. Like in any other district, the tenders floated for the construction of 2-BHK houses in Bhupalpally also failed to elicit response from the builders, who feel that Rs 5.04 lakh per each house is not workable. It may be noted here that the government even tried to speed up the double bedroom houses by attracting big players enforcing changes in the norms to allow them, but in vain.
Against this backdrop, the district administration has come up with an idea to take up the construction of houses through participation of beneficiaries. The Collector worked on it, besides discussing with the beneficiaries about the modalities of the participatory method. The other challenge the administration had to get past is the clearance from the government for taking up the construction of houses through participatory method that hitherto no district had adopted. The government also reacted positively issuing a special permission to the district administration.
Currently, 2,300 houses are being constructed in the district under participatory method by the beneficiaries. Tenders were finalised for the construction of another 1,293. In all, the government had accorded administrative sanctions for 5,210 houses out of a total 7,600 allotted for the district. So far, construction of 375 houses is completed and works of 2,088 are grounded.
Speaking to The Hans India, the special officer for housing Arutla Krishnamachary said: "This is the first time that participatory method is being adopted to construct the houses. The credit goes to the Collector because of whose special interest the method is being implemented successfully." The Collector himself prepared the guidelines to make the initiative transparent, he said.
Some of the norms: The beneficiaries had to constitute a committee of 12 to 15 members from them. A bank account had to be opened with each beneficiary contributing Rs 1,000. After which the government will credit Rs 25 lakh (first instalment) to the same account to carry the construction works. Besides proper maintenance of accounts, all the payments should be done through cheques and below Rs 2,000 payments through voucher.
Rama, beneficiary of 2-BHK houses constructed at Mallur under Mangapet mandal under participatory method, said: "It's very satisfying that we (67) all got involved in the construction. We were also able to lay a road also in our colony from the amount that was provided for the construction of houses."
By: Adepu Mahender