KCR govt fooled unemployed youth: BJP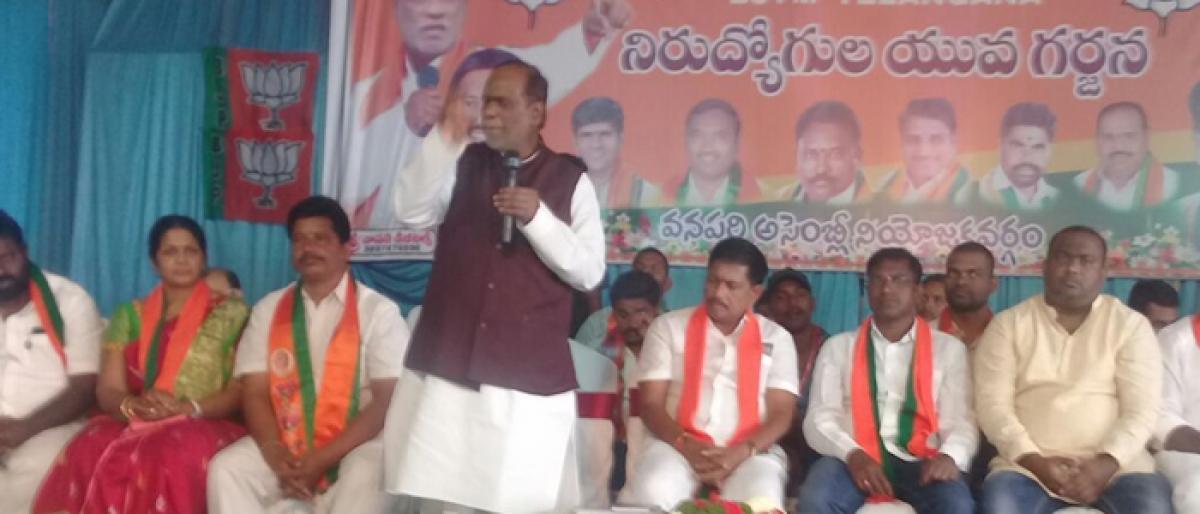 Highlights
BJP State President K Laxman said the government has done nothing for the unemployed youth during the past three and half years but fooled them by talking deceiving words. The TRS government came to power with the slogan, Water, Funds and Employment, but soon after coming to power
Wanaparthy: BJP State President K Laxman said the government has done nothing for the unemployed youth during the past three and half years but fooled them by talking deceiving words. The TRS government came to power with the slogan, Water, Funds and Employment, but soon after coming to power, has failed on all fronts, while taking part in Nirodyoga Garjana meeting at G Garden Kalyana mandapam in Wanaparthy on Friday.
The BJP State president alleged that the K Chandrashekar Rao (KCR) government was adopting threatening tactics to frighten the Opposition parties and arresting the people who ever was raising their voices against the government's failures. "They are arresting and slapping false cases against the Opposition leaders and members of associations who are protesting against the wrong policies of the government. But we will not get bullied by these tactics and pull the government's neck to get people's legitimate demands met," said Laxman.
Laxman said before coming to power, KCR had promised to provide two lakh government jobs, but after coming to power, he had forgotten his promises and was not even daring to step in side Osmania University fearing the ire of the students, observed the BJP leader. "As against a promise of two lakh jobs and one each to every house hold, the KCR government had provided only 16,000 jobs so far. Of them 15,000 jobs are only from the police department. The State government should release the job calendar for one lakh jobs as promised by KCR recently in the assembly," demanded the BJP state president.
The BJP President further observed that though the State government was going after the irrigation projects in a big way, there was a lot of money being wasted in the name of redesigning of the projects. The government had promised in a big way to provide irrigation water to one lakh acre in each constituency, but except in one or two constituencies there was not even a single acre getting irrigated under the projects.
The BJP President said the government was on one hand giving Rs 1,000-1,500 pension to the poor, while on the other it had opened belt shops in each and every village and indirectly fleecing them by providing cheap liquor and making them slaves to liquor. "On the first year the government earned Rs 3000 crore from liquor sales, after introducing the new policy, in just three years the government could garner revenue of Rs 21,000, this shows, the government is not for the welfare but only slaving them for revenue," observed the BJP President.
Giving a call to the BJYM leaders and Yuva Morcha in the district, the State President asked the local leaders to go to each and every village and awaken the people and explain them about the failures of the government.