Every woman should be aware of their legal rights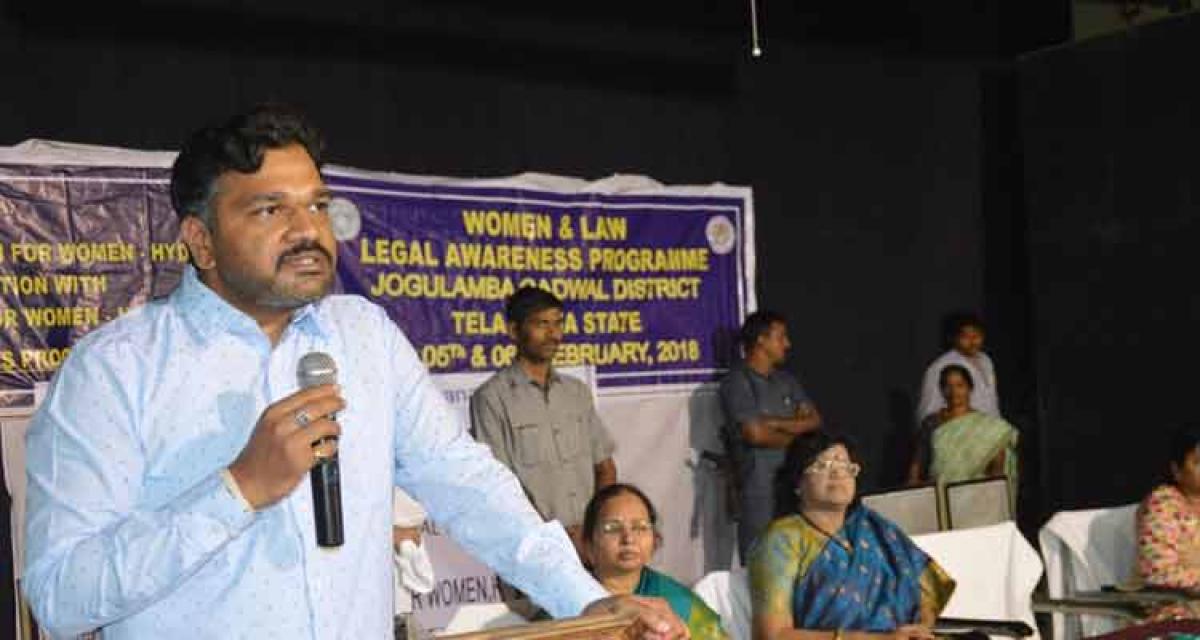 Highlights
Delving that the Indian Constitution has given various legal rights for the protection of Women, Tripura Venkata Ratnam, Women Commission Chairperson...
Gadwal: Delving that the Indian Constitution has given various legal rights for the protection of Women, Tripura Venkata Ratnam, Women Commission Chairperson while taking part as a chief guest at a Legal Awareness programme conducted at Balabhavan in Gadwal said that every woman must be aware of all the legal rights and safe guards provided to them.
For this, there should be regular awareness camps held for them. "Even though there are various legal provisions encapsulated in our constitution they are not being implemented properly. 90 per cent women folks in the country do not have proper awareness about the legal provisions of their protection. Though the 2013 Nirbhaya Act has been enacted this law is not properly implemented as intended because of this the atrocities are increasing every day against the women," observed the Women Commission Chairman.
For increasing the legal awareness among the rural women folks the Anganwadi teachers have been advised to spread the awareness by mingling with the rural women to attain self reliance and legal independence. "We have to assume real independence only when the women groups in the country get their share in all the sphere of their life and achieve economic and social self reliance.
Even though to some extent the women groups have achieved economic independence through Indira Kranti Patham (IKP) scheme there is a need for this to go a long way. The irony is that even though some women are earning thousands of Rupees as salaries every month they have to depend on their husbands for every penny they spend. This shows there is a social inequality between men and women and women groups needs to fight for their legal rights and must fight for equality in the society," said Tripura Venkata Ratnam.
The women Commission Chairman expressed concern that even after 70 years of independence women and girl child are looked down upon in the society. Because of prevailing inequality and outlawed traditions, evil practices and superstitious believes our society is not giving freedom to girl child. An evil menace of dowry system has engulfed the entire society and today the girl child is regarded as an economic burden in the society because of which many are resorting to female infanticide and killing the girl child even while in the womb of a mother.
She said even though the constitution has provided 50 per cent reservation in politics it is not being implemented properly. The female people's representatives who are elected by the people are confined to their houses and their husbands and sons are ruling them. Because of this kind of excess dependence, woman leaders are not able to do justice to their posts.
The Women Commission advised the District Collector Rajat Kumar Saini to take strict action on the husbands of women people's representatives who tries to rule over their wives and try to suppress their legal rights.
Raja Kumar Saini while talking on the occasion gave a call to all the anganwadi teachers to work in coordination with women groups in the rural areas and spread awareness about various women rights and legal provisions against atrocities and suppression.
Krishnaveni, Municipal Chairman of Gadwal said that legal awareness can be achieved only through education and every woman must first get educated to aware of her rights in the society.
Subscribed Failed...
Subscribed Successfully...