KTR lays foundation stone for development works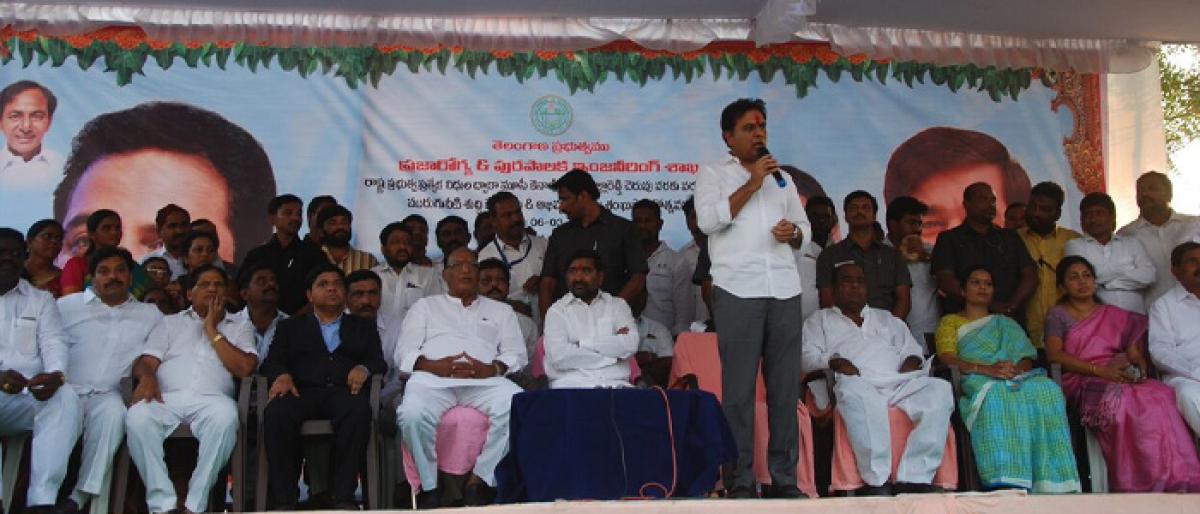 Highlights
Minister for Municipal Administration KTRama Rao said so far funds to the tune of Rs 1,500 crore were spent for the development of Suryapet district. On Tuesday, along with Energy Minister Jagadish Reddy, the Minister laid foundation stone for the construction of stormwater canal from Musi canal to Pulla Reddy pond and sewerage treatment plant, to be constructed at an estimated cost of Rs 81.41 cr
Suryapet: Minister for Municipal Administration KTRama Rao said so far funds to the tune of Rs 1,500 crore were spent for the development of Suryapet district. On Tuesday, along with Energy Minister Jagadish Reddy, the Minister laid foundation stone for the construction of stormwater canal from Musi canal to Pulla Reddy pond and sewerage treatment plant, to be constructed at an estimated cost of Rs 81.41 crores.
Addressing the gathering on the occasion, he said after formation of Telangana State, the government is paying attention to overall development of the State, including districts. Rama Rao said he had sanctioned funds for works after Jagadish Reddy brought to his notice the drainage problem in Suryapet town. He said foundation stone was also laid for the works, he said.
Stating thatSuryapet municipality has its own identity inthe state, he saidpermissions had been given for the construction of houses for the convenience of the people. He listed out the welfare schemes and achievements of the government during the last four years and fired salvos atthe Opposition party leaders who were making baseless comments on development of State. Minister Jagadish Reddy thanked KTR and Chief Minister KChandrashekar Rao for their special attenuation for the development of district.
In this programme, MP Gutha Sukender Reddy, Legislative Council Vice-Chairman Nethi Vidya Sagar, government Whip Gongidi sunitha, Wearhouse Corporation Chairman Samuel, MLC pula Ravinder, MLA Bhaskar Rao, District Collector Surndra Mohan, SP Prakash Jadav and other district leaders and officials participated.