Bhatti slams TRS over MLAs expulsion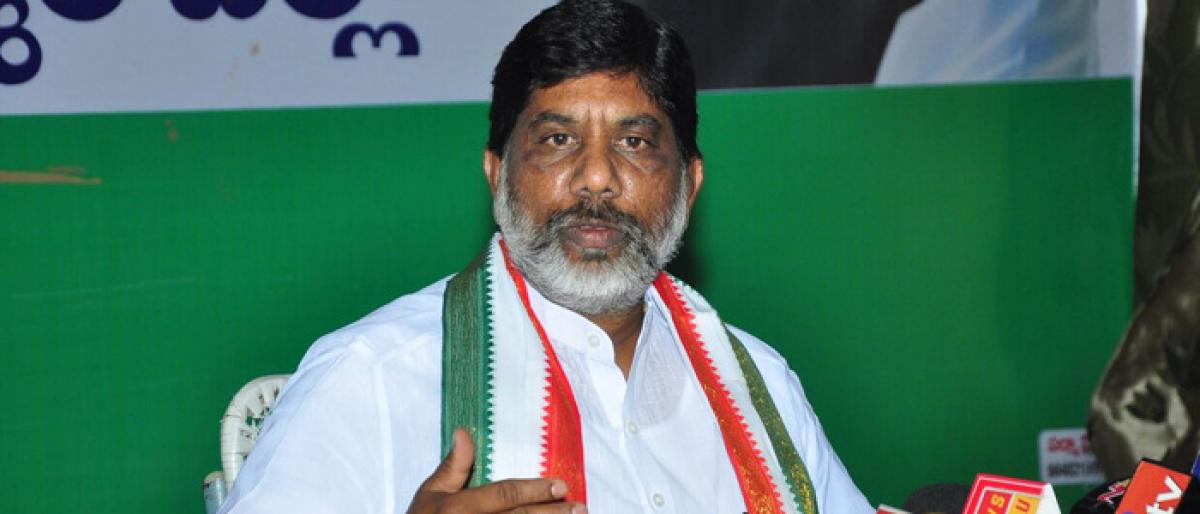 Highlights
The TRS government is ruthlessly stifling the voice of the opposition, Telangana Pradesh Congress Committee working president Mallu Bhatti Vikramarka said, addressing a press conference here on Thursday. "Chief Minister K Chandrasekhar Rao is heading the most undemocratic and dictatorial rule the State has ever witnessed," he said, stating that nothing seems to function through established practic
​Khammam: The TRS government is ruthlessly stifling the voice of the opposition, Telangana Pradesh Congress Committee working president Mallu Bhatti Vikramarka said, addressing a press conference here on Thursday. "Chief Minister K Chandrasekhar Rao is heading the most undemocratic and dictatorial rule the State has ever witnessed," he said, stating that nothing seems to function through established practices or a governance system in the State.
"To the best of my knowledge, no State or Central governments have ever presented the budget without the main opposition," he said, pointing to the en masse suspension of Congress legislators for a complete session. It hurts the democracy, he said, accusing the ruling TRS of being ruthless to prevail over the opposition. Bhatti found fault with Speaker S Madhusudhana Chary for suspending members based on the recommendation of Legislative Affairs Minister T Harish Rao and at the behest of majority of members.
"It is but natural that any ruling party enjoys majority in the House," Bhatti said, wondering over Speaker's reasoning. He said Speaker's ruling may be in tune with the Assembly proceedings, but it hurts the spirit of democracy.
"KCR, who feared facing questioning in the House, wanted to expel the Congress members so that budget session goes unhampered," Bhatti maintained. KCR failed to fulfil all his poll promises, he said, referring to three-acre land to dalits, double bedroom houses to poor etc. "Since it came to power, the TRS government distributed only 12,745 acres to dalits. The government which sanctioned 2.5 lakh double bedroom houses has so far constructed just 9,522, he added.
The role of youth is immense in the Statehood movement. There were around 1.5 lakh vacancies in the State when separate State was formed. However, KCR had just managed to fill 15,000 jobs in last four years, Bhatti said.
This apart, the TRS government totally ignored agriculture sector, he said, referring to farmers' problems in getting Minimum Support Price. Government's assistance to farmers – Rs 8,000 per acre every year is a straw in the wind, Bhatti said. He said that all the ongoing irrigation projects were conceived during the Congress government. The TRS government just redesigned the projects and changed their names to claim credit, he said.