Plans are afoot for birthday celebrations of Ambedkar, Jagjeevan Ram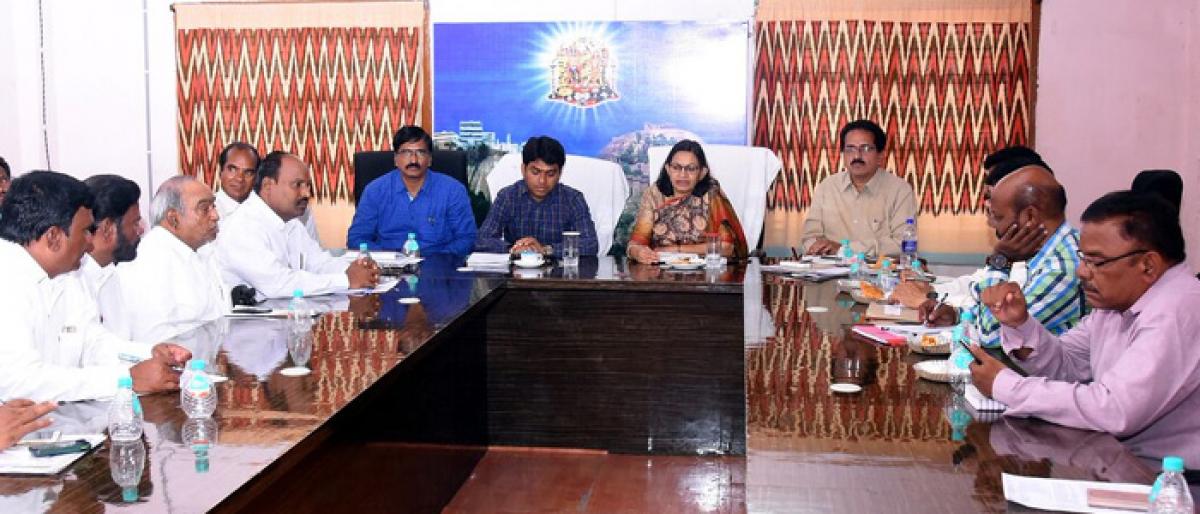 Highlights
District Collector Anitha Ramachandran here on Thursday said birth celebrations of legendary leaders should be organised on a grand scale. The Collector along with Joint Collector Ravi Naik was holding a meeting with representatives of Backward Classes, Scheduled Castes, Scheduled Tribes
​Bhongir: District Collector Anitha Ramachandran here on Thursday said birth celebrations of legendary leaders should be organised on a grand scale. The Collector along with Joint Collector Ravi Naik was holding a meeting with representatives of Backward Classes, Scheduled Castes, Scheduled Tribes and Minorities to chalk out a plan to organise birthday celebrations of Babu Jagjeevan Ram, Jyothi Rao Pule and B R Ambedkar April 5, 11 and 14 respectively.
Speaking on this occasion, the Collector advised officials of the Welfare Departments and representatives of civic organisations to coordinate with each other in planning the events. She said the celebrations would be organised on the grand scale and tributes would be paid to the statues of the leaders. Rallies too would be taken out.
In April, artists of Samaskrithika Saradhi would organise cultural programmes in the district. They would explain the life histories and aspirations of Ambedkar, Jagjeevan Ram and Pule to the people through songs and dance programmes, she added.
Government is taking all measures to establish BC and SC study circles in the district, she said. Explaining about the status of construction of proposed Dr B R Ambedkar Bhavan in Bhongir town, she said tender process was already completed and agreement process is going on.
District Revenue officer Mahender Reddy, District Scheduled Caste Development officer Rama Rao, SC corporation ED Krishna Murthy, TRASCO SE Venkanna, Horticulture AD Suresh, Civic organisations and various party leaders Vemula Ashok, Barre Jhangir,Sudharshan, Venkatesh, Donakonda Ramulu, Anuradha,Ganesh , Sharif, Bala Krishna,Raju and others were present at the meeting.