Silent revolution is on, will end dictatorial regime in State: N Uttam Kumar Reddy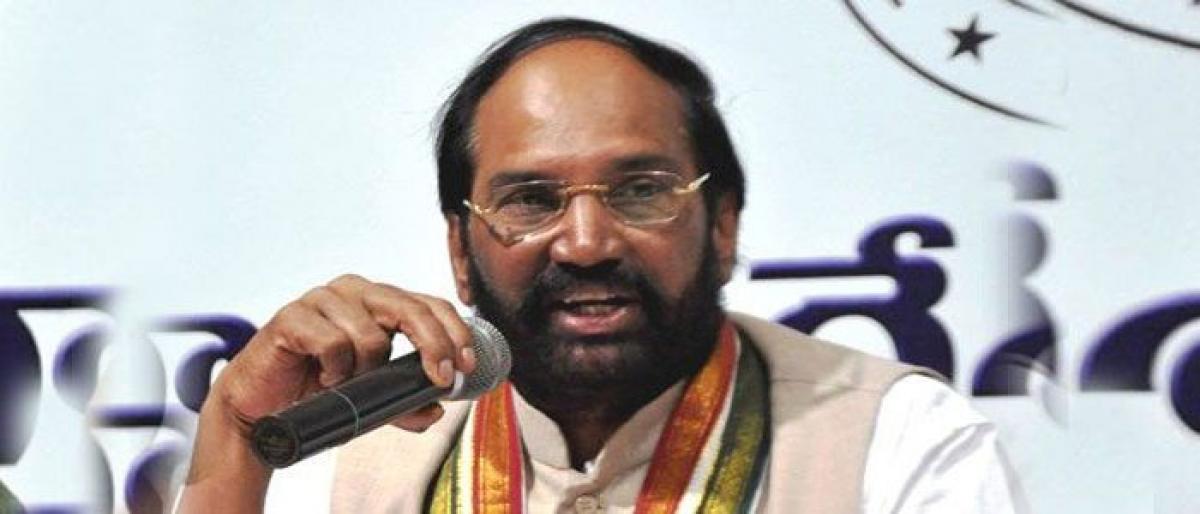 Highlights
Telangana Pradesh Congress Committee (TPCC) President N Uttam Kumar Reddy here on Wednesday said, "A silent revolution has been sweeping across the State and it will end Chief Minister K Chandrashekar Rao's dictatorial regime."   
Nakrekal: Telangana Pradesh Congress Committee (TPCC) President N Uttam Kumar Reddy here on Wednesday said, "A silent revolution has been sweeping across the State and it will end Chief Minister K Chandrashekar Rao's dictatorial regime."

Speaking to the media after attending a function here, Uttam Kumar Reddy accused the Chief Minister and his family members of pursuing dynastic politics." He mocked at KCR's oft-repeated statement that he was determined to make the State "Bangaru Telangana."
He slammed the government for failing to come to the rescue of the farmers. A large number of farmers had committed suicide in the State, he said. The government had failed to ensure that the farmers secure minimum support price for their produce.
The government had betrayed the farmers in all aspects. There were some gaps even in implementation of farm loan waiver promise, he said.He exuded confidence that the Congress would form the government after the next general elections.
The Congress government would implement all the promises it gave to the people, he said.Uttam Kumar Reddy described government's promise of providing input subsidy of Rs 4,000 per acre per farmer was an election stunt. He demanded that the government extend input subsidy to tenant farmers too.
Expulsion of Congress MLAs, Komatireddy Venkat Reddy and Sampath Kumar, was unethical, he said.Former MLA Chirumarthi Lingaiah, ZPTC Dudimetla Sathaiah, Sarpanch Rangamma, party leader Pannala Raghava Reddy and others were present.