Uttam condemns TRS Govt for inaction in Nerella incident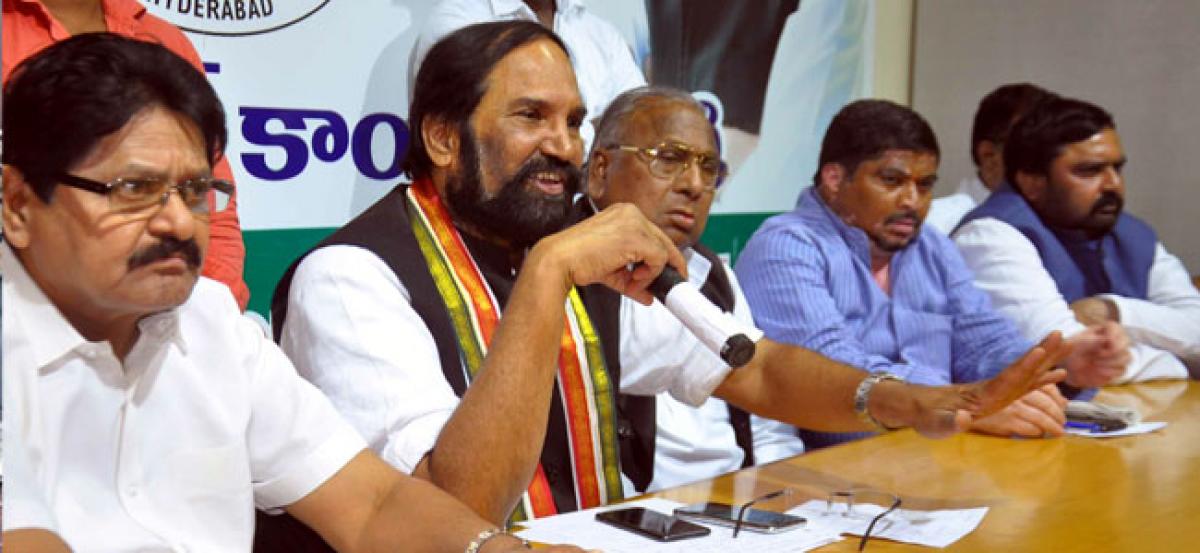 Highlights
Telangana Pradesh Congress Committee TPCC President Capt N Uttam Kumar Reddy has announced that the Congress party would organise Dalit Girijan Atma Gaurav Sabha to protest against inaction by TRS Government in the Nerella incident wherein Dalits and BCs were brutally tortured for raising voice against sand mafia
Hyderabad : Telangana Pradesh Congress Committee (TPCC) President Capt. N. Uttam Kumar Reddy has announced that the Congress party would organise 'Dalit Girijan Atma Gaurav Sabha' to protest against inaction by TRS Government in the Nerella incident wherein Dalits and BCs were brutally tortured for raising voice against sand mafia. Congress president Rahul Gandhi will be invited for the programme.

Addressing a press conference, along with senior leaders and victims of Nerella incident, at Gandhi Bhavan on Thursday, Uttam Kumar Reddy said it was highly shameful that the TRS Government did not take any action even one year after the incident. He said the Dalits and BCs who were subjected to third degree torture and electrocution were yet to recover from the injuries and mental trauma. He said that the then Sircilla SP Viswajeeth was not even transferred or any action against him or the other policemen was taken. He said the local Dalits, BCs and STs have protested after a Tribal was run over by a speeding lorry belonging to sand mafia. He said the Dalits were implicated in false case and even after the exposure of police brutality, the government neither dropped the case nor filed a chargesheet. He said that the Dalits were still being harassed as they exposed the sand mafia being run by relatives of the Chief Minister.

Uttam Kumar Reddy alleged that even after the exposure of Nerella incident, the sand mafia continued its activities in Sircilla and surrounding areas. He read out the names of victims who were killed by sand mafia lorries and said a majority of them were Dalits. They include Kannam Mallesh, Prabhakar Reddy, Kamalakar Rao, Errakula Bheemaiah, G. Venkatesh, Rajamouli, Raju, M. Mallesh, Mallu Venkatesh and Mallu Sai. But no cases have been registered against the lorry drivers or owners.

The TPCC chief said that the Chief Minister and his son Minister K. Tarakarama Rao, who represents Sircilla constituency and also holds Mines portfolio, behaved in an inhuman manner with regard to Nerella incident. He alleged that the Dalits were subjected to third degree torture by police at the instance of KTR. He alleged that KCR, KTR and their family members were looting the resources of Telangana by patronising illegal sand mining. He said gross injustice have happened with Dalits and Girijans under the TRS regime. Instead of fulfilling the promises which were made to them, KCR Govt is harassing and humiliating SCs and STs of Telangana, he said.

Uttam Kumar Reddy reminded that former Speaker of Lok Sabha Meira Kumar visited Nerella and interacted with the victims. Instead of doing justice with the victims, KCR even humiliated Meira Kumar, who is also the daughter of Dalit icon Babu Jagjivan Ram, by using circastic language against her. She was even prevented from addressing a meeting at Sircilla. He said that the Congress party would continue its fight until the Nerella victims get justice. Similarly, he said Tribal farmers of Khammam were implicated in false cases, chained and hand-cuffed when they protested seeking remunerative prices for their chilli produce.

The TPCC chief accused the TRS Government of repeatedly hurting the self respect of Dalits and Girijans. He announced that the Congress party would intensify its agitation to protect their self respect and expose the true face of TRS Government.

Meanwhile, a few victims of Nerella incident gave a brief account of how they were tortured by the Sircilla police last year. One of the victims, Bhanaiah, has shown the marks of injuries on his body which were inflicted due to police torture. Another person, Gandham Gopal, broke down while stating that he was electrocuted multiple times including at his private parts. He said he was tortured for four days and even today he could not hear properly. Basava Eshwar said he was tortured to the extent that today he is unable to work and earn livelihood for his family members. A student, Harish, who was an SI job aspirant, alleged that his career has been ruined although he had no connection with the incident.

Senior leaders including V. Hanumantha Rao, Ponnam Prabhakar, Sarve Satyanarayana, Anjan Kumar Yadav, Suresh Shetkar and others were also present.

Congress party to launch 100-day campaign

Later, in an informal chat with media persons, Uttam Kumar Reddy announced that the party would soon launch a 100-day campaign. He said that the schedule of next phase of Praja Chaitanya Bus Yatra was also being finalised. He said that the party would also permit leaders to take up padayatras and the details would be announced soon. He said any activity that could benefit Congress party would be allowed.

Commenting on early polls, Uttam Kumar Reddy said that the Chief Minister has been talking about early elections only after meeting Prime Minister Narender Modi. He said said KCR has been working as an ally of BJP and taking directions from PM Modi and Amit Shah. He also predicted that the Congress party was all set to win Assembly elections in Rajasthan and Madhya Pradesh.