Opposition playing into Pakistan's hands with its anti-India politics: Modi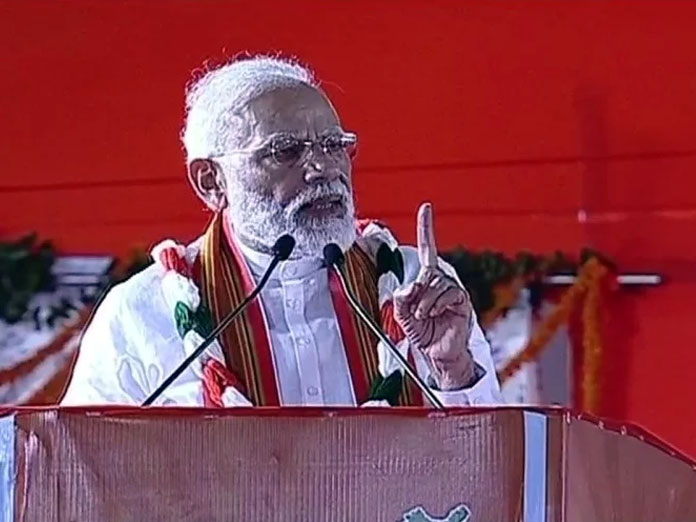 Highlights
Prime Minister Narendra Modi on Friday said the Opposition was playing into Pakistans hands by making statements lowering the morale of the Indian armed forces
Visakhapatnam: Prime Minister Narendra Modi on Friday said the Opposition was playing into Pakistan's hands by making statements lowering the morale of the Indian armed forces.
Addressing a public rally here, Modi said the Opposition's "anti-Modi" attitude has turned into "anti-India attitude."
"It is the misfortune of the country that at a time when the whole world is seeking answers from Pakistan, they (opposition parties) are making statements that undermine the morale of the security forces of the country.
"The Pakistan parliament is quoting these irresponsible statements to counter us. This is unfortunate. Their penchant to oppose Modi has turned into anti-India attitude," Modi said.
The Prime Minister's remarks come in the wake of 21 opposition parties unanimously accusing Modi and the Bharatiya Janata Party of "blatant politicisation" of armed forces' sacrifices.
Without taking names, Modi also attacked the Congress over dynasty politics and accused the state's ruling Telegu Desam Party of hindering Andhra Pradesh's development.
"Unlike them, we do not have the fear of corruption cases or dynasties. That is why we are taking decisions without fear or any baggage in the best interest of the people," Modi said.
He also announced approval of the South Coast Railway Zone which will be headquartered in Visakhaptnam.
"It will create jobs, improve economy and develop the region. It reflects the National Democratic Alliance's (NDA) commitment to developing Andhra Pradesh," he said.