Kansas shooting: Can Donald Trump's govt protect us, asks wife of Indian techie killed by American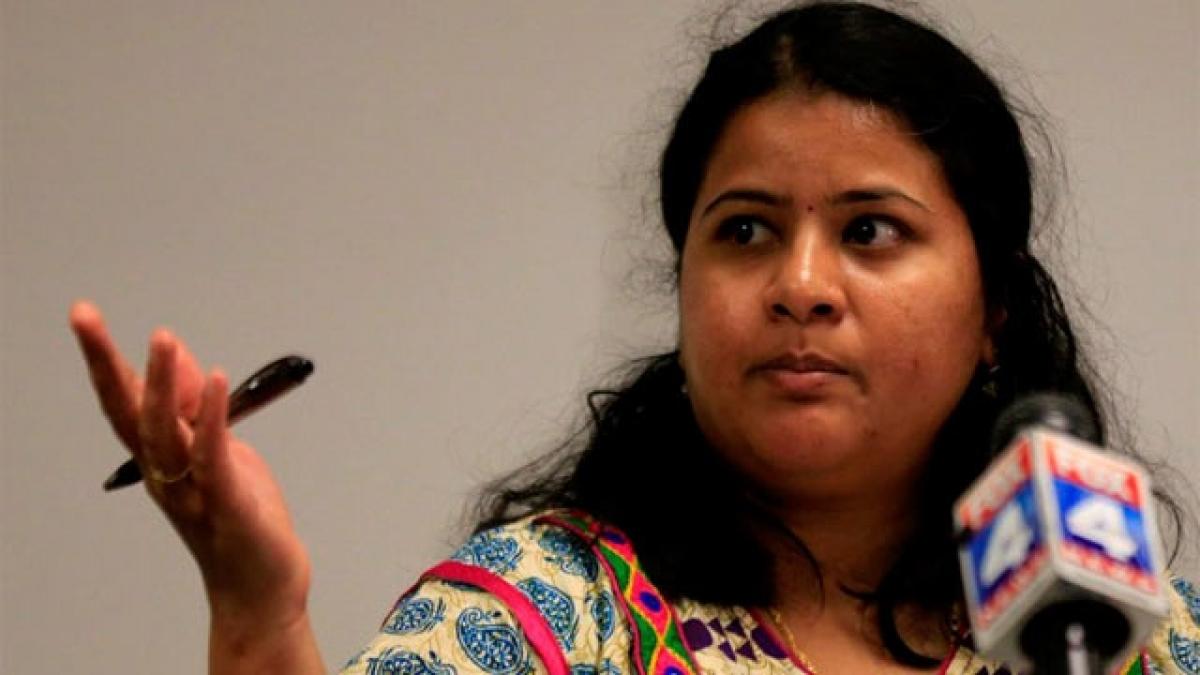 Highlights
The grieving wife of the Indian engineer shot dead in an apparent hate crime by a navy veteran in Kansas City has demanded an answer from the US government what it would do to stop hate crimes against the minorities.
The grieving wife of the Indian engineer shot dead in an apparent hate crime by a navy veteran in Kansas City has demanded an answer from the US government what it would do to stop hate crimes against the minorities.
Sunayana Dumala, wife of 32-year-old Srinivas Kuchibhotla who was killed by Adam Purinton at a city bar on Wednesday night, said reports of bias against minorities in the US make them afraid and wondered whether "do we belong here".
At a news conference organised by GPS-maker Garmin, the company where Srinivas worked, Sunayana asked what the US government of Donald Trump would do to stop hate crimes against minorities such as the one happened to her husband.
Although she did not mention Trump by name, Sunayana did say, "Not everyone will be harmful to this country." Sunayana was concerned over shooting incidents and doubted whether her family should stay in the US. But, she said, her husband assured her saying "good things happen in America." The tragedy has led to fears among immigrants, who feel being targeted by President Trump's plans to ban travelers from some countries and build a wall along the Mexico border to realise his campaign pledge of putting "America first." Trump's proposed travel ban against certain countries has been termed divisive by many and provoked criticism from several quarters, including his own Republican Party.
Sunayana said Srinivas came to the US in 2005 to pursue a master's degree at the University of Texas at El Paso and worked for six years in Iowa before moving to Kansas City.
"He did not deserve a death like this," Sunayana said. "I don't know what to say. We've read many times in newspapers of some kind of shooting happening somewhere. I was always concerned, 'Are we doing the right thing staying in the US or America?' But he always assured me good things happen in America."
Consul-General of India in Houston, Anupam Ray, is monitoring the situation and providing possible help for the grieving family and the community in Olathe area of Kansas.
"Immediately when the incident occurred, Consulate rushed Deputy Consul R D Joshi and Vice Consul H Singh to Kansas to be with the family of Srinivas at this trying moment," Ray told PTI.
Since the tragedy, they have been with the Srinivas family and have assured Sunayana of all possible help, Ray added.
Joshi met shocked community members in Olathe and enquired Alok Madasani, another Indian injured in the shooting, about his health. Alok has now been discharged from hospital.
A third man, an American identified as Ian Grillot, 24, who tried to intervene also received injuries in the firing at the bar. He, too, is in fair condition, a University of Kansas Hospital spokeswoman said.
External Affairs Minister Sushma Swaraj expressed shock on Twitter after the incident. "I am shocked at the shooting incident in Kansas in which Srinivas Kuchibhotla has been killed. My heartfelt condolences to the bereaved family."
Witnesses said the shooter, Purinton, reportedly got into a racial argument with the victims and shouted "get out of my country" and "terrorist" before opening fire at them.
He reportedly provoked them asking about their presence and work in the US, and how they were better than him.
Then, Purinton left the bar and returned with a gun and shot the three men, according to police.
He was arrested five hours after the incident and charged with one count of premeditated first-degree murder and two counts of attempted premeditated first-degree murder in Johnson County, District Attorney Stephen Howe told reporters.
Howe, however, declined to elaborate on the motive of the shooter, although police said they were investigating the case with the FBI, which is looking at whether it was a hate crime.
The incident happened when hate crimes and acts of bigotry have risen notably in the US after Trump's inauguration on January 20, following his campaign heavy on anti-immigration rhetoric.
According to the company Garmin, Srinivas and Alok worked in the company's aviation systems. "We are devastated to inform you that Srinivas passed away and Alok is currently recovering in the hospital," it said before Alok was discharged.
Srinivas and and Alok hailed from Hyderabad and Warangal respectively.
Srinivas posted on LinkedIn in 2014 he managed helicopter programmes. He had a master's degree in electrical and electronics engineering from the University of Texas. He earned his bachelor's degree from Hyderabad's Jawaharlal Nehru Technological University.
A 2014 post on LinkedIn said Alok was an aviation programme coordinator manager at Garmin.
Interested in blogging for thehansindia.com? We will be happy to have you on board as a blogger.