Sasikala hits back, flaunts MLAs, slams OPS for 'colluding' with Oppn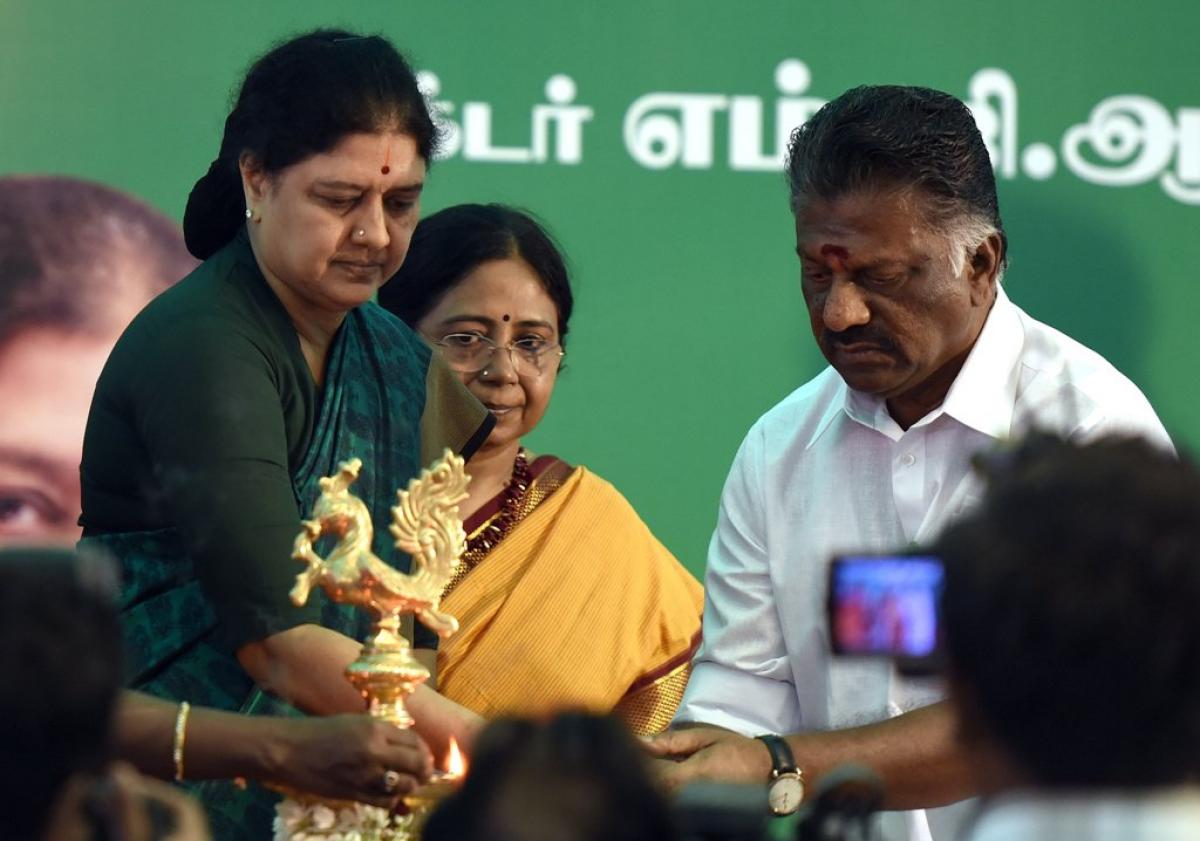 Highlights
The AIADMK legislature party seems to be strongly behind its newly elected leader V K Sasikala with 131 of the 134 MLAs attending a meet called by her on Wednesday where she asked them not to \"side with traitors\" who have \"struck\" a deal with the DMK.
The AIADMK legislature party seems to be strongly behind its newly elected leader V K Sasikala with 131 of the 134 MLAs attending a meet called by her on Wednesday where she asked them not to "side with traitors" who have "struck" a deal with the DMK.
In an emotional speech at the meeting at the party headquarters, Sasikala questioned O Panneerselvam's silence for about 48 hours after she was elected as leader of the legislature party on Sunday.

"Please don't side with traitors who have struck a deal with DMK which was out to finish Amma's legacy. No force on the earth can break the AIADMK," she thundered before her legislators.
Hitting out at O Panneerselvam, Sasikala said she could 'sense' the acts of a Chief Minister who had "completely connived with the Opposition".
Sasikala claimed "it became my responsibility to put an end to wrongdoings done by CM O Panneerselvam".
She added, "Our opponents are after us and spearheading whatever is happening today, but nothing can stop us from following Amma's path."
"Neither AIADMK nor me will be cowed down. Nobody has the power to split or divide us. Betrayal has never won," Sasikala said.
"Panneerselvam colluded with the party which Amma fought against. We will give a big blow to this act of betrayal and disloyalty," Sasikala Natarajan said.
Sasikala said she had noticed "Panneerselvam joining hands with DMK following their conversation in the Assembly," recently and added that she is duty bound to prevent the next course of action from happening, apparently referring to a revolt.
She referred to the remark of Deputy DMK Leader Durai Murugan who had last week in the Assembly favoured Panneerselvam to continue as Chief Minister for the rest of the term of the current government, i.e till 2021.
"Panneerselvam not saying anything on this and his silence showed clearly that he had joined hands with DMK. His act had also infuriated the Ministers," she said.
However, responding to Panneerselvam's charge last night on Ministers speaking against him and that she had not taken action against them, the party chief said she had actually pulled them up, giving him his due respect.
She recalled she was "not in the frame of mind" to accept the leadership of AIADMK following Jayalalithaa's demise, although Panneerselvam was one of the proponents of the idea.
Referring to Panneerselvam's political career, Sasikala said he had been part of the AIADMK Janaki (MGR's widow) team following the death of the founder MG Ramachandran, before switching over to Jayalalithaa camp.
Jayalalithaa had 'forgiven' this and provided him with various opportunities (in the party and government), she added.
"Our rivals are showing their true face. We will prove our might to them. No one has the power or capacity to split or break us. I will solve the confusion arising in people's minds at the right time," she said.
Sasikala had called a meeting of party MLAs on Wednesday to counter the political turmoil triggered by the revolt of sacked treasurer and Chief Minister O Panneerselvam.
Senior ministers and party functionaries attended the meeting.
Pannerselvam has said Sasikala had no powers to sack him as treasurer.
He said Sasikala was elected party general secretary on a temporary basis in view of the extraordinary situation faced by the party (after Jayalalithaa's demise).
"This is the party's norm. As per the party's constitution framed by founder M G Ramachandran when he floated AIADMK, legal sanction for the post is given only when all primary members elect the general secretary.
Such a general secretary alone has the powers to appoint or remove party functionaries," he said.