PM says 'hatred for Modi' sole glue binding opposition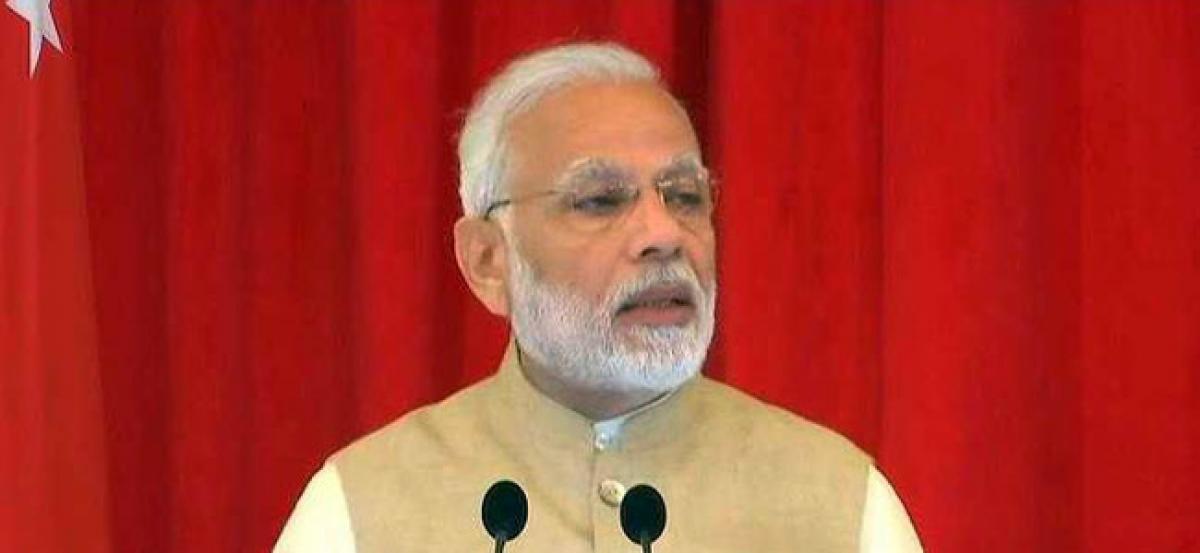 Highlights
Prime Minister Narendra Modi has said the proposed grand opposition alliance is merely a \"grand race\" by his rivals to be the prime minister and is driven by \"personal survival and power politics\".
NEW DELHI: Prime Minister Narendra Modi has said the proposed grand opposition alliance is merely a "grand race" by his rivals to be the prime minister and is driven by "personal survival and power politics".
In an interview to Swarajya magazine, he said the opposition has no agenda except to remove him and that "hatred for Modi" is their "sole gluing force" as he expressed confidence that people will vote the BJP back to power in the next Lok Sabha elections.
In a swipe at the Congress, he said the main opposition party is fighting a battle for its survival ("astitva ki ladai") and is now running from pillar to post looking for allies after people rejected its "high-handedness".
Ridiculing the Rahul Gandhi-led party, the prime minister said it is now like a regional party and cannot become a cementing force or anchor for any alliance of opposition parties against him.
Dubbing the next election a choice between governance and development on one side and chaos on the other, the prime minister cited the example of Karnataka, where the Congress-JD(S) alliance "stole the mandate" to form government with "development taking a back seat".
"In any election, a non-ideological and opportunist coalition is the best guarantee for chaos," he said, describing Karnataka as "a trailer of what is possibly in store".
You would expect ministers meeting each other to solve development issues but in Karnataka they meet only to quell infighting, he said.
The BJP, he said, contests elections on the issues of development and good governance and the mandates it has received in state after state are historic."Hence, we are confident that people will repose their trust in us. They (opposition) have no agenda except to remove Modi. Hatred for Modi is the sole gluing force for the opposition," he said.
Modi rejected the comparison of an opposition alliance with a similar alliance of the then opposition in the 1977 and 1989 elections. While the common motive in 1977 was to protect democracy following the Emergency, the opposition joined hands 12 years later after the "record-breaking corruption" of Bofors had hurt the entire nation, he said.
"Today, these alliances are not motivated by national good but they are about personal survival and power politics. They have no agenda except to remove Modi," he said.The entire focus in the opposition is on power politics with Rahul Gandhi saying he is ready to be prime minister while TMC chief Mamata Banerjee is also eying the top post but the Left has a "problem" with her, the prime minister said.
The Samajwadi Party, he added, thinks its leader more than anyone else deserves to be prime minister.
"The whole focus is power politics, not people's progress."
"How long will the dislike and mistrust these parties and leaders have for each other keep them together? They are in direct bitter contests against each other in various states like West Bengal and Kerala. The last time these parties formed a government in Uttar Pradesh (in 1993), it could not even last two years. Such instability adversely impacts the growth trajectory of our nation," he said.
To a question on whether the BJP's allies are on the same page with it and if the NDA is weaker today, Modi asserted that his party views the alliance not as a compulsion but as an article of faith.
A large and diverse NDA is good for India's democracy, he said, adding that it is most important to respect regional aspirations and the NDA is committed to fulfilling them.

In the 2014 Lok Sabha polls, some people would ask if he can get allies even though the BJP was leading an alliance of over 20 parties, Modi said.
The BJP could have easily formed the government after winning a majority of seats but it took its allies along and made them a part of the new dispensation.
"The NDA is a large and happy family of over 20 parties. It is leading strong coalitions in various states of India. Which other alliance has such an impressive membership and is serving in so many states?" he said.He also played down his party's losses in the bypolls, especially in Uttar Pradesh, saying the BJP had not done well in some local elections in Gujarat before the 1998 assembly polls but went on to win a two-thirds majority.