India on path of becoming a hub of medical tourism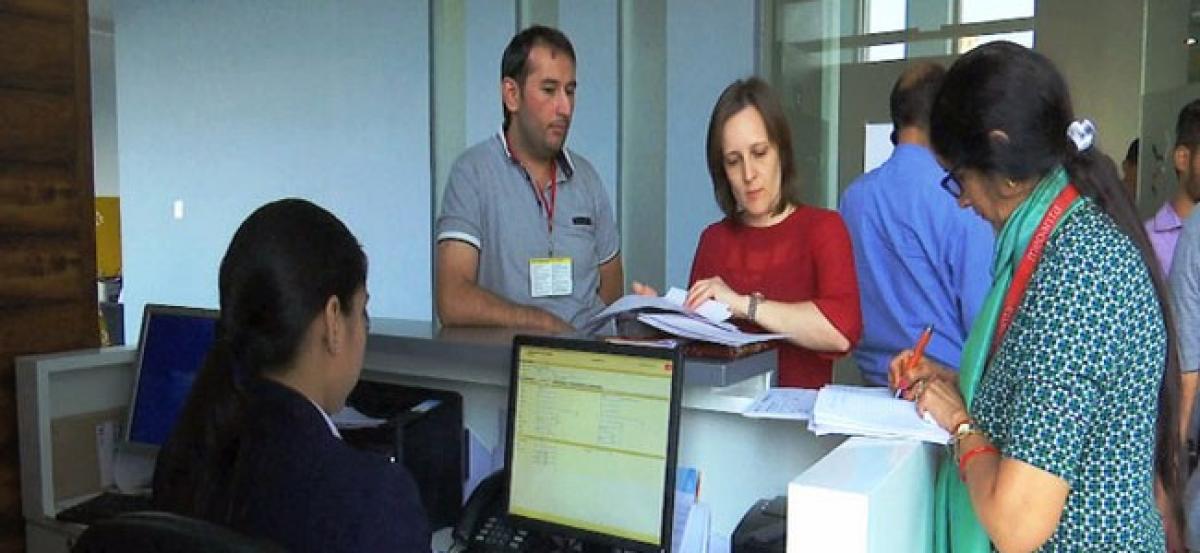 Highlights
58yearold Nguefack Guy from Cameroon came with a history of stroke leading to left hemiplegia On advice of a friend, he came to India for an advanced Neuro RehabilitationJosiane Pokam, Wife of Nguefack Guy said, For the first time I have come out of my country for a treatment According to me its good Everything is good, the equipment and the doctors are professional
Gurugram / Bangalore : 58-year-old Nguefack Guy from Cameroon came with a history of stroke leading to left hemiplegia. On advice of a friend, he came to India for an advanced Neuro Rehabilitation.Josiane Pokam, Wife of Nguefack Guy said, "For the first time I have come out of my country for a treatment. According to me it's good. Everything is good, the equipment and the doctors are professional".
Technologically advanced hospitals, specialized doctors, low-cost treatment and e-medical visa facilities have contributed to help India become one of the fastest growing medical tourism destinations in Asia.According to a FICCI-IMS report, over 500,000 foreign patients seek treatment in India each year.
They mostly come to India for heart surgery, knee transplant, cosmetic surgery and dental care, as the treatment cost in India is considered lowest in Asia.
Sandeep KM, General Manager Sales & Marketing, Sakra World Hospital said, "Patients who are coming from the Western World where you have NHA kind of model, like in UK, there is a lot of waiting period. So, we find that patients from UK and Canada agencies as well but they had wait for a long time, so they tend to come from there. Secondly, a large number of countries don't have that kind of services that we can provide because they don't have the infrastructure for the same".
India currently has around 18 per cent of the global medical tourism market. In an estimate, it can be a $9 billion-worth medical tourism destination by having 20 per cent global market share by 2020.
A large number of patients in India come from South Asia, Africa and CIS countries.
Rashmi Verma, Secretary, Tourism, Government of India said, "All the NABH approved the hospitals now put up the charges and the lists and all the facilities which they are giving are visible now on the website, so it is a very transparent thing".
"Any patients who are coming to India can go on that website and understand what are the kinds of facility being offers and at what prices. So they can choose where to go and how to go, and we also have certain facilities like counters set up at the airports like Mumbai, Delhi and Chennai etc. and to help those people who are coming for medical tourism", she added.Dr Naresh Trehan is a world-renowned cardiovascular and cardiothoracic surgeon who has over 48,000 successful open heart surgeries to his credit.
After practicing for 20 years in New York, he returned to India."If you take South Asia we have Bangladesh, Nepal, Pakistan, Sri Lanka and Maldives - progressively India has moved up the scale and become totally international in some of the institutions; whereas, Bangladesh has some good care happening there. So is Nepal, so is Pakistan.
So, we are offering the highest level of healthcare in this region - first in South Asia, then you look at all of Middle East, you look at Africa you look at South East Asia, you look at CIS countries - we are the hub for that", said Dr. Naresh Trehan, Chairman and Managing Director of Medanta - The Medicity.
Ayurveda, yoga and other wellness treatments also attracts many foreign patients.Marketing Ayurveda as part of the 'health tourism' has brought a new definition to vacationing in India itself.