Malaysian PM meets Zakir Naik, ruling party defends decision not to deport him to India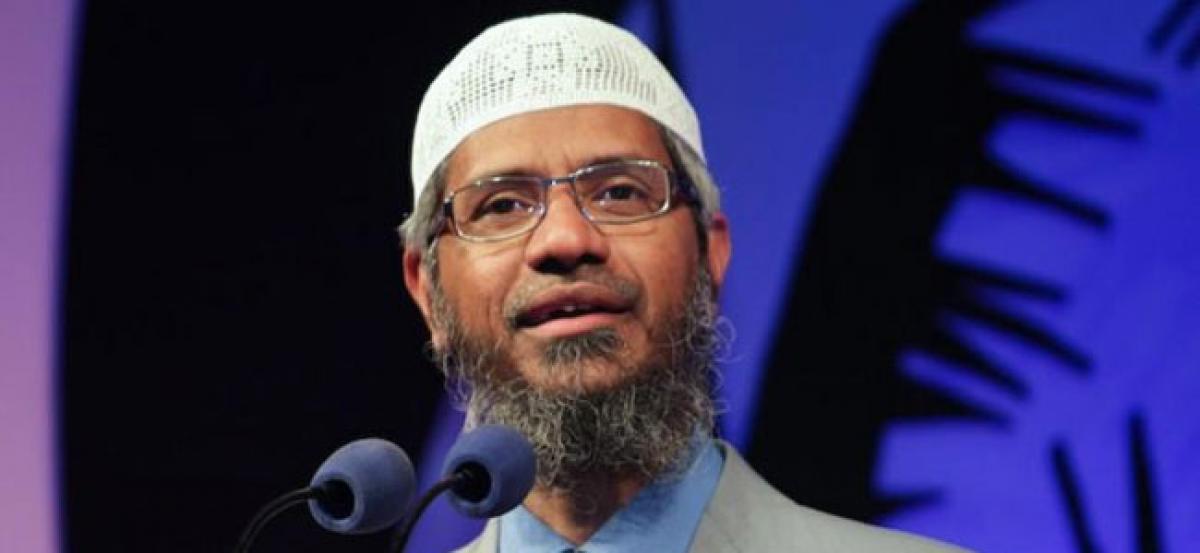 Highlights
Malaysian Prime Minister Mahathir Mohamad has met Zakir Naik, wanted in India for alleged terror activities and money laundering, and a ruling party strategist has stoutly defended the governments decision not to deport the controversial Muslim preacher, Malaysian media reported today
Malaysian Prime Minister Mahathir Mohamad has met Zakir Naik, wanted in India for alleged terror activities and money laundering, and a ruling party strategist has stoutly defended the government's decision not to deport the controversial Muslim preacher, Malaysian media reported today.
The meeting, which may not go down well in New Delhi, took place yesterday, a day after Prime Minister Mahathir ruled out deporting Naik, who has permanent residency status in Malaysia, unless he breaks Malaysian laws.
"I can confirm that Naik went to see Tun (Mahathir) this morning (Saturday)," Free Malaysia Today reported quoting a source as saying.
It is unclear as to what Naik discussed with Mahathir in their first meeting since the ruling Pakatan Harapan assumed power in Putrajaya, the report said. The meeting, which was unscheduled, was said to be brief, it said.
The meeting between Naik and Mahathir comes a day after the prime minister gave the clearest indication yet that the Malaysian government would not deport Naik, who is wanted in India over allegations of money laundering and terrorism.
There had been intense media speculation in India that the Malaysian government would act on an extradition request made in January. The Ministry of External Affairs had confirmed on Wednesday that an official request had been made.
But yesterday, Mahathir said that the government would not deport Naik as he has been granted Malaysian permanent resident status, unless he causes trouble in the country.
Meanwhile, a strategist of Malaysia's ruling Parti Pribumi Bersatu Malaysia (PPBM) has defended Prime Minister Mahathir's decision not to deport Naik to India, saying doing so would be akin to deporting Uighur Muslims to China.
PPBM strategist Rais Hussin said he personally could see no wrong in Naik's activities and speeches.
Deporting him would be akin to deporting Uighur Muslims to China, he said, referring to China pressing Malaysia for the extradition of 11 Uighur men who entered Malaysia illegally last year after their dramatic escape from a jail in Thailand last year.
China accuses separatist extremists among the Uighur minority of plotting attacks on China's Han majority in the restive far western region of Xinjiang and other parts of China. But rights groups have accused China of rights abuses in Xinjiang and imposing tight control on the religion of Uighurs, a charge denied by Beijing.
Rais also took issue with criticism of Naik on social media. He said the Indian Islamic preacher had his own way of articulating his views through debates.
Naik's detractors those with "a mob mentality" should debate him rather than asking him to be deported to India, he said.
Rais also questioned the motives of the Indian authorities whose action, he said, might not be grounded in justice.
In January, India had made a formal request to Malaysia to deport Naik, wanted by India for allegedly inciting youngsters for terror activities through his hate speeches. India also has an extradition treaty with Malaysia.
Rais also said that it was unfair of some Malaysians to compare the country's attempts to bring back convicted killer Sirul Azhar Umar and businessman Low Taek Jho with Malaysias stand on deporting Naik to India.
"Sirul was found guilty of murdering Altantuya Shaariibuu, while Jho Low is implicated in grand theft in relation to the 1 Malaysia Development Berhad case. How does that compare to Naiks comparative debates on religion?" Rais was quoted as saying.
In 2009, Sirul was convicted in Malaysia and sentenced to death for the sensational murder of a Mongolian woman, Altantuya Shaariibuu.
Naik has also accused the media in India of subjecting him to a campaign of vilification over the past two years. He said "fake news" about his deportation would be exposed.
"Most of the articles published against me will be proved as having no basis and that they were false," he said in a new video message through his Facebook page.
Naik is being probed under terror and money laundering charges by the National Investigation Agency (NIA). He had left India in July, 2016.
The NIA had first registered a case against Naik under anti-terror laws in 2016 for allegedly promoting enmity between different religious groups.
Naik is also under investigation for issuing alleged hate speeches that inspired a deadly terror attack on a popular cafe in Dhaka, the capital of Bangladesh in 2016.