Tej Pratap keeping up his family business of cheating poor: Sushil Modi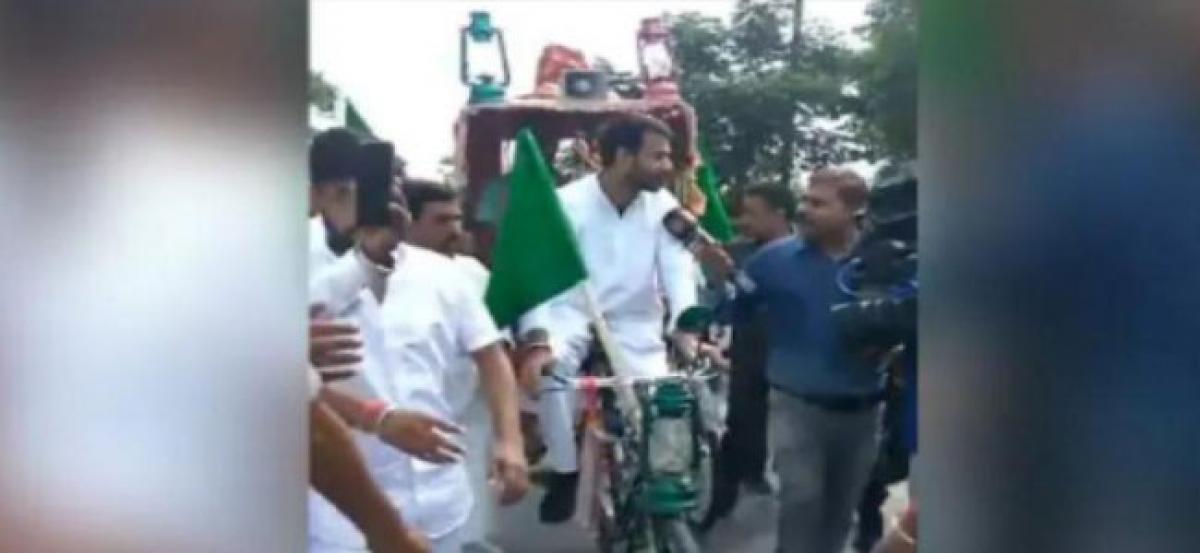 Highlights
Bihar Deputy Chief Minister Sushil Kumar Modi on Tuesday mocked RJD leader Tej Pratap Yadav for driving a rickshaw in his assembly constituency and charged Lalu Yadavs son with cheating the poor by getting photographed doing so while being in possession of costly cars and motorcycles
Tej Pratap Yadav, ex-state minister and elder son of Lalu Yadav, had visited his assembly constituency Mahua, on Monday.
Patna: Bihar Deputy Chief Minister Sushil Kumar Modi on Tuesday mocked RJD leader Tej Pratap Yadav for driving a rickshaw in his assembly constituency and charged Lalu Yadav's son with "cheating" the poor by getting photographed doing so while being in possession of costly cars and motorcycles.
Tej Pratap Yadav, a former state minister and elder son of Lalu Yadav and Rabri Devi, had visited his assembly constituency Mahua, in Vaishali district, on Monday.
Known for his earthy mannerisms which remind many of Lalu Yadav in his early years, Tej Pratap Yadav had driven the cycle rickshaw for some distance before stating "everybody should drive a rickshaw. It would come in handy at a time when fuel prices are soaring. The physical exertion involved would also bring health benefits".
Tej Pratap Yadav had also hosted an event "Sattu with Tej Pratap" - apparently taking a cue from Prime Minister Narendra Modi's "Chai Pe Charcha" - where his supporters were treated to a feast of roasted gram flour.
At one point, the mercurial leader complained of the sultry weather, undressed and started bathing at a roadside handpump with the remark "Mahua is my home and I have no reason to feel shame".
Reacting to the act, Sushil Kumar Modi said in a tweet, without naming anybody "those owning a Harley Davidson bike worth Rs 20 lakh and a BMW car worth Rs 40 lakh, get themselves photographed while driving a rickshaw. They want to keep up their family business of cheating the poor people".
The deputy chief minister and senior BJP leader also made an oblique reference to the RJD's foundation day celebrations last week where Yadav had placed a silver crown on the head of his younger brother Tejaswi Yadav.
He also referred to "benami property worth millions" allegedly owned by the Yadav family, which is facing probes by agencies like the Income Tax department, the CBI and the Enforcement Directorate.
JD(U) lawmaker and spokesman Neeraj Kumar also said in a statement "the people of Bihar have had enough of the antics of Lalu Prasad. They do not have the patience to put up with the farce of his son. If Tej Pratap Yadav has any sense of honour, he should not continue to own his costly car and motorcycle but donate these. After all, it is unlikely that he had bought these with his own earnings".
Vaishali lawmaker Rama Kishor Singh, who belongs to the Lok Janshakti Party, also reacted to the episode, saying "Tej Pratap Yadav should try to come up with some serious politics instead of seeking refuge in the mimicry of his father".