Will Amit Shah apologise for UP BJP MLA's remark on rape, asks Shiv Sena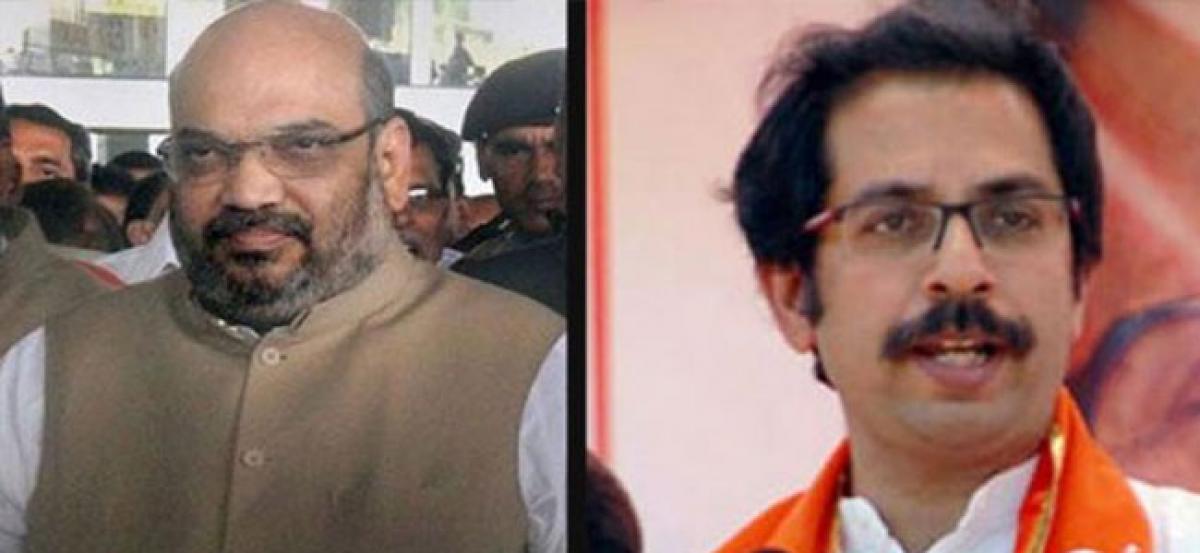 Highlights
The Shiv Sena on Friday asked whether BJP president Amit Shah would apologise for his partys UP MLAs remark that even Lord Ram cannot curb rapes
Mumbai: The Shiv Sena on Friday asked whether BJP president Amit Shah would apologise for his party's UP MLA's remark that even Lord Ram cannot curb rapes.
The Sena's poser came a day after the BJP sought an apology from Congress president Rahul Gandhi for Shashi Tharoor's 'Hindu Pakistan' remark.
"Tharoor said if the BJP wins the 2019 (Lok Sabha) polls, India will become 'Hindu Pakistan'. In short, if (Narendra) Modi is voted to power again, India will be declared a Hindu rashtra (nation). This is RSS's agenda, which Tharoor has only expressed from the Congress platform," the Sena said in an editorial in its mouthpiece 'Saamana'.
The Lok Sabha MP from Thiruvananthapuram, Tharoor, had set off a political controversy on Wednesday with his remark that if voted to power again, the BJP will rewrite the Constitution and pave the way for creation of a "Hindu Pakistan".
On Thursday, the BJP had demand an apology from Gandhi for the "attack on Indian democracy and Hindus".
"The BJP wants Congress president Gandhi to apologise for Tharoor's remarks. But one needs to understand that Tharoor is only speaking the language of the BJP," the Sena said.
"One of its MLAs Surendra Narayan Singh had said even Lord Ram cannot curb rapes. His statement is an insult to Hindus. Shouldn't BJP chief Amit Shah apologise for his remark?" it said. BJP MLA from Bairia in Uttar Pradesh, Singh, had recently said, "Bhagwan Ram bhi aa jaayenge, tab bhi balaatkaar ki ghatna per niyantran nahi ho paayegaa (The incidents of rape cannot be curbed, even if Lord Ram descends on earth)".
The Sena said, "India was divided because of the Congress. That party is responsible for the division. If Pakistan was founded on the basis of religious identity, then Hindustan is a Hindu rashtra."
"The Sangh parivar always accused (Jawaharlal) Nehru, (Sardar) Patel and others of turning Hindustan into a 'secular' state. If Nehru and others had committed this mistake, then the country gave two opportunities to the BJP to rectify it. First during (Atal Bihari) Vajpayee's reign and now under Modi. It is not necessary to wait till 2019 to declare India a Hindu state. Modi can do it right now and we insist that he does it immediately," the Uddhav Thackeray-led party said.
The situation in India is not such that it should be called 'Hindu Pakistan'. There is a different kind of anarchy in Pakistan, the Sena said.
"The democratic system in that country (Pakistan) is over. Inflation, unemployment, corruption and other evils are wreaking havoc. Those speaking truth are being eliminated there. Pakistan has been like this since its birth," it added.
"But have the problems in India been resolved? They still persist. After demonetisation, the financial condition of the poor worsened. The government seeks to save cows and sheep, but cannot stop farmers' suicides," the Sena said.
Though the government has not been able to build a Ram temple in Ayodhya, the Railways has announced Ramayan Express to touch the sentiments of the people, it said. "Till the 2019 elections, such colourful balloons will be released in the air and new promises will be made. This cannot be called a 'Ram rajya'," the party said.
Subscribed Failed...
Subscribed Successfully...