Has BJP started Taliban in Hinduism: Tharoor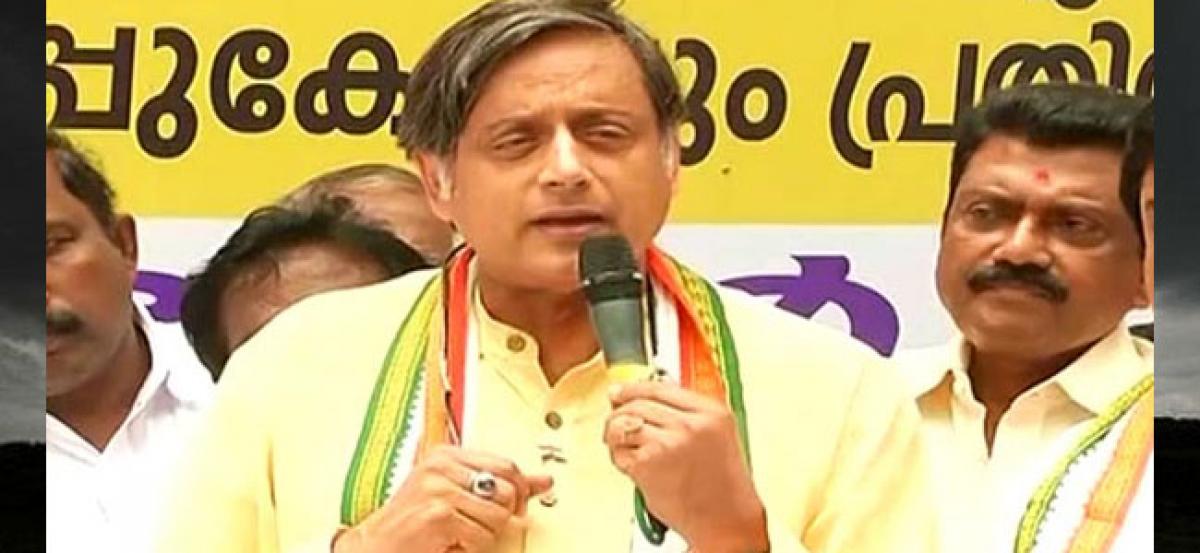 Highlights
Congress leader Shashi Tharoor, who earlier triggered a controversy after his Hindu Pakistan comment, has once again hit out at the BJPled Centre and questioned whether they are trying to start Taliban in Hinduism
Thiruvananthapuram (Kerala) : Congress leader Shashi Tharoor, who earlier triggered a controversy after his "Hindu Pakistan" comment, has once again hit out at the BJP-led Centre and questioned whether they are trying to start Taliban in Hinduism.
"They are asking me to go to Pakistan. Who has given them the right to decide that I am not a Hindu like them and I don't have the right to stay in the country? Have they started a Taliban in Hinduism?" Shashi Tharoor said while addressing a public gathering here on Tuesday.
This comes after Tharoor on Monday accused the Bharatiya Janata Party Yuva Morcha of vandalising his constituency office in Kerala's Thiruvananthapuram.
Tharoor alleged that offensive slogans were raised against him; asking him to go to Pakistan. He also alleged that his office was damaged.
Last week, Tharoor had stated that if the BJP wins the 2019 Lok Sabha elections, it will create a condition leading to the formation of a 'Hindu Pakistan'.
Addressing an event in Thiruvananthapuram, Tharoor said, "If they (BJP) win a repeat in the Lok Sabha our democratic constitution as we understand it will not survive as they will have all the elements they need to tear apart the constitution of India and write a new one. That new one will be the one which will enshrine principles of Hindu Rashtra, that will remove equality for minorities, that'll create a Hindu Pakistan."