Amit Shah, Rahul Gandhi, Mohan Bhagwat unfurl tricolour on occasion of Independence Day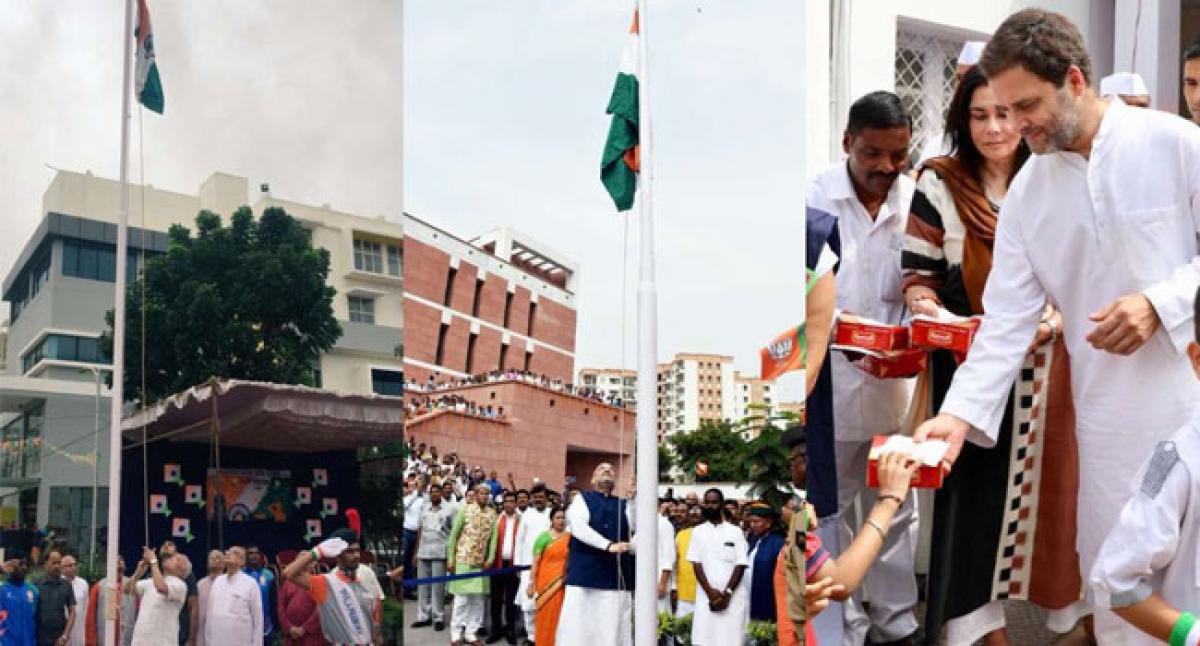 Highlights
On August 15, BJP President Amit Shah, Congress President Rahul Gandhi, and RSS Chief Mohan Bhagwat unfurled the tricolour after Prime Minister Narendra Modi delivered his fifth speech at the Red Fort
On August 15, BJP President Amit Shah, Congress President Rahul Gandhi, and RSS Chief Mohan Bhagwat unfurled the tricolour after Prime Minister Narendra Modi delivered his fifth speech at the Red Fort.
भारतीय जनता पार्टी मुख्यालय पर ध्वजारोहण किया व स्वतंत्रता दिवस मनाया।
भारत माता की जय! pic.twitter.com/zoVgIulxyY

— Amit Shah (@AmitShah) August 15, 2018
Earlier, children jostled to shake hands with Prime Minister Narendra Modi as he sidestepped his security cover to greet them after his Independence Day address to the nation from the Red Fort today.
Congress President @RahulGandhi hoists the tricolour at AICC headquarters. #MainTirangaHoon https://t.co/JTBfN6HzYV

— Congress (@INCIndia) August 15, 2018
After delivering an over 80 minute speech from the ramparts of the historic monument, he waved to the crowd and moved to his motorcade for departure. But, on his way out, he halted and broke from the security cordon to enter an enclosure where children welcomed him with loud cheers.
Dressed in colours of the national flag, the overwhelmed children jostled to catch a glimpse of the prime minister while those on the front rows even got an opportunity to shake hands with him.
Modi had last year also moved out of his security cordon to greet children on the occasion.
On the occasion of #IndependenceDayIndia Dr Mohan Bhagwat ji addressed students at Rashtrotthan Vidya Kendra, Bengaluru. #MyFlagMyFaith pic.twitter.com/gjkvbaur2H

— Friends of RSS (@RSS_Org) August 15, 2018
Shivani Pal, a class 7 student in government-run Sarvodaya Vidyalaya, was all smiles as she was among the lucky few who not only managed to shake hands with Modi but also got a chance to speak to him amid chaos.
"He blessed me and asked me to study well. He also asked me to follow the motto of 'Sabka Saath, Sabka Vikas," she said, beaming with pride.
A class 9 student, Alisha, said it was a dream come true for her to see her idol and get a chance to speak to him.
"He asked to study well and make the nation proud," Alisha said.
The crowd soon swelled to a huge mass of children who hankered to shake hands with him, prompting Modi's special security team to step in.
As he tried to walk back to his car, the overenthusiastic crowd continued to swamp him even as he obliged the doting children with warm smile and gestures.
Eventually, the prime minister got some relief from the crowd, allowing him to move back to his car, after which the motorcade sped away.
Archana Rohilla, a teacher, said students from around 35 schools across the city have come to the event.