Mysuru: Stray horse goes wild and bites civilian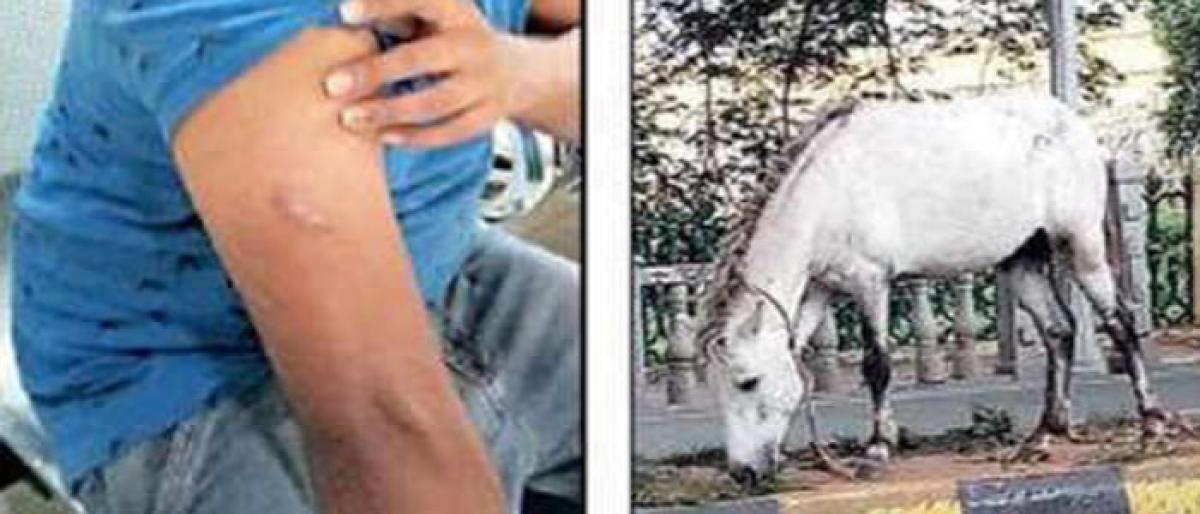 Highlights
On Thursday, Harish, a marketing executive, was bitten by a stray horse near Mysore Law Courts
On Thursday, Harish, a marketing executive, was bitten by a stray horse near Mysore Law Courts. He was weaving his bike through the traffic on a work assignment at 3.30 PM when he came across two horses fighting with each other. The horses were moving around wildly, knocking their heads together, when Harish slowed down to let one of them pass by. Instead, the horse turned and lunged at him and bit him on thee right shoulder. Harish was dumbstruck and did not know how to react for a few seconds and the horse clamped its jaws. He then vigorously shook his hand to free himself.
"I was shocked when the horse held my hand in its mouth but I managed to get it released and jumped to safety. Luckily, I didn't fall from the bike otherwise it would have been another tragedy," said Harish.
But another shock awaited Harish at the Krishnamurthypuram Primary Health Centre as he arrived suffering in pain. The doctors suggested he get an anti-rabies vaccine (ARV). He was given a tetanus injection and painkillers and referred to the government-run Krishnarajendra Hospital.
PHC medical officer Suvarna said she had come across a horse bite for the first time. "We advised him to get ARV as precaution. It is the only treatment available for bites by dogs, horses, cats, monkeys, rats and squirrels," she said.