Centre agrees to meet demands of farmers but resolution not in sight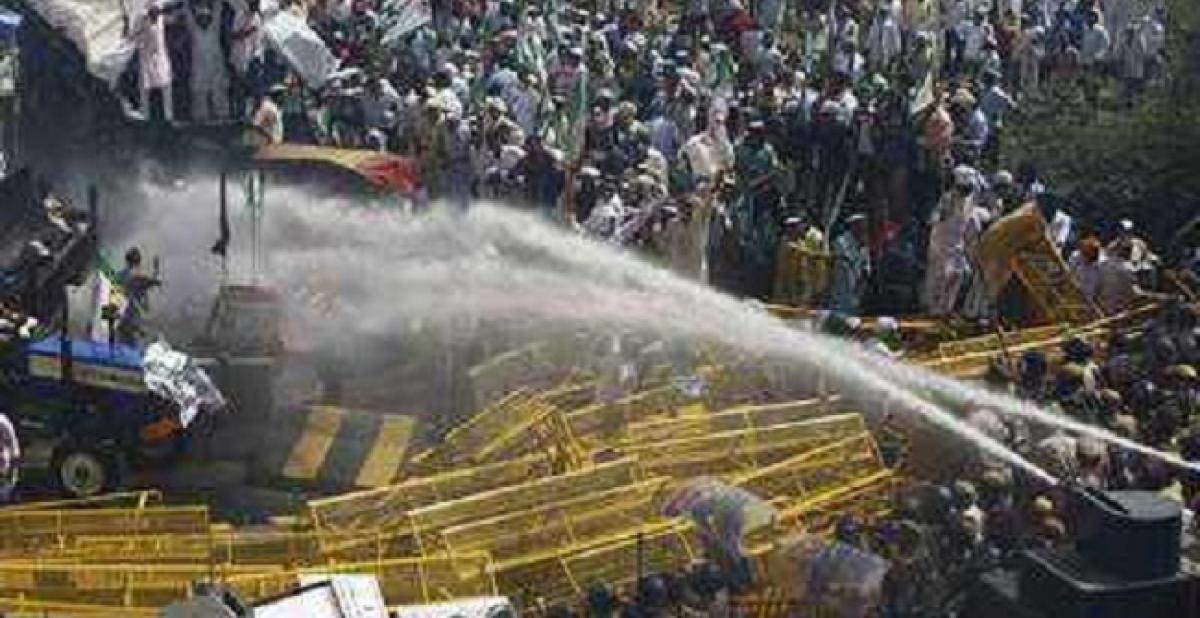 Highlights
After prolonged discussions between a Bharatiya Kisan Union BKU delegation led by Naresh Tikait at the residence of Home Minister Rajnath Singh, the government was willing to consider demands relating to procurement and issues such as lower GST rates on farm implements but was noncommittal over loan waivers which it said was an issue in the domain of states
NEW DELHI: After prolonged discussions between a Bharatiya Kisan Union (BKU) delegation led by Naresh Tikait at the residence of Home Minister Rajnath Singh, the government was willing to consider demands relating to procurement and issues such as lower GST rates on farm implements but was non-committal over loan waivers which it said was an issue in the domain of states.
Congress's decision to join the protesters on Wednesday after Rahul Gandhi pounced the government for cruelty on farmers on the birthday of Mahatma Gandhi, "a day of non-violence" and CWC adopting a resolution to express unity with farmers, had strengthened the estimate that a resolution may not happen on Wednesday.
As the Centre is ready to accept vital demands like a bigger window for crop procurement and filing of a review petition against an NGT order banning 10-year-old diesel in the NCR, the aperture between agitating farmers and the Modi government appears to have narrowed but without offering promise of decision of the standoff.Union Minister of State for Agriculture Gajendra Singh Shekhwat said the demand for capping GST on farm equipment at 5% would be referred to the GST Council.
"An agreement has been reached with the farmers on most of their demands and we are confident that the agitation will be called off," Rajnath Singh told the media."The government has agreed to link MGNREGA with farming for which a committee of chief ministers has been formed and in which farmers representatives will be included.We have agreed in principle that MGNREGA can be linked to farming sector as its very much feasible," a minister said.
Rajnath Singh said Congress and other opposition parties were "misguiding" farmers for political gains but leaders of the agitation were in accordance on most of the issues and were willing to call off the stir."We have assured that demands that were not immediately agreed to will be taken up in another meeting at the residence of the home minister in the next four-five days," said Shekhawat, who participated in the talks along with UP minister Suresh Rana."Farmer leaders were satisfied with the outcome of the meeting and assured that they will call off the agitation," he added.However, Tikait said police action against the farmers on the Delhi border was unwarranted and a decision about the stir would be taken only after the protesters reached Rajghat on Wednesday.
Late on Monday the Centre and UP Chief Minister Yogi Adityanath kept in touch with farmer leaders and deliberations went on till the wee hours on Tuesday. However, an resolvement could not be reached even as the UP CM made specific oath on several issues but refused to make any commitment on demands like seeking review of the ban on 10-year-old diesel vehicles. "The fight is now for self-respect. We have agreed to call off the agitation but it can't happen until we reach Rajghat," he said.Shekhawat, who had visited the site of the agitation to announce the government accepting the covenant of demands, said some politically motivated people in the crowd were hell bent on muddling law and order and were trying to block a peaceful end to the issue.
The UP government has already waived off farmers' loans.Earlier, BKU spokesman Yudhvir Singh said, "We had a discussion on 11 points. Government agreed on seven points but didn't agree on four points yet. They said they will have to think about those in a further meeting after which they will tell us, as it is a financial matter."
He said government was ahead to clear its stand on issues such as C2+50 (minimum support price of cost, which includes cost of capital and rent of cultivated land as recommended by the MS Swaminathan Commission). The government has not accepted this formula.As the farmers clashed with cops on Delhi-UP border, many in the government expressed suspicion that a group of agitators was spoiling for a confrontation. "Some of them were unnecessarily aggressive during the talks UP CM Yogi Adityanath held for hours to persuade them to call off the agitation. They have been shifting goalposts. While they had promised to meet UP ministers Rana and Lakshmi Chaudhary in Meerut at 10 am on Monday but started marching towards Ghaziabad at 6 AM," said a source in the UP government.