Rahul Gandhi promises farm loan waiver in Telangana; slams PM Modi, KCR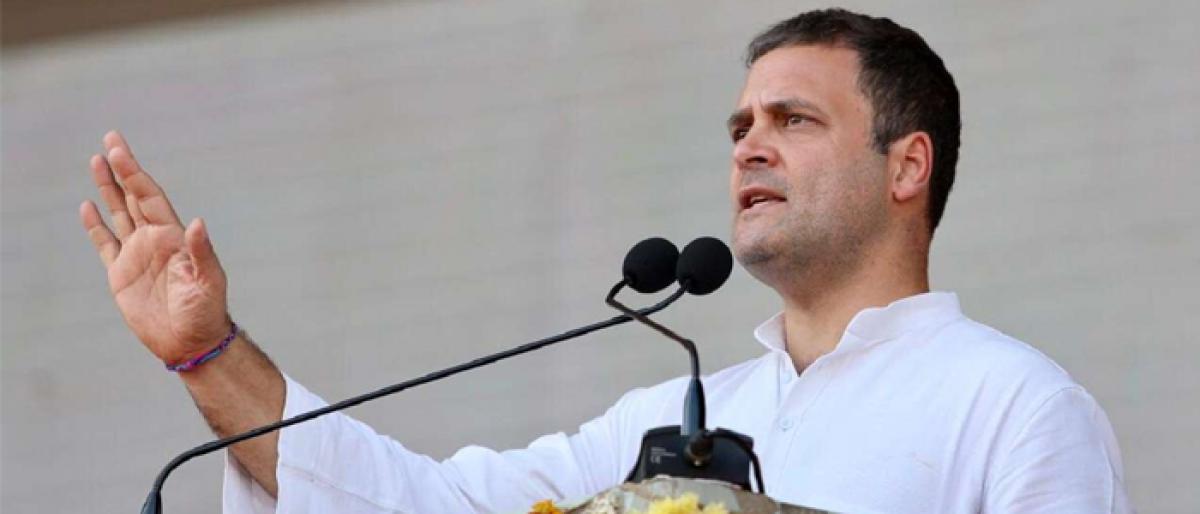 Highlights
Congress President Rahul Gandhi on Saturday promised farm loan waiver of up to Rs two lakh at one go if his party wins in Telangana and targeted Prime Minister Narendra Modi and TRS chief K Chandrasekhar Rao accusing them of making false promises and indulging in corruption
Bhainsa:Congress President Rahul Gandhi on Saturday promised farm loan waiver of up to Rs two lakh at one go if his party wins in Telangana and targeted Prime Minister Narendra Modi and TRS chief K Chandrasekhar Rao accusing them of making false promises and indulging in corruption.
Kicking off the party's campaign for December 7 Telangana Assembly polls at a public meeting in Nirmal district here, he alleged that KCR, as Rao is popularly known, insulted B R Ambedkar by changing the name of a project named after him.
"Change will come in Telangana. KCR government will go. And in Delhi, Narendra Modi's government will go. I did not come here to make false promises. If you want to listen to false promises, then go to KCR and Modi, they will give you false promises," the Congress president said.
Attacking the Telangana Rashtra Samithi (TRS) chief, Rahul alleged that he changed the project designs, inflating its cost from Rs 38,000 crore to Rs one lakh crore.
"Why was it made into Rs one lakh crore (project)? Because the Chief Minister wants to indulge in corruption," he alleged. Rahul said with Rajiv Sagar and Indira Sagar projects too original costs were inflated.
"Wherever you see, CM indulges in corruption and benefits go to his family, relatives. As soon as he became CM, KCR started indulging in corruption, giving all the benefits to his family," the Congress chief alleged.
He also promised that the Congress will implement the Tribal Rights Bill (The Scheduled Tribes and other Traditional Forest Dwellers (Recognition of Forest Rights) Act) and Land Acquisition Acts in letter and spirit when it comes to power at the Centre as well as in the state.
"Farmers are committing suicide all over the country. Thousands of farmers committed suicide in Telangana because they didn't get a proper price (for their produce). The Congress party promises that Rs two lakh in farm loan with be waived in one go. Not only that we will also ensure Rs 7,000 per quintal for cotton," the Congress president said and alleged that "neither Modi nor KCR is able to provide farmers' good price for their produce".
"The moment Congress comes into power in Telangana, we will protect tribal lands. We will give Rs 3,000 allowance each to unemployed youth," Gandhi added.
He said the KCR government failed to fulfil promises such as job for every family, three acres of land to every SC and ST family and two bedroom houses for all eligible people. The AICC leader alleged that Rao also failed to implement 12 per cent quota for STs and provide drinking water to every family.
"Similarly, Modi failed to keep up the promised Rs 15 lakh in each and every bank account, two crore jobs for Indian youth every year and fair price for farmers."
"Wherever Modiji and KCR go they make false promises. You watch all my speeches. I am in politics for the past 15 years. We promised to waive their loans (earlier). We waived Rs 70,000 crore worth of farm loans," he said.
Gandhi also accused Modi of spreading hatred and enmity and said: "he pits people of one religion against the other, one region against another, one caste against another, and weakens the country".
The Congress moves forward by taking everybody together, he said. He alleged that the note ban which was implemented during the end of 2016, destroyed the small-scale sector in the country