Delhi-NCR mega strike: Autos, taxis go off road, 400 petrol pumps remain shut today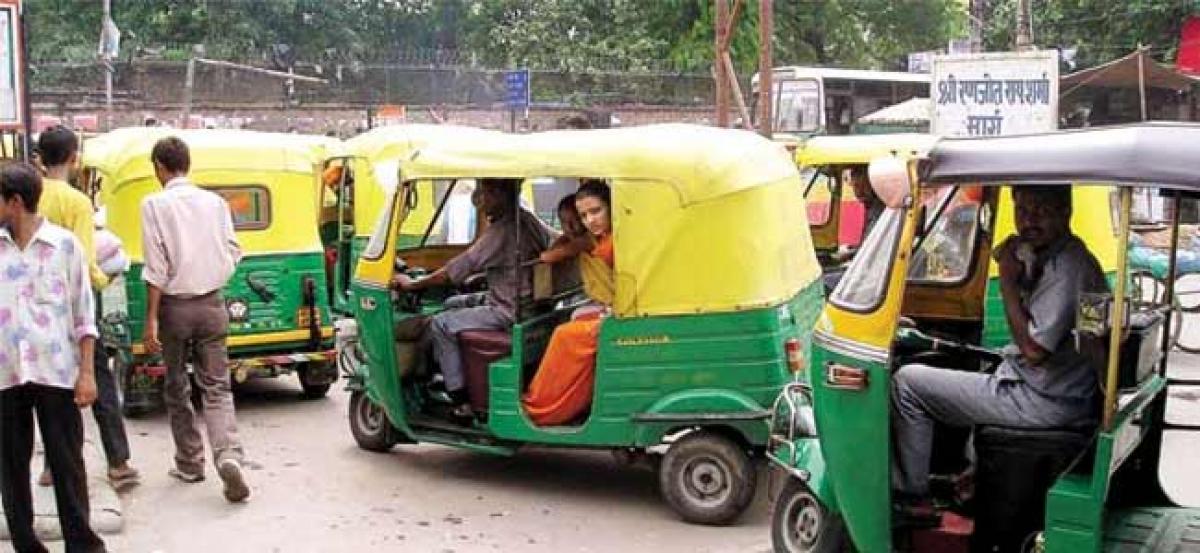 Highlights
People of DelhiNCR are set for tough times as numerous autos and taxis will go off road today Apart from this, the 400 petrol pumps will also remain shut today The two strikes will have a crippling effect on the traffic
People of Delhi-NCR are set for tough times as numerous autos and taxis will go off road today. Apart from this, the 400 petrol pumps will also remain shut today. The two strikes will have a crippling effect on the traffic.
The strike has already begun to affect the commuters. People were finding it difficult to book even app-based cabs.
A driver of an app-based cab service claimed that there were people who were damaging the cars. However, when contacted Ola firmly denied having knowledge of any strike and said that there's no strike and that 'our app services are running smoothly.'
"The one-day 'Chakka Jaam' protest by the Sanyukt Sangharsh Samiti is being held as the government has failed to listen to our grievances," said Inderjeet Singh, chairman of the All India Tour and Transport Association and convener of the joint forum.
"Auto-rickshaw and taxi drivers are losing their employment due to wrong transport polices of the government and also due to low fares offered to commuters by cab aggregators," he said.
The other major strike is by petrol pump owners. All 400-odd petrol pumps along with linked CNG dispensing units in the national capital will remain shut Monday in protest against Delhi government's refusal to reduce VAT on fuels, the Delhi Petrol Dealers Association (DPDA) said in a statement.
There are about 400 petrol pumps in Delhi which also have linked compressed natural gas (CNG) stations and all of them will remain closed for nearly 24 hours in protest from 6 am onwards on October 22 and remain closed till 5 am on October 23, it said.
DPDA president Nischal Singhania said, "The central government had slashed the rate of petrol and diesel by Rs 2.50 per litre each on September 4. This was followed by reduction of VAT (value added tax) by various states including neighbouring Haryana and Uttar Pradesh, bringing relief to their residents.
"But, the Delhi government refused to reduce VAT on fuel both petrol and diesel resulting in fuel becoming more expensive than bordering Haryana and Uttar Pradesh." In comparison to Delhi, fuel rates in bordering states like Uttar Pradesh and Haryana are cheaper, he said.
Because of high price in Delhi and low prices in states like UP and Haryana, customers are deserting the petrol pumps in Delhi leading to huge drop in sales, Singhania said.
Due to difference in prices, there has been a sharp drop of 50-60 per cent in sale of diesel in Delhi and 25 per cent in petrol in this quarter, the DPDA president said, adding that on Monday, all the 400 pumps of Delhi will neither purchase nor sell petrol, diesel and CNG.
He said the festival season is peak season for the sale of fuel due to social travelling by residents.
"DPDA urges the Delhi government to immediately reduce VAT on petrol and diesel and encourage commuters to buy euro VI fuel and save the livelihood of employees and owners of petrol pumps of Delhi and also save state's revenue loss," the statement said.
Delhi Chief Minister Arvind Kejriwal took to Twitter and said that the strike by petrol pumps was sponsored by the BJP. 'Petrol pump owners hv told us privately that this is a BJP sponsored strike, actively supported by oil cos. In fact, BJP has thrust it upon petrol pump owners. People will give BJP a befitting reply in elections for continuously inconveniencing people thro their dirty politics (sic),' Kejriwal said on Twitter.