RTI misuse by public authorities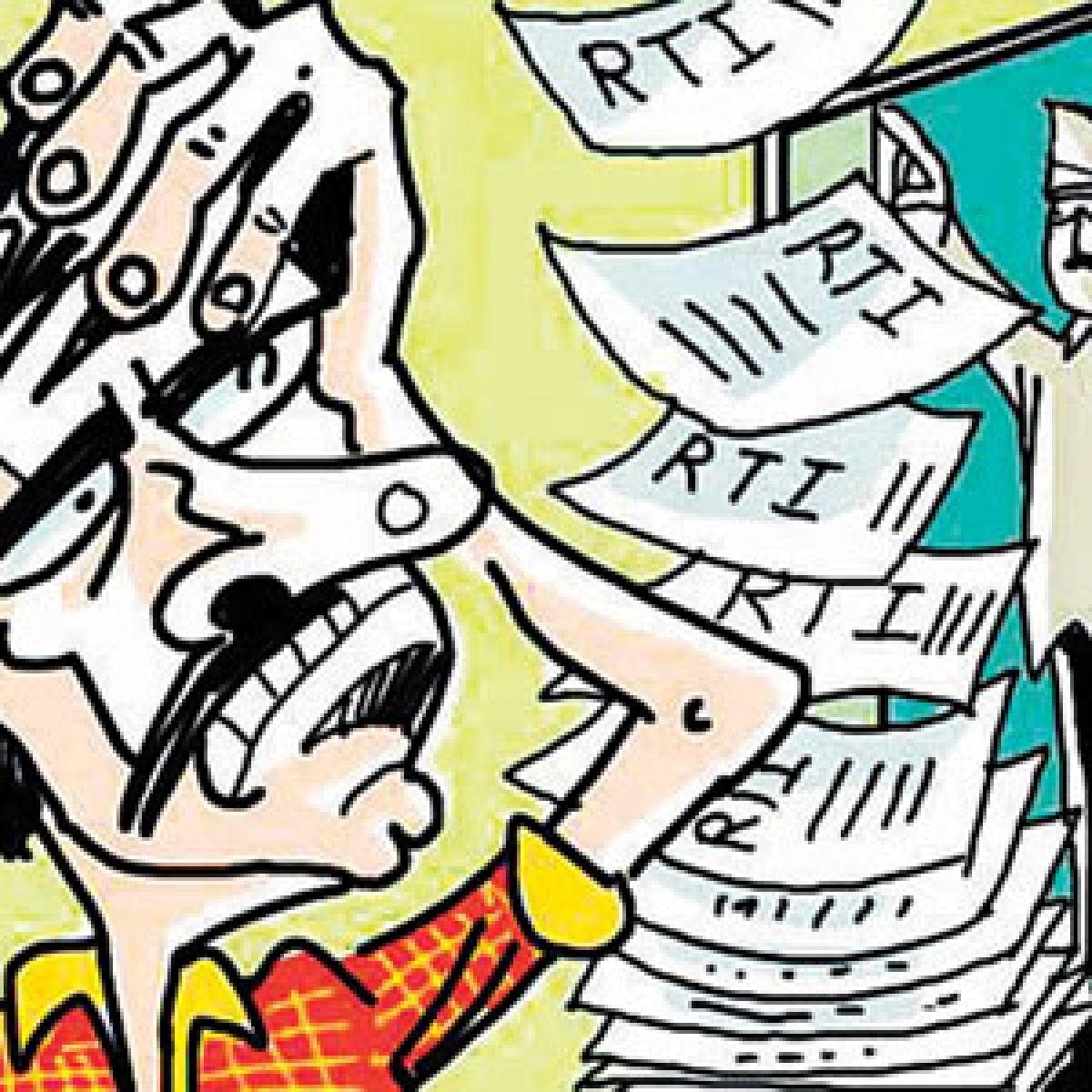 Highlights
This is a story of how a 'non-existing' RTI question and false reply to it destroyed peace of a person who was once PIO and made him an accused.  L D...
This is a story of how a 'non-existing' RTI question and false reply to it destroyed peace of a person who was once PIO and made him an accused. L D Chopra was the applicant under RTI Act, file about which was termed as 'missing.'
An SPIO answered it by a letter SPIO/DC(N) /RTI/5/ID No. 360/928 dated 14.02.08, as follows: "(1)Mr. Vijay had procured copy of the WILL of Sukhdevraj, the testator, but had not given his address on the application form dated 22.03.1999 and no identification proof was given by Mr Vijay; (2) No death certificate of Sukhdevraj had been submitted along with the application."
Generally, PIO gives copies of documents but does not conclude like this. This looks like a report with allegation against another PIO that he gave a copy of WILL without taking death certificate, implying corruption. This subjected a former Sub-Registrar Harjeeth Singh to accusation of bribery and several probing investigations.
Harjeeth Singh, who was PIO of Registration department, filed an RTI application seeking copies of LD Chopra's RTI request, reply and the entire file on that request. The PIO said 'file is weeded out'. The CIC found that both ADMs, Central and North, have a duty to search, trace and produce the entire file.
It also found that a false and illegal reply was given by the SPIO and the CIC directed the two ADMs to inform the Commission as to who gave that reply and explain why compensation should not be given to the appellant for causing serious loss, agony, etc. The CIC asked the department to inquire into this. After an inquiry, ACB ruled out bribery but raised doubts about RTI reply.
Harjeeth pointed out that L D Chopra was indicted as an abuser of RTI in a different case by the CIC. After further hearings, the Commission declared that the letter dated 14.02.08 is wrong, illegal, irregular reply and generated for protecting some vested interests of some persons, and hence not valid, for reasons: The testator of will deed died long back in 1990, hence issuing certified copy of his will-deed to applicant is proper, legal and correct.
The reply on 14.02.08 is not based on verification of any record constituting supporting documents for the issuance of certified copy by Sub Registrar (appellant), because they are weeded out in 2002 itself. SPIO could not have verified record which was non-existing. Before issuing such a letter making wild allegations against the appellant, the SPIO should have at least checked up as to whether testator died in which year, whether death certificate was available etc.
Had he done so, he could have concluded that issuance of certified copy of will-deed after death of testator was legal and regular. The SPIO had deliberately abdicated that responsibility and issued a letter recklessly causing irreparable loss to appellant. Except for reasons of corruption, nothing might have motivated the SPIO to issue such a response to an RTI request.
The SPIO made a false statement, for which he should have been prosecuted under criminal offence of perjury. The SPIO does not deserve exemption under good faith clause because he did not act in good faith, did not act in diligence, but acted with recklessness, without verification and apparently for malicious purposes, that makes his action, an 'act in bad faith'.
Bribery charge against appellant was ruled out. During enquiry the Sub Registrar Office submitted that application of Vijay was not traceable as it has been weeded out. The public authority is claiming that this record related to RTI reply dated 14.2.2008 is not 'traceable' now. The allegation against the appellant in the preliminary enquiry report by ACB Branch was solely on the basis of the reply.
Enquiry officer of ACB did not find any violation or deviation from the provisions of Indian Registration Act and rules framed there under the Act in relation to issuance of certified copies by the appellant. Whole enquiry report was around this letter which cannot stand the scrutiny of law. That letter dated 14.02.08 is not in accordance with the definition of 'information' in Section 2(f) of RTI Act.
Any responsible and honest SPIO will generally answer "photo copy of identification proof of applicant could not be located," but does not say "no copy of identification of proof was submitted." This is a conclusion drawn by the SPIO, as if he was an enquiry officer and concluded so based on some evidence. Similarly, he should have replied 'photo copy of death certificate could not be traced as 9 years elapsed and it might have got weeded out within three years based on weeding out policy.'
Instead, SPIO passed out a personal judgment saying "no copy of death certificate of testator was submitted at the relevant time 9 years back." As per the Section 57(2) of Registration Act, the copy of will-deed of testator is accessible to 'any person' after the death of the executants (but not before) to any person applying for such copies" from the office of Sub-Registrar.
Death certificate of a particular person is a public document and can be obtained from Registrar of Births and Deaths. Appellant obtained it in 2015, which established the fact of death of testator Sukhdev Raj in the year 1990. This proves that the issuance of copy of will-deed of testator was done after his death and thus the conclusion of the SPIO that "no copy of death certificate of testator was submitted at the relevant time 9 years back" is false and deliberate untruthful statement.
As per weeding out policy, non-permanent record such as loose papers like proof of identity or copy of death certificate which forms basis of application for certified copy of will-deed of testator will be destroyed after retention period of three years. In the offices of Sub-Registrar, almairahs are provided for keeping permanent records and not for non-permanent records.
Hence they will be bundled and kept in record room and they have to be weeded out after three years to save the space for new bundles of non-permanent record. Thus SPIO should have assumed that these papers were destroyed as per weeding out/retention policy and presumed that the then Sub-Registrar (appellant) has supplied copy of will-deed in proper manner.
This factual and policy-based aspects were deliberately ignored by SPIO. The reply dated 14.2.2008 was given by SPIO who had no jurisdiction as PIO over the record room of Sub-Registrar No.II (Janakpuri) located at Kashmere Gate and hence illegal, irregular, non-est factum i.e., non-existing in the eye of law.
CIC wanted to know as to who gave reply on 14-2-2008 under No. SPIO/DC(N)/RTI/5/ID-360/928, and ordered filing of an affidavit regarding the name and details of the officer/employee who wrote the RTI answer dated 14-2-2008 and he must explain why compensation should not be given to the appellant for causing such a serious loss, agony, etc.
The Commission again issued a show cause notice on 11th Feb 2016 to 2 ADMs and 2 PIOs of Central and North Districts, each to show cause why penalty of Rs 25,000 should not be imposed and why disciplinary action cannot be recommended against each of them. It appears that the officer who signed letter dated 14.2.2008 is known to others, but all of them are shielding him by putting forward the 'non-traceable' plea.
The CIC asked under Section 19(8) office of Chief Minister, GNCTD, or office of the Deputy Chief Minister of GNCTD and/or office of Home Ministry, to inquire into this falsification incident and take necessary action in the interest of transparency and protecting the RTI Act, from being misused by the officers of the public authority to help land grabbers and inform the action taken to the appellant and the Commission.

Subscribed Failed...
Subscribed Successfully...