Choppergate: Is it Sonia's Bofors?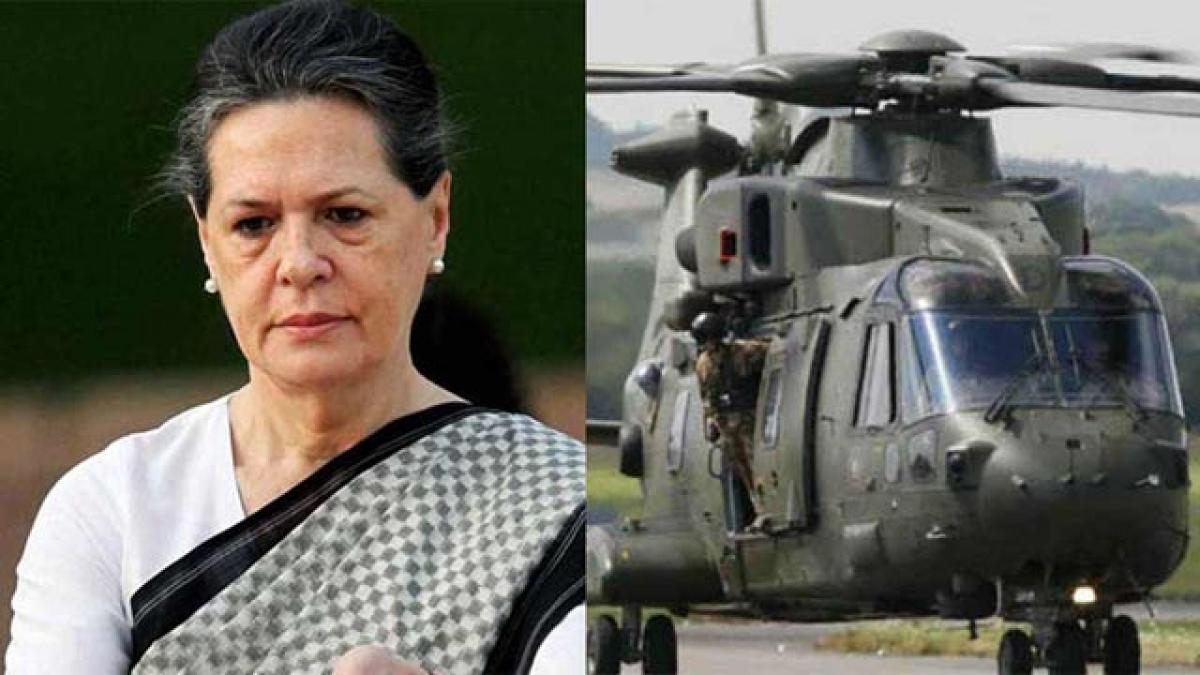 Highlights
When does money become dirt? When it begins to stick. As the AugstaWestland helicopter corruption saga explodes on the political firmament, call it a twist of irony or what you may, but like a thunderbolt out-of-the-blue the deal has once again come to haunt and taunt Sonia's Congress.
When does money become dirt? When it begins to stick. As the AugstaWestland helicopter corruption saga explodes on the political firmament, call it a twist of irony or what you may, but like a thunderbolt out-of-the-blue the deal has once again come to haunt and taunt Sonia's Congress. The still-exploding VVIP Choppergate has uncanny similarities with the infamous Bofors scandal of mid-eighties which led to her late husband Rajiv government's downfall in 1989 General Elections.
This time, it is not howitzers, but helicopters, the year not 1989 but 2016. But the charge is the same: Embezzlement of funds by Congress politicians. Both erupted on foreign shores Bofors in Sweden and Augusta in Italy. Both sent shockwaves in the political and defence establishment wherein politicians, bureaucrats and top military officials have come under the scanner in both cases for taking bribes to clear the deals.
The facts: In 2010, the then Congress-led UPA II government signed a contract to purchase 12 AgustaWestland helicopters for use by VVIPs at a cost of Rs 3,600 crore. In 2013, the deal was put on hold following the arrest by Italian authorities of the firm's CEO Bruno Spagnolini and Giuseppe Orsi CEO of Finmeccanica, AgustaWestland's parent company on charges of bribing middlemen to secure the deal with the Indian Air Force (IAF).
In 2014, the deal was cancelled by the UPA government citing integrity. Said Defence Minister Antony: "Corruption has taken place and bribes have been taken. The CBI is pursuing the case very vigorously." Till date, 45 per cent of the money has been recovered. In September 2015, a special CBI court issued non-bailable warrant against British middleman Christian Michel as he was needed for questioning on how much money he received as "commission."
On 8th April, the Milan Court of Appeals sentenced Giuseppe Orsi to jail for four-and-a-half years and Bruno Spagnolini to four years imprisonment. Predictably, all hell broke loose engulfing the then Indian government as the 225-page judgment named several Indian politicians and officials of accepting bribes in Choppergate, including British middleman Christian Michel who was paid Rs 375 crore.
However, the Congress can hardly claim innocence on the merit of cancellation of the contract as the judgment cites a 2008 note sent by Orsi to Agusta officials to "target" Sonia's advisors and win the contract. "Call Monti or amb. Teracciano in my name to ask him to call the PM Singh." A reference to Mario Monti, then Italian Prime Minister. Pasquale Teracciano his diplomatic advisor and Manmohan Singh.
Two entries are pointed. They read "AP" and "FAM," interpreted as Ahmed Patel, Sonia's Political Secretary, who reportedly received three million Euros and 'Family,' read Gandhi's. There is a reference to "Signora Sonia," the "driving force" behind the purchase in a letter written by Michel, to the India head of Agusta Peter Hulet.
Another note refers to her advisers ex-Prime Minister Manmohan Singh, President-then-Foreign Minister Pranab Mukherjee, Ahmed Patel, Veerappa Moily, Oscar Fernandes, then NSA MK Narayanan and Sonia's aide Vinay Singh. The Italian court has said that it was "validly proven" that a part of $10-15 million was distributed as bribes to Indian officials.
A combative Sonia Gandhi tore into the BJP-led government by accusing it of "character assassination. I am not afraid of anyone cornering me there is no basis to that. All the accusations are false. What has the NDA government done during the last two years and why hasn't it concluded the probe into the deal?" she challenged.
The CBI has filed an FIR naming 13 people, including former Air Chief S P Tyagi, three of his cousins Julie, Rajeev and Sandeep Tyagi, former Union Minister Santosh Bagrodia's brother Satish Bagrodia, Delhi lawyer Gautam Khaitan and European middlemen Carlo Gerosa, Christian Michael and Guido Haschke. Also, it has got Interpol to issue a red corner alert to find Michael.
Raising a moot point: Will Choppergate prove unlucky for Congress President Sonia? Will it be her undoing like her late husbands in the Bofors scam? The needle of suspicion is pointing towards her because of the reference to "Signora."
Why would a broker, officially unconnected to the defence contract, be discussing with a company representative what helicopter Sonia Gandhi would fly in? And, why would they seek to "target" the other politicians named above? Who allowed Michael to flee the country?
Did the other politicians named above take the money? The Italian court has not reached that conclusion yet; albeit the UPA government headed by these personalities has been indicted for hiding facts before the court.
Basically, the issue is not about the Rs 375 crore a drop in the ocean in today's eddy of scams running into mind-boggling thousands of crores. It is not just about corruption and guilt money. It is about brazen treachery, wherein national interest was wantonly compromised to satiate the voluptuous appetite for crores.
What next? True, the deal was cancelled, an inquiry ordered and the company blacklisted by the erstwhile UPA government. But the Italian court is still not convinced that nothing untoward happened. The Modi government should push ahead with the probe instead of trying to score political points to cause the Congress discomfiture.
Alas, unlike the Italians who finished the inquiry into Choppergate and booked the culprits, investigations by the Enforcement Directorate and CBI do not appear to be going anywhere. Undoubtedly, it has a long way to go before the investigative agencies charge anyone with incontrovertible proof against them.
Remember, the case against Rajiv in la affair Bofors was never conclusively settled notwithstanding references in Bofors Chief Martin Ardbo's diary to an "N," widely believed to be Arun Nehru who was Rajiv's Ministerial colleague at the time and Mr Q Italian businessman, Ottavio Qutorocchhi. Undeniably, the temptation to make money is always great, indeed irresistible.
In the political brothel of corruption, one may not begrudge our netagan from making money, ostensibly for party funds or to feather his own nest. That is the prevailing culture. But what is definitely not acceptable is that leaders would be willing to compromise national security for a few dollars in a miniscule of private pockets? Can we allow our national security to be jeopardised? Can a nation afford to pawn itself for a money?
Defence purchases be it arms, ammunition, aircraft, helicopter etc. are made to meet vital security requirements, keeping in mind the threat perception and the neighbourhood defence environment. And that they are playing with the lives and freedom of over a billion plus. What to say of the defence forces, which guard the borders.
Thus, the last word has still to be said on Choppergate. An effective meaningful probe is the need of the hour as India's national honour and international prestige is involved. More so, against the shameful backdrop of our country being listed as one of the most corrupt nations in the world.
The public is entitled to know what happened. Did Sonia's Congress sell itself? On her part, she needs to remember: Mortals have no permanence, only facts remain which speak for themselves. A strong message has to be sent that India, its politicians and Parties are not for sale! There should be no scope for any lingering doubt or suspicion. The nation needs to know and now. Time for doodh ka doodh, aur paani ka paani! - INFA
By Poonam I Kaushish