Narendra Modi outspoken on select issues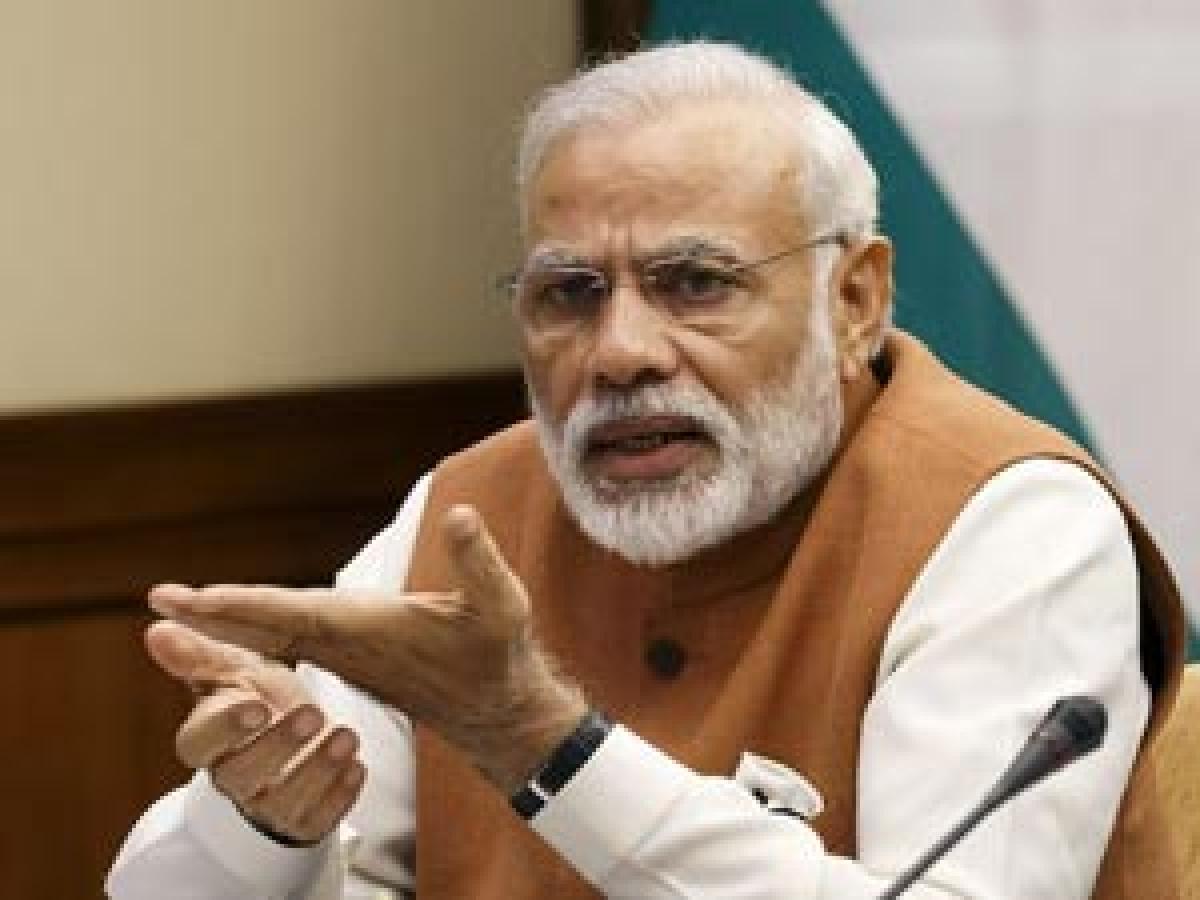 Highlights
Narendra Modi is easily the most vocal, candid and articulate Prime Minister since Jawaharlal Nehru, whom his party and government are seen as...
Narendra Modi is easily the most vocal, candid and articulate Prime Minister since Jawaharlal Nehru, whom his party and government are seen as denigrating. While he bears no comparison with Nehru, he does with another articulate premier, Indira Gandhi, for reasons right and wrong.
Of the other premiers, Morarji Desai and Chaudhry Charan Singh belonged to the old school that demanded, if not always commanded, respect from the media. Although articulate, but heavily dependent upon Ministers and officials whom he liked, Rajiv Gandhi is remembered for sacking his Foreign Secretary in the midst of a press conference.
Chandra Shekhar and V P Singh who had deep insights, Deve Gowda and a candid I K Gujral were too short a time in office to make an impact. P V Narasimha Rao, the scholar-politician, used his words and actions sparingly, justifying indecision or non-action as "also a decision." A great orator, Atal Bihari Vajpayee began with aplomb, but displayed halting memory lapses in his later years in office.
Manmohan Singh is more respected abroad. His ten years saw only one media meet and another with editors that were a disaster because of a leak that embarrassed his government. After a decade of Manmohan Singh, Modi comes as a verbal tsunami. He is full of ideas, a natural speaker and is forthcoming. Of late, his English speeches abroad, despite the lack of an Oxbridge accent (which is fine), have shown that he is an effective speaker.
Nobody before him would have sent the US lawmakers in peals of laughter so often, and yet, with his candid statements on Indo-US relationship, he compelled them to give him a standing ovation. Laced with humour, his "let's leave the past and move on" message became easily digestible to the Americans.
Begun in the Narasimha Rao years, India's move away from the cold war years, accelerated by economic reforms and for sure, non-alignment, have reached at their natural destination. This demands constant caution as, in Modi's words, India "engages with all the countries with equal respect."
Modi's Times Now interview, the first on TV since he took office is the first, perhaps, by any Indian PM. Compared to domestic politics, he was more comfortable on the foreign front. Modi is obviously proud of his foreign policy moves. Despite some setbacks that are unavoidable in diplomacy that is always a work in progress, his foreign policy drive and wooing of the diaspora have placed India in sharp limelight.
He explained his "looking eye-to-eye" efforts with China. He spoke of engaging the smallest of the nations. He put his Lahore visit in perspective saying India would always need to be cautious in dealing with Pakistan, without making it a centre-point of its foreign policy. He raised a question all his predecessors have: to whom should India talk to decide about the 'Lakshman Rekha'? Will it be with the elected government or with other actors? The reference was to the Pakistani military that is seen as the final word on ties with India and US besides nuclear weapons.
Having recorded the positives, it is also necessary to record the negatives about what Modi said, or did not say during the interview and what he has grossly delayed saying in his other speeches and his "Mann Ki Baat" on the radio. Known for his sense of timing as a politician (now he says he is 'apolitical'), Modi has damaged his government on many issues by not speaking out, on time, or not speaking effectively enough.
Is it any surprise that most Delhi newspapers and perhaps, many more across the country, carried as the headline his 'snub' to his controversial party colleague and lawmaker, Subramanian Swamy?
Modi's "direct message of disapproval" of Swamy for targeting Reserve Bank of India Governor Raghuram Rajan, calling Swamy's vicious campaign of calumny "a publicity stunt" has sadly come too late in the day, after Rajan announced that he would not seek a second term.
The parting has come amidst acrimony that Modi could have prevented by speaking up early. Calling Rajan a 'patriot' and that the latter has "only India's interest at heart" or even hinting at engaging him in some other capacity have all come after he damage is done to Rajan and in a wider sense, to a government that failed to retain a 'patriot'.
Is it that where Swamy was aggressive, Modi is diplomatic? Swamy is in the Rajya Sabha, not just to provide the BJP with the ballast against the Congress. Modi's mentors in the Rashtriya Swayamseswak Sangh (RSS) have launched Swamy with a purpose. Swamy has openly said that he does not care about Finance Minister Arun Jaitley and that he can talk 'directly' to Modi and BJP chief Amit Shah. Do the two bosses approve of what Swamy has said and done? Or is he beyond their control?
Modi has left lingering doubts that he is a party to Swamy's Rajan-bashing, probably for political reasons, if the grape wine is to be trusted. In attacking Rajan, if Swamy has been targeting Jaitley, as the grape wine has it, by not supporting his minister, who has otherwise defended the Prime Minister and the government on many an issue, Modi made Jaitley vulnerable.
This is more to come. Because Swamy's immediate targets after Rajan have been Chief Economic Advisor Arvind Subramaniam and Economic Affairs Secretary Shaktikanta Das. Like Rajan, they are top officials whom the Prime Minister ought to protect. It is incumbent upon a politician-PM that Modi is to protect his technocrats and officials from calumny from fellow-politicians. Narasimha Rao had lent full political support to his Finance Minister Manmohan Singh, a technocrat. This had ensured the progress of economic reforms in their most nascent and uncertain days.
Modi was on the back-foot when he said that inflation was not increasing at the same rate as it did in the last two years of the previous government. He defended the high prices of essential commodities, saying says that the country went through severe drought of two years. Calling himself an "apolitical Prime Minister," Modi said that he never talks about politics and he does so only during the elections.
He says that he is forced to fight elections, and that it is a necessity. But he never touches on politics at times other than elections. Governments should not be run to win elections, he says. He is only technically right. His polls campaigns during all state assembly elections have not only been political, but also full of invectives. His promising huge funds to those States did not work in Bihar, but they did in Assam.
A subject toned down glaringly during the interview was the 'intolerance' debate that had raged for months in which Modi's Ministers and BJP's MPs had played no small part. Modi rightly stressed on the development agenda, but asked about those in his stable speaking out of turn, and provocatively, he asked the media not to "turn them into heroes."
This discourse cannot be complete without a word on the interviewer, Arnab Goswami. Without doubt, he had done a great amount of home work and touched upon almost all the topics. He interrupts and dominates as an anchor and goes well beyond showing just irreverence towards the person he interviews.
Like a hungry tiger pouncing on a weak prey, he tears them apart. But he is getting more and more selective. He was meek as mouse when interviewing Modi who dominated the discourse. Perhaps, this is the journalism of the present and the future. (The writer is President, Commonwealth Journalists Association)
By Mahendra Ved

Subscribed Failed...
Subscribed Successfully...