Proving mettle despite the system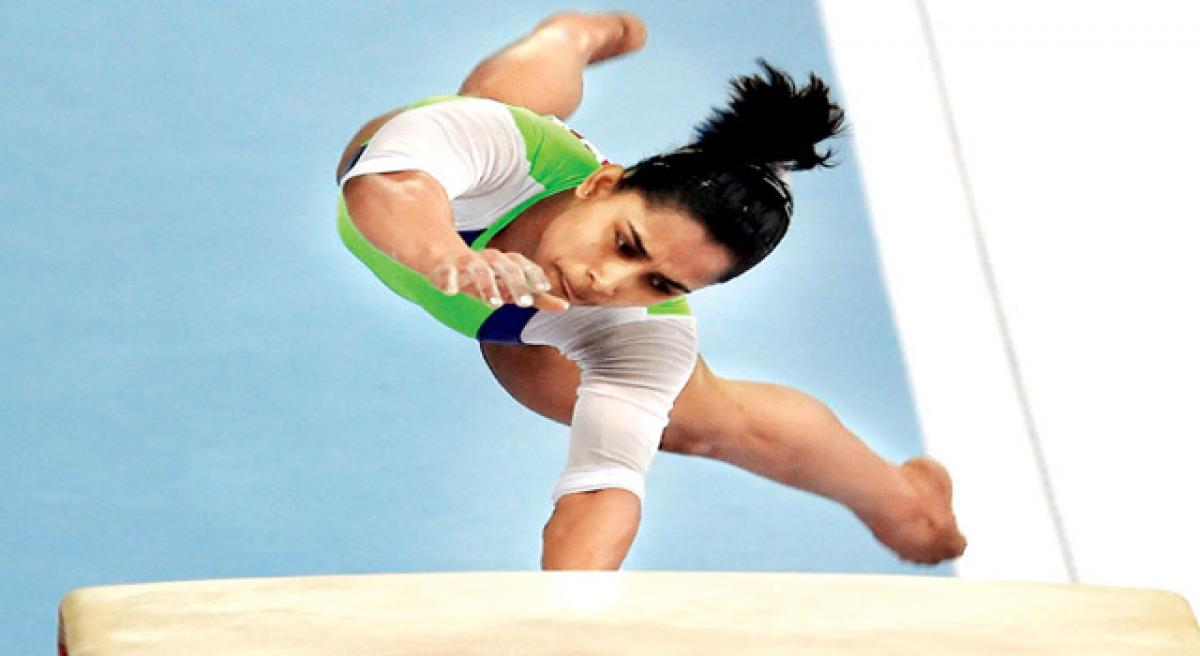 Highlights
Dipa Karmakar, Sindhu, Sakshi...these names will be etched in our memory for a long time to come. Agreed. These are the archetypes, the original...
Dipa Karmakar, Sindhu, Sakshi...these names will be etched in our memory for a long time to come. Agreed. These are the archetypes, the original patterns. These are the basic models from which copies are made and, therefore, prototypes.
Now when we say prototypes, in general terms it means the abstract idea of a class of things which represents the most typical and essential characteristics shared by the class. Thus, they become a paradigm or exemplar.
These are class apart. We have to stress on this because, if these were to be like the others or their parents, were to be like their neighbours, these three would not have become the archetypes.
Not only this, they have reached these heights in life despite our system, our corruption and our thick-skinned political class. It is so hilarious to see our politicians and governments vying with one another in greeting these sports. Announcements of rewards have already begun.
Good. No one denounces such awards. Slogans, prayers and blessings come to the fore on such occasions. The whole nation celebrates and the chests swell further.
Pause a while. Think of it again. They are there not because of any of the three - the government, politicians or systems – but because of their atavistic and universal nature. Their quest to overcome the difficulties and challenges is primary to their success today.
The fundamental facts of human existence are archetypal, they say: birth, growing up, love, family and tribal life, dying, death, not to mention the struggle between children and parents and fraternal rivalry etc.
Coming to sports in our country, could we say the same? That there is a pattern? Except the negative ones? Where is the system to promote sports in general?
Playing cricket for decades, we almost forgot that there was more to sports and games. Our raging passion for this one particular game made us blind to the reality that there are other arenas and avenues to be explored. Of course, coming to the Olympics we always relied on our good old hockey.
Then came one Abhinav Bhindra and a Rajyavardhan Rathod. These two were class apart, literally, because their sport needed money and they could afford it. These were also self-made or made by their families. How about a Vijender Singh, one could say.
Ask him and seek an honest answer. It is within him. His resolve to become someone big in life has brought him to where he is. Prakash Padukone, Gopi Chand and Saina Nehwal reached the top in badminton. What is the contribution of the system in general to their glory?
Sakshi may be hailed as 'hamaara gaon ki laadli' by her village in Haryana today. But, let us remember it is the same village that denounced her and her family all these years for her entry into a male-sport. Yes, like several other things, even a sport has a gender in this country. Not all are supposed to take part in it.
(Perhaps it has a caste too as we have seen several times, when dalit boys start winning any match, the non-dalits would prefer violence to defeat them).
Sakshi too was not. This society accepts all types of archetypes perhaps, but not women. The rebel is accepted, the Don Juans', the all-conquering hero, the braggadocio, the country bumpkin, the local lad who makes good, the self-made man, the hunted man and even a siren, a witch and femme fatale, the villain, the traitor, the snob and the social climber, the damsel in distress and the person more sinned against then sinning, all are OK for it.
But a girl in wrestling? No way. Imagine the village she hails from, Mokhra whose sex ratio is 822; or Rohtak where she later grew. Haryana is not just known for the skewed
sex ratio, but also for several other barriers on women. Inspired by her paternal grandfather, Chaudhary Badlu Ram, who was a sarpanch of his village and also a 'Pehelwan', Sakshi chose the sport on her own.
The system did not stand by her. It is the family and family alone and then her mentors, her Gurus who stood by her steadfastly encouraging her at every turn of her life. Her once upon a time Guru, Ishwar Dahiya, says that he had no respect in the village for attempting to coach girls.
"Sher aur bakri ek ghat se nahi peete hain," he was told. To become what she is today, she had to close her ears to the gossip or sarcastic remarks (this was helped by her coach and the family members it seems). "Not a sport for women.
Your physique would be damaged. No one will marry you. You cannot wrestle with boys anyway.." the litany of complaints and suggestions was a long one. She even had to forego attending functions in the family including weddings to avoid unpleasant questions.
It is easier to say 'Beti Bachao, Beti Padao", but the rural India is still not prepared for it in several ways. More so, when it comes to sports. It is only the likes of Mary Kom and Dipa Karmakar who beat all odds to emerge from the shadows due to their belief in themselves.
When Dipa Karmakar made her famous vault to come forth in the Gymnastics at Rio little did the onlookers know that her skills were built on DIY apparatus made from second-hand parts of a discarded scooter. She had to stack eight to 10 crash mats on top of each other to make a vaulting platform and a local carpenter made her spring board from the second hand parts of the scooter.
And Dipa became one of the only five women to have landed 'Produnova' in the competition. If any, it is her dedication that brought her to the centre-stage now. Going by her own account, she did attempt the deadly vault 127 times a week while the gold medalist Simone Biles attempts just 15 complete vaults in a week but never Produnova anyway.
Compared to the life of Dipa, Biles had the best of everything and had access to top-of-the-range equipment. It is said that success at the 2014 Commonwealth Games did not change Dipa's life much despite claiming a bronze. She reportedly faced sex discrimination too with the entire camp hyping the achievements of her male counterparts.
She had no funding to practise even afterwards. Gymnova, the manufacturer of Gymnastics equipment, gave her the cast offs from the competition when Delhi hosted the 2010 Commonwealth Games and she practised with the same till qualified for Rio.
The recognition or funding began only when she qualified for the Rio Olympics and with the intervention of the Prime Minister, Narendra Modi, it is said.
The Sports Authority of India spent $120,000 importing state-of-the-art apparatus from France. Another $45,000 has been allocated for her day-to-day expenses, including training and commuting costs and in addition the government was also giving Karmakar $1,500 a month towards pocket expenses from May until August.
As her coach Nandi puts it the problem with us is that one has to prove his/her mettle before any help gets extended. Nandi further stated "there is no system of nurturing gymnastics talent at grassroots level".
Just imagine Dipa having all the equipment from the very beginning. That she too was entitled to the equipment and training facilities that Biles had. Would a gold medal have been so far away for India?
Subscribed Failed...
Subscribed Successfully...