Kashmir saga: Ill-informed myths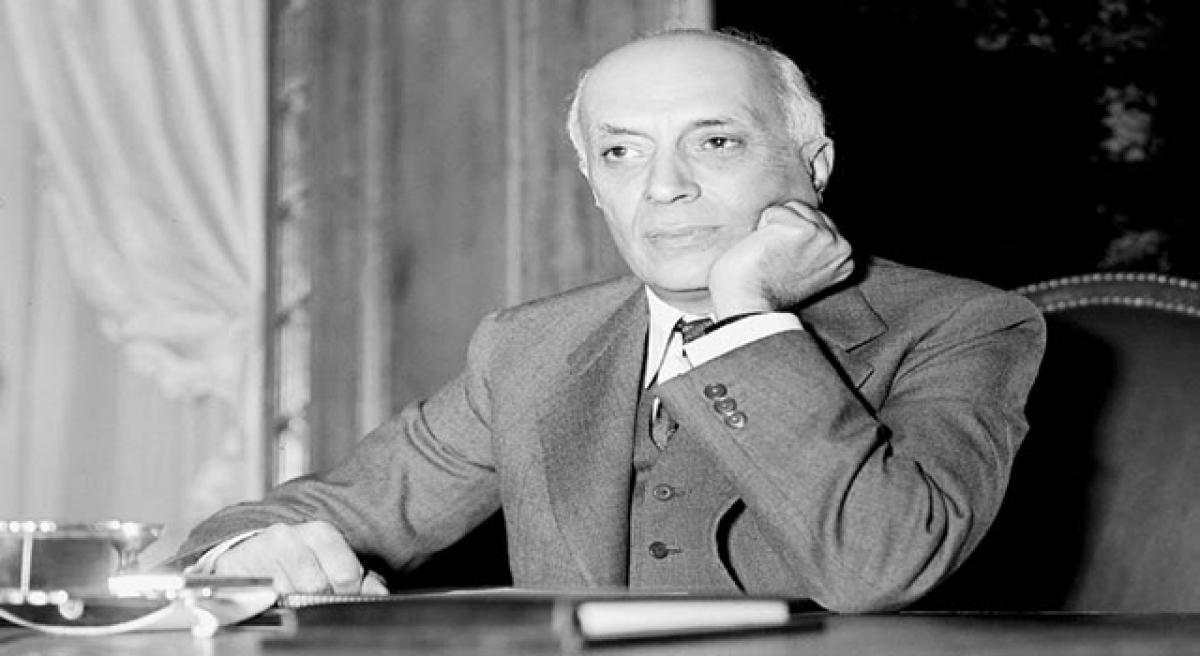 Highlights
It's all Jawaharlal Nehru's doing – this is often said of the Jammu and Kashmir issue that India inherited along with freedom, now both into their...
It's all Jawaharlal Nehru's doing – this is often said of the Jammu and Kashmir issue that India inherited along with freedom, now both into their 70th year. The idea here is not to defend Nehru, currently under attack for many things, but put at least the Kashmir issue in some perspective as we witness one of the more serious convulsions in the Valley, with those concerned, particularly the governments at the Centre and in the State, struggling to find a solution.
Recently published memoirs, "A Life in Diplomacy" of M K Rasgotra, former foreign secretary and one of the world's oldest living diplomats today, provide that context. It comes from a person who handled the issue through his long career and as a keen, seasoned watcher thereafter. That he is from Jammu makes him a local man with a worldview, who should be taken seriously.
Rasgotra seeks to explode the "ill-informed myths" about Nehru's 'blunders' in taking the dispute to the United Nations Security Council (UNSC) and in 'preventing' the army from recovering the territory that Pakistan still holds. The India-Pakistan armed conflict would have inevitably attracted the UNSC attention.
The Council could have decided to inject an international force to enforce a ceasefire under Chapter VII of the UN Chanter which authorises the Council to act through "action by air, sea or land forces as necessary to maintain or enforce international peace and security." Even without a consensus, Rasgotra says, the US, Britain and Pakistan would have ensured that.
India lodged its complaint under Chapter VI under which the UNSC can only 'recommend' to the parties to reach a settlement. That helped to reject the 'recommendation' made later "under Anglo-American pressures" by the UNSC that did not recognise that Pakistan was the aggressor and India the victim.
India and Pakistan were both fighting under the overall command of the British generals who headed their respective armies. Records show that the two commands were in contact with each other, exchanging regular reports. And the whole operation was directed by the British in London.
Rasgotra records that the two British generals decided what would be 'adequate' for Pakistan to hold onto its "overall defences." While falling back, Pakistani forces did not budge from those positions even when they could have. When Nehru wanted to push the Pakistanis beyond the Poonch bulge, Indian Army Chief, General Sir Francis Roy Butcher, said the forces were fully stretched and unavailable.
Apparently under orders from his seniors, a junior British officer failed to clear the Gilgit-Baltistan, an area of high strategic value that is now being exploited by China by building the China-Pakistan Economic Corridor (CPEC) to teach the Indian Ocean.
Rasgotra rightly says that Nehru's basic mistake was to retain British military officers after the independence. British admirals continued to command the Indian Navy for 11 years after independence. This contributed to delay in its development. Britain had refused to sell submarine to the Indian Navy.
Without calling it as such, he nails the British conspiracy to hold down an India now out of its clutches, struggling to tackle myriad problems under Nehru who was friendly to the British, but not naïve. Kashmir was consciously added to these problems. The US followed this up soon by arming Pakistan and incorporating it in its military plans to counter communists in the Soviet Union and China.
Much later, "Britain and the US exerted enormous pressures on Nehru to cede a part of the Valley to Pakistan in the wake of India's defeat in 1962 with China. Nehru, in weak health, resisted and rejected their pressures and blandishments with firm resolve and Kashmir remains a part of India," Rasgotra maintains.
In the new century, few seem to know all this, or recall it. Much water has flown down the river since, what with the geopolitics and relationships undergoing big changes. India is not what it was in the 1950s, engaging all nations from a much stronger position, yet vulnerable when it comes to Pakistan and its all-weather ally, China.
The economic clout and the military might, even go nuclear (which prompted Pakistan to do the same), have not helped it solve the Kashmir issue. Indeed, the specter of terrorism in the form of attacks from Pakistan has greatly impacted its internal and external relations.
Rasgotra takes you through efforts by the Vajpayee government and that of Pakistan under Gen Musharraf when the two sides held secret talks. He recalls how the two leaders agreed to keep the border calm to facilitate trade and transit. Musharraf promised Vajpayee, and kept his word for long, and did not allow his territory to be used for attacks on India. The Line of Control (LoC) was quiet for long.
This continued under Manmohan Singh as well, enabling the latter to propound making the borders 'irrelevant' and of having breakfast in Kabul, lunch in Islamabad and dinner in New Delhi. "Secret negotiations actually had led to agreements on many aspects of the Kashmir issue and there was document for signatures," Rasgotra recalls, with no change of borders, no reference to the UNSC resolutions and ensuring free movement.
This altered when Musharraf's position weakened. Pakistan, and not India, baulked at signing those papers. Musharraf was still the President, but his chain-smoking, anti-India Army chief, Gen Ashfaq Parvez Kayani scuttled it. This shall remain one of the "ifs and buts" of history.
All this is being recorded here because Indians are by and large ignorant, even disinterested in the Kashmir issue and do not go beyond blaming this party or that. At international forums when Indians and Pakistanis meet, the latter are hawkish asking every Indian to quit Kashmir, or else. The pacifist Indians generally want to avoid a confrontation and the resultant unpleasantness.
This is good etiquette in a third country where no third party is interested in the issue. But it has made India look 'soft' and its claims on Kashmir weak. For Pakistan, Kashmir is its raison d'etre and the biggest stick to beat India with. Is it any surprise that Prime Minister Nawaz Sharif has dispatched 22 parliamentarians to different countries – on a paid holiday as it were – to apprise those countries of the 'atrocities' India is committing in the J&K territory under its control? The real reason, undoubtedly, is India's references to repression in Pakistan-Occupied Kashmir and Balochistan.
By doing so, Nawaz is playing to the home gallery. The developments in Kashmir Valley have strengthened his hands at a time when he has been facing allegations of rigging by his party in elections in the territory Pakistan controls. Nawaz has not just the political opposition and the Islamist groups, also the all-powerful army breathing down his neck. Besides, he has to face the graft charges emanating from "Panama Leaks."
Rasgotra is for dialogue with Pakistan on all issues including Kashmir. But he notes: "Our position on the issue of talks with Pakistan is not steadfast; it changes with every new government, not of logic or good sense but of a passing sentiment."
The current situation is one of posturing about talks; both say they want to talk but differ on terms. In the meantime, mutual hatred is being fed to the public. Rasgotra hints darkly: "It would be a great pity if little difficulties were to oblige India and Pakistan to hold talks only in third countries." Are we heading for that?
As emphasized earlier, it is crucial for India to set its house in order by talking to various parties and groups in the State. It is reassuring that talk about all-party talks where separatist might be invited emerged on the 50th day of violence by the protesting youths and the security forces, with 70 dead and many more maimed. Sooner the better it would be.
Subscribed Failed...
Subscribed Successfully...