Modi calls a spade a spade at G20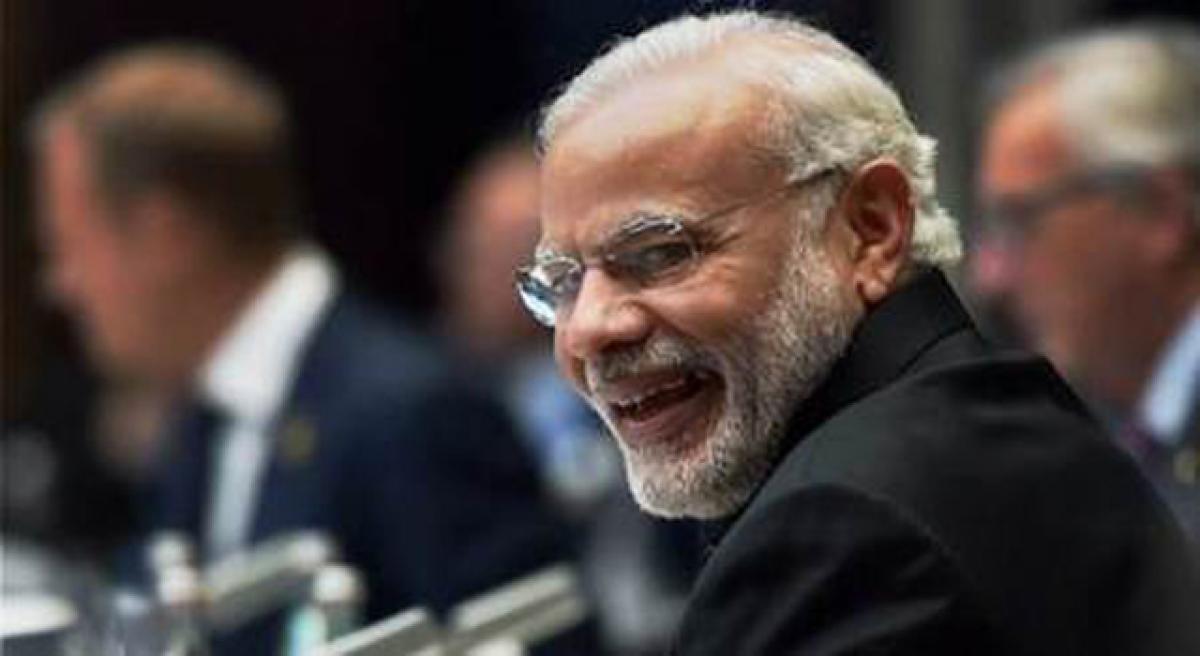 Highlights
A decade back, Pakistan was praised as the "frontline state in fight against global terrorism" by then US President George W Bush whenever he met or...
A decade back, Pakistan was praised as the "frontline state in fight against global terrorism" by then US President George W Bush whenever he met or referred to his Pakistani counterpart, Gen Pervez Musharraf. Helping shatter that delusion with a more perceptive Barack Obama, Prime Minister Narendra Modi has snatched that 'title' away from Pakistan and seized it for India.
By referring to "one South Asian nation" as the principal sponsor of terrorism, but not naming Pakistan per se at the just-concluded G-20 Summit, Modi sought to shatter the delusion that not just America and China, but much of the world suffers from.
This country should be punished, not rewarded, he told the leaders gathered at G-20. "India has a policy of zero tolerance to terrorism. Because anything less than that is not enough. For us, a terrorist is a terrorist," he said. Modi said that even as terrorism is acquiring global dimensions. He has also paved the way for a further dialogue with the US, whoever wins the November presidential election.
Bush was under a delusion that for all the billions (over $30 billion by now) the US paid, Pakistan was performing that task. The Obama administration that will end its tenure in a few months has just about stopped talking of 'good' and 'bad' Taliban.
The venue of G-20 was significantly in China, and Modi's message was aimed equally at Obama and the Chinese host, President Xi Jinping. China remains silent on Pakistan's role because of its anxiety to ride piggy-back on Pakistan to the Indian Ocean through his China-Pakistan Economic Corridor (CPEC). This anxiety has also silenced China's suffering at the hands of Pakistan that has been training and sheltering Uighours, the Chinese Muslims of Xinjiang province.
Modi told his host: "The response to terrorism must not be driven by any political consideration." This was an apparent dig at China's opposition to designating Jaish-e-Mohammed chief Masood Azhar as a terrorist in the United Nations.
It was necessary to stress this because, diplomatically at least, the world community takes note of the 'sacrifices' that Pakistan Army is making in fighting terrorism at home through its Zarb-e-Azb operation now into its third year.
It was necessary also because despite over 600 soldiers and 3,500 militants killed, that fight is far from over. And the man leading it, Gen Raheel Sharif, is due to retire in November.
With Pakistan's inept political class in cahoots with the Islamists and militants, everything will depend on the ability and determination of Raheel's successor. So, from India's perspective, Obama's retirement, coinciding with Gen Sharif's the same month, is important. There is a long road ahead to fight terrorism and Modi's muscular approach, as evident at Huangzu, is crucial to keep up the focus on terrorism and that the world community is kept in the loop. That was the message from Huangazou.
Modi did not mince words at the summit. In another apparent reference to Pakistan, he demanded "coordinated actions" by the grouping to "isolate supporters and sponsors of terror." "Terrorists in South Asia, or anywhere for that matter, do not own banks or weapons factories. Clearly, someone funds and arms them," PM Modi said in a hard-hitting address.
There are too many people and countries he would have to point his fingers at on this score. So he would have left it there, somewhat like President Pranab Mukherjee who said during his European tour last year that arms and money and militant themselves "do not fall from heaven."
Modi's various statements form part of a larger effort on India's part to press the global community to move towards adopting a clear stand on terrorism. Lack of a globally-accepted legal definition of terrorism has often been faulted for double standards and inefficacy in dealing with terrorism and terror organizations and networks.
This bold approach is not without its risks. Terror attacks from France to Indonesia to Afghanistan carry their own message and that is of keeping utmost vigil internally, on the borders and in missions abroad. Of the last, Afghanistan, where the US encourages India to do more, is a case in point.
Modi had more messages for Xi Jinping with whom friendship has swung away, like the "jhoola" that he had used to seat the Chinese President and his wife during the latter's Gujarat two years ago. There are many issues of disagreement, but the truth is that China sees India getting close to the US and being 'used' by the latter. This partly explains the growing Chinese proximity to its "all-weather" friend Pakistan.
"India, China must respect each other's aspirations, concerns and strategic interests," Modi told Xi during a 35-minute meeting. He raised India's concerns over the $46 billion China-Pakistan Economic Corridor (CPEC) being laid through Pakistan-occupied Kashmir that India considers its own. Indeed, this is the latest of irritants in Sino-Indian ties even as Pakistan cites any issue with India as emanating from India's 'jealousy' at the CPEC.
President Xi told Modi that their two countries should constructively handle their differences. "China is willing to work (NSG) with India to maintain their hard-won sound relations and further advance their cooperation." Undoubtedly 'hard-earned' and 'sound,' the ties have flagged as Modi's India flexes its diplomatic muscles.
Modi has not forgotten the setback China caused over India's US-backed entry to the Nuclear Suppliers' Group. He made it a point to take this up with another dissenter, Turkey whose preoccupation, of course, is with the OIC, the Islamic body of which Pakistan is a major member.
He dwelt on continuing global economic situation, saying that a "difficult conversation" was not enough to combat the current global slowdown, pressing for a "collective, coordinated and targeted action" by the members to revive economic growth.
Laying down an agenda for structural reforms, he said there was need to improve financial system, boost domestic production, enhance infrastructure investment and create a pool of human capital. With the summit tucked between Britain's vote in June to exit the European Union and the US presidential election in November, the G-20 provided the occasion for many world leaders to exchange ideas. Modi met leaders of BRICS – Brazil, Russia, China and South Africa – to see what role this grouping could play.
Modi has always fancied himself as "a good Gujarati" who does multiple tasks while spending on one, especially during his foreign tours. Huangzou was no exception. For one, he met for the first time, British Prime Minister Theresa May telling her that obstacles in the way of Indian students and entrepreneurs getting British visa would be bad for bilateral ties. May is known for having raised problems on this score when she was the Home Secretary.
Instead, he invited May for further talks on defence relations and on Britain coming to "Make in India." International conferences have room for what are called short, "pull aside" meetings. Modi met French President Francois Hollande to discuss the data leak of the Scorpene+ Class submarines that India has purchased from France. This meeting was important as India is buying the Rafale combat aircraft from the French and there is need for maintaining secrecy of design and data.
G-20 summit was an occasion and opportunity for India to speak its viewpoint on many urgent issues, bilaterally and multilaterally. It is clear that India will no longer be whining and complaining – it will state what it perceives in forthright manner. With Modi at the helm, an emerging economy and a huge market for just about everything cannot be taken lightly.
Subscribed Failed...
Subscribed Successfully...