BRICS: No takers for India's baggage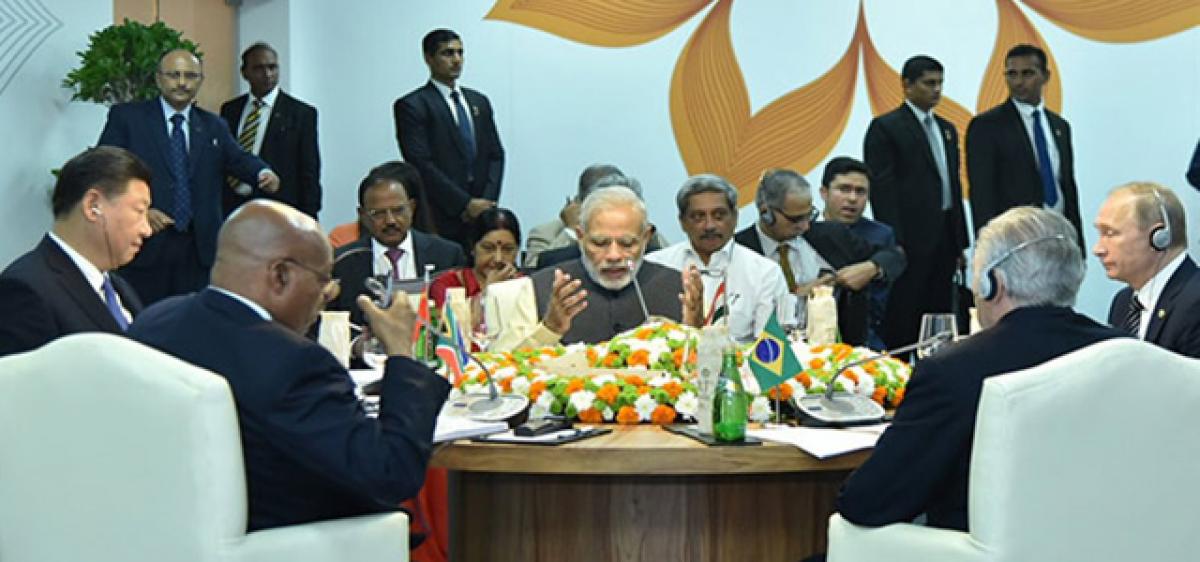 Highlights
Was the just-concluded BRICS Summit about better coordination for resurgence of the world's top five emerging economies or was it a platform to air...
Was the just-concluded BRICS Summit about better coordination for resurgence of the world's top five emerging economies or was it a platform to air host India's anger and concerns about the role of what Prime Minister Narendra Modi called "mother-ship of terrorism in its neighbourhood"?
It was both, but did the latter cloud or crowd out the first?
Trying to get visiting guests involved in one's problems at home or in the neighbourhood, by raising the pitch high to send a stern message, howsoever well-meant, can be unproductive. It is more so, if one or more guests have a soft corner for your adversary.
China has more than just "soft corner" for Pakistan, its "all-weather" friend whom it needs badly to gain access to the Indian Ocean. Calling Pakistan "mother-ship of terrorism" at an international gathering may have been absolutely right, but the question is whether it was appropriately strategised.
Herein lay contradictions and complexities of diplomacy. India is angry at Pakistan after the terror attack on the army camp at Uri.
Amidst this anger have come the counter-strikes across the Line of Control (LOC) that topped anger with a sense of triumph and achievement among the people, triggered by the political leadership of the day – not that either incident has stopped the militants in the Kashmir Valley from staging more attacks.
Given this public mood and the ground reality, India's stance at the Goa Summit of BRICS was understandable, but jarring. The guests – Brazil, Russia, China and South Africa – did sympathise with India. They did agree with the need for a united fight against terrorism. But they were not willing to blame any country – not Pakistan, in China's presence at all.
As Amar Sinha, Secretary, Economic Relations, in the Ministry of External Affairs, admitted at the end of the summit, there was no consensus on the issue. The Goa Declaration issued at the end everyone broadly supported India's standpoint on the need to fight terrorism.
The reality here is that the four guests have close political and economic ties, if not with Pakistan, which is incidental to the issue so far as they are concerned, but certainly with China. Look at Africa or Latin America, China's profile is rising and Russia is no longer – it cannot afford to be – disdainful of China.
Upto a point, India did succeed in playing old ally Russia against China. Both reiterated their old friendship and put to rest growing speculations of a drift in ties. The Russian side strongly condemned the Uri terror attack and backed India's actions to fight cross-border terrorism.
Smoothening ruffled feathers caused by Russia's recent joint anti-terror exercise with Pakistan, the two sides inked 16 agreements including defence deals worth $10.5 billion.
These were bilateral interactions at Goa and a definite plus point for India. However, neither Indian emphasis, nor Russian support to it, found a place in the final declaration. Did anyone realise or anticipate that the severity of its stance may create a distance between the summit's host and the guests?
Perhaps, India did, but chose to make its point forcefully as part of the current mood and the policy to isolate Pakistan, heightened by the TV channels that took away much of the focus from the summit's other agenda.
Is Pakistan getting isolated? Yes, in geographical terms, considering that the BRICS summit was immediately followed by BIMSTEC that is a gathering of India and its eastern neighbours. But that, without minimising its importance, is like India playing kabaddi on its own side of the arena, with like-minded players.
And no, if one goes by China's stout defence of Pakistan immediately after the Goa summit and America's use of strong words, but total unwillingness (also inability) to act tough against Pakistan, except demanding "do more" to arrest terrorism.
The US has always used such strong words and India has felt appeased by them. Obama administration is in its twilight and assuming Hillary Clinton will win, she can be expected to continue with the same Pakistan policy.
But indeed, both China and the US want the world to take note of Pakistan's 'sacrifices' while fighting terrorism. Whatever India may say, major powers have bought Pakistan's "victim of terrorism" bogey.
In an increasingly complex world with shades of grey, where interests and perceptions thereof are constantly evolving, expecting all BRICS members to practice geopolitical untouchability towards Pakistan to suit Indian interests is illogical, to say the least.
The reality is that India is seen as getting too close to the US for the Chinese and Russian comfort in Asia. And stronger this perception gets, China and Pakistan will work closer – be it Masood Azahar being declared a terrorist of India's NSG membership.
And Russia under a pragmatic Putin, while not joining the Sino-Pak bandwagon (because India remains its biggest arms buyer), will (and can) do little to counter this gang-up against India.
As for the Kashmir dispute that Pakistan brazens out day after day, neither the US nor the Europeans have changed their line. And China knows that while a predominantly Sunni Pakistan would eye a Shia Kashmir, having no ambition on Chinese territory, it would help in curbing the Sunni rebels of Xinjiang region.
The Goa Declaration calls for all countries to stop supporting nations that support terror, respect international law and give primacy to the UN as the central agency for global coordination. But no one seriously expects China to stop its support for Pakistan or to give up its nine-dash line claims in the South China Sea. The bottom line is that China needs Pakistan as much, if not more than the latter.

Hence, the message, if India cares to receive, is that it must set its house in order. Regrettably, the turmoil in the Kashmir Valley is off the newspaper headlines, not for lack of protests there. A hundred days since it began, it remains alive and painful, no matter what the governments in New Delhi and Srinagar may do or say.
Of course, much more happened at Goa and India can draw more than just consolation. The summit takes forward the process of creating an emerging market network to make the architecture of global governance and economic interaction among nations more equal than it has been since the victors of World War II gave it its present shape.
The New Development Bank of the BRICS nations, located in Shanghai and headed by India's M V Kamath as its first president, has kicked off both its lending and borrowing activities with quiet vigour. That alone is enough to tell the critics of BRICS that the grouping is not about to crumble "like a ton of bricks."
Progress on economic integration among the BRICS is definitely underway with a group-specific business council and trade fair having been launched and work on aligning non-tariff barriers, customs cooperation and Exim Bank coordination in progress.
The BIMSTEC summit of nations around the Bay of Bengal, which includes most important South Asian nations, with the addition of Thailand and Myanmar, which serves as a bridge between south Asia and Southeast Asia, but pointedly excludes Pakistan, has definitely served to underline that nation's isolation.
But can India really "look east" and ignore the "look west"?
Subscribed Failed...
Subscribed Successfully...