TRS gears up to take on combined oppn onslaught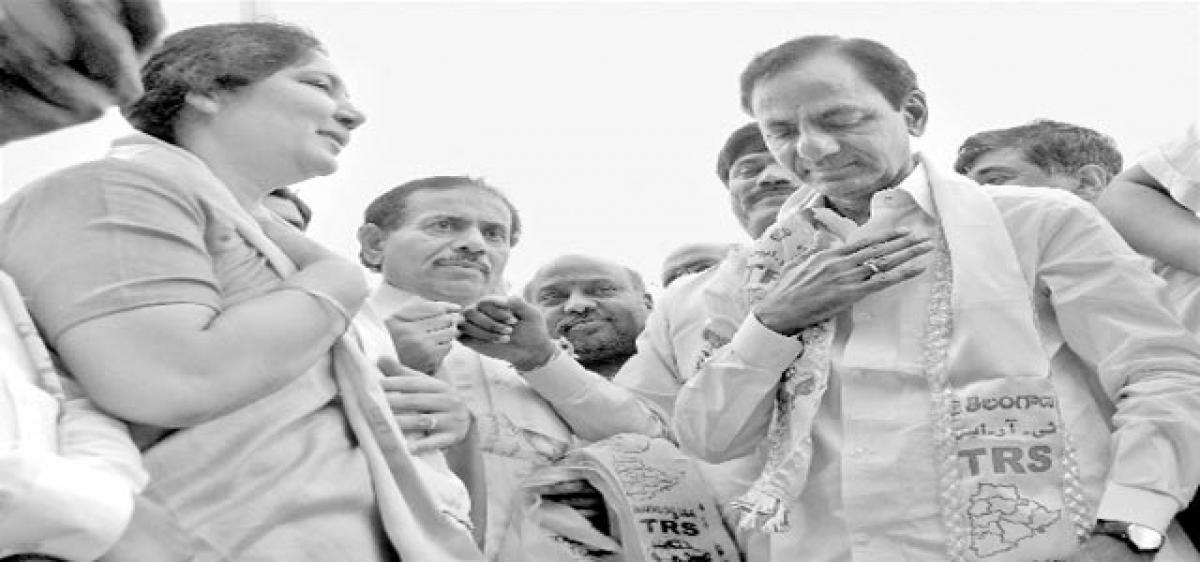 Highlights
The TRS government is either oblivious or is not too bothered about various modes of agitations that have been taken up by the opposition parties to...
The TRS government is either oblivious or is not too bothered about various modes of agitations that have been taken up by the opposition parties to "expose the failures and anti-people policies of the government."
The opposition parties, including the Congress, Telugu Desam Party (TDP) or the CPI(M), presume that they will be to create an anti-incumbency atmosphere with their tirades and hitting the streets if they persisted with their orchestrated denouncements of public issues like fee reimbursement, farmers issues and redesigning of irrigation projects.
Playing it safe and intending to beat the opposition members at their own game, ruling party decision makers are chalking out a well-endowed counter strategy to negate any possible adverse impact.
Towards this, they will be going to the people from December explaining various developmental activities the government has been pursuing with enthusiastic zeal since coming to power. The government also proposes to come out with a sort of progress report and turn the tables on the opposition.
It may be recalled that the CPI (M) leader Tammineni Veerabhadram has embarked on a 4,000kms padayatra across the State, demanding Sub-plans to devolve funds for the deprived sections if Telangana State has to develop. It feels that these sections, including SC, ST, BC, MBC, and minorities constitute 93 percent of the State's population.
They are way-off target in terms of developmental as proven by health and education parameters, which are below the national average, laments BV Raghavulu, who flagged off the padayatra. The tour with the slogan 'our share is as much as we are' was launched amid much fanfare, and received support from Dr BR Ambedkar's grandson and political leader Prakash Ambedkar.
Not to be left behind, the TTDP has appointed district presidents on Saturday and the TTDP working president A Revanth Reddy too launched a padayatra from Jayashanker Bhupalpalli to highlight K Chandrashekar Rao's 'anti- farmer policies'.
The 'padayatra' would culminate in a public meeting at his native Kodangal Assembly constituency on November 30, after covering Khammam, Peddapalli, Suryapet , Manchiryal, Jagityal , Nizamabad, Vanaparthi and Gajwel.
Revanth said during his padayatras that he would expose the TRS government's failure in addressing farmers' plight, particularly delay in the waiver of farm loans, non-payment of input subsidy, lack of remunerative prices for agriculture produce, increasing farmer suicides and forceful acquisition of agricultural lands from the farming community.
The Congress party too has been organizing several programmes and public meetings on issues like fee reimbursement, minority reservations, among other issues. In fact, the TPCC president N Uttam Kumar Reddy has even taken a vow not to shave his beard till the Congress returns to power in the State.
But all this does not seem to have caused any concern for the ruling party. According to party insiders, they are moving in a very calculated and focussed manner. For them release of funds for fee reimbursement are not very big issues though undoubtedly they are of immense importance.
Sources say that the government has already worked out a schedule to release funds for Arogyasri dues and fee reimbursement. It is said they are now ready with strategies to take the wind out of the opposition sails.
According to top sources, things are moving in the appropriate direction and the government is now "very confident" that it would complete 50 percent of Kalleswaram project by December 2017.
This would help them supply water for irrigation to some new ayacut.. Simultaneously, it was also focusing on projects like Yellampally, Palamur Ranga Reddy and Sriramsagar Project phase-II.
With copious rainfall this season and the benefits that accrued from Mission Kakakitya and the advantages the people would derive from Mission Bhagiratha coupled with two bedroom housing scheme, which would become a reality by 2018, the TRS will be able to emerge as another Bahubali and thwarts bids by opposition parties.
On the other side, the success of T Hub-1 and completion of T Hub-II would ensue that the youth would also remain with the ruling party, the TRS leaders claim. Clearly, the battle-lines are being drawn and redrawn even though hustings are no where round the corner.
By V RAMU SARMA
Subscribed Failed...
Subscribed Successfully...