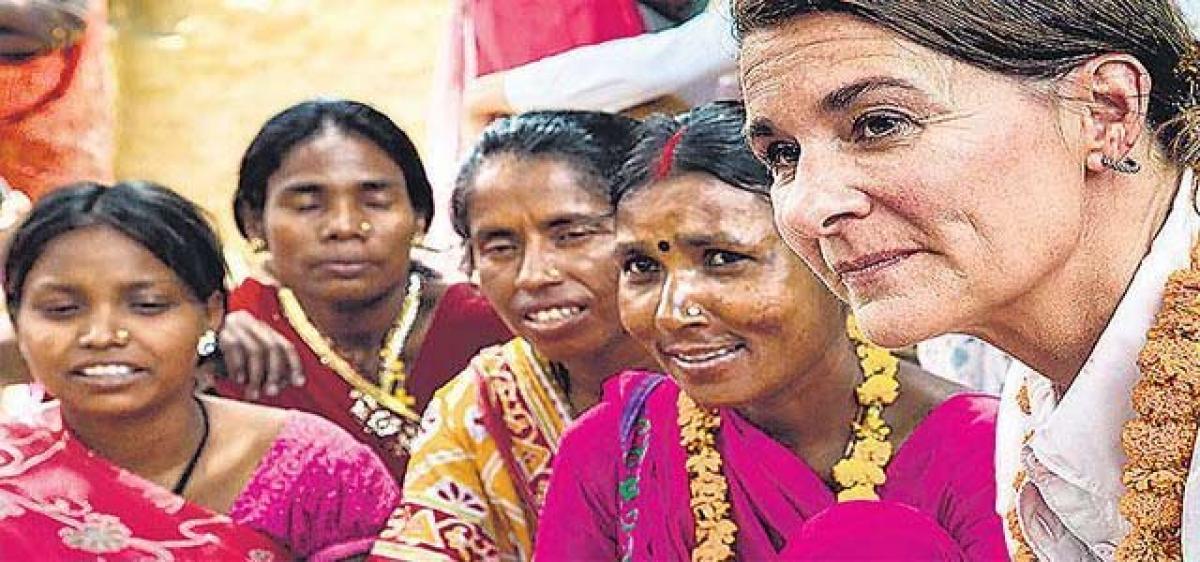 Highlights
All lives — no matter where they are being led — have equal value: Bill and Melinda Gates Foundation We know we cannot alter the value of a human life...
All lives — no matter where they are being led — have equal value: Bill and Melinda Gates Foundation We know we cannot alter the value of a human life – but this belief doesn't square with our actions. We live in a world in which women live mired in poverty, face gross inequalities and injustice from birth to death.
From poor education to poor nutrition to vulnerable and low pay employment, the sequence of discrimination is very hard, but all too common. The oppression of women stands as a stark reminder of how difficult it is to realise people's full human potential.
The world over, women provide 33 per cent of the work force, 70 per cent of the agricultural workers, 90 per cent of household water and fuel wood, 80 per cent of food storage, 90 per cent of the hoeing and weeding work and 60 per cent of the harvesting and marketing activities.
By opening up opportunities for women such as access to information and finance, networking and mentoring opportunities, and providing support and training to businesses, women can increase their economic participation, financial independence, and reduce poverty.
The challenge is to reach poor women who are landless labourers, smallholder agricultural producers, cross-border traders and factory and domestic workers and ensure that these women have access to the opportunities and benefits of economic growth and trade.
There are specific challenges when working with the poorest women such as: Lower levels of literacy; lower levels of participation in decision making both in the household and the community; lower levels of access to and control over resources; lower levels of access to networks and people who can assist and support, and greater vulnerability to sexual exploitation and abuse at the community level, if not the household level.
Such constraints require donors to take account of the specific needs of the poorest women in the design of programmes, including investments in infrastructure, such as roads and telecommunications.
Over the years several strategies have been used to empower women. One of these relies on community groups whose members can be trained and equipped to use their collective strength and wisdom to tackle their problems.
Social capital has become a ubiquitous part of community-based development theory over the last decade, especially at the World Bank. The idea presumes that the key to poverty alleviation lies in the capacity of a community to develop collectively beneficial activities and institutions. In too many places and too many ways, women are taking charge of themselves after grappling with the levers being provided to them.
In India, community groups set up in villages and slums to tackle specific problems are known as self-help groups. It needs great emotional intensity to break through age old barriers. This can possible only through groups who share the same emotional values and are driven by strong impulses of mutual goals.
One of the primary objectives is of course to avail loans which the women access by cross guaranteeing each other's liability. The women have the drive, ambition, and business acumen to create streams of income for themselves, but they often need a lump sum to get started.
When we place capital in the hands of women, especially low-income women, who don't have access to loans through traditional means it works wonders – unlocking her entrepreneurial impulses. They gain the courage and skills to break the cycle of inter-generational poverty.
We create the most powerful catalyst for lasting social change. With help for starting businesses, impoverished women can earn money and support their countries as well as their families. They are now perhaps the best hope for fighting global poverty.
As the development community works to achieve the sustainable development goals, we must remember that rural women are central figures in the fight to end global hunger. Investing in women is the way to a better world.
According to a Harvard Business Review study, women in emerging markets reinvest 90% of every dollar earned into "human resources"— their families' education, health and nutrition — compared to only 30 to 40% of every dollar earned by men. What is just coming into focus is that women represent an underutilised resource in alleviating that poverty.
The real benefits, the women say, cannot be measured in rupees—a lesson for anyone who believes that the poor are motivated simply by material needs and not the desire for respect, community and recognition. A vital part of the entire programme is the fellowship they share with their sisters. The groups have become astringents for soaking up the pain of their individual members.
These women inspire us, and they serve as good examples of how millions of brave and industrious people are working their way up the economic ladder, with dignity and pride. Being economically empowered, being able to stand up for themselves inside their families, is giving women a sense of autonomy and authority.
We should not discount completely the merit of providing certain goods and services to the people at the bottom of the economic pyramid, but the fact remains that poor people are not at the bottom of the knowledge, ethical, or innovation pyramids.
Unless we build on the resources in which poor people are rich, the development process will not be dignified and a mutually respectful and learning culture will not be reinforced in society. We must remember that inclusive development cannot be imagined without incorporating diversified, decentralised, and distributed sources of solutions developed by local people, on their own, without outside help.
For all interventions, the fundamental logic is plain: if we are going to end extreme poverty, we need to start with girls and women. The heroic stories of tenacious women scripting tales of economic success are great signs of a brighter tomorrow. For a world where people live on less than dollar a day this is an important step.
The journey of a thousand miles starts with a step. Truly, there is change in the air. Though not dramatic, not a headline grabber, it is a slow and quiet transformation that is underway in remote and far-flung villages.
By: Moin Qazi
Subscribed Failed...
Subscribed Successfully...