Did EVMs, not Modi, defeat them?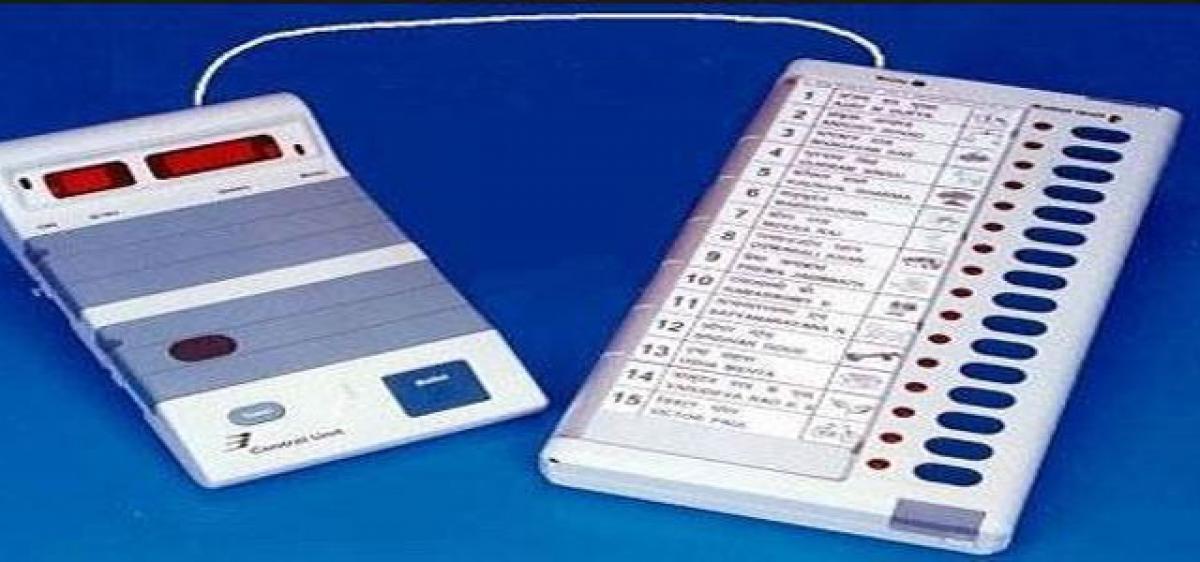 Highlights
"People did not defeat me, the EVMs did-' is the new WhatsApp slogan of some politicians in the country now.  By any yardstick, it is the most cynical...
Time and again, the Election Commission has proved EVMs are tamper-proof. Even courts said there is no question of introducing any virus or bugs for the reason that the EVMs cannot be compared to personal computers. Mayawati's allegations were ignored in general, but Kejriwal's were laughed at
"People did not defeat me, the EVMs did" is the new WhatsApp slogan of some politicians in the country now. By any yardstick, it is the most cynical summation of one's own failures. Arvind Kejriwals or Mayawatis better come up with some other excuse to retain their flock.
If Electronic Voting Machines (EVMs) were to be tampered that easily in India, why would any ruling party lose power at all in the first place? Why did the Congress allow the BJP to come to power in 2014 or how did the AAP sweep the elections to Delhi Assembly in 2015? Mayawati's comments were ignored in general, but Kejriwal's were laughed at.
The foremost question in the minds of the Delhites was: "Is he afraid of losing the upcoming Delhi civic elections?"
Alleged tamperability of EVMs' has been raised earlier too since their introduction including before the High Courts and the Supreme Court. The Election Commission of India has been maintaining that EVMs are not tamperable and the integrity of the electoral process has been intact.

The EVMs were mooted in 1977 by the ECI, the law was amended by the Parliament in 1988 December and a new Section 61A was inserted in the Representation of the People Act, 1951 empowering the Commission to use voting machines and the amended provisions came into force from March 15, 1989.
The Central government further appointed an Electoral Reforms Committee in January 1990 consisting of several recognised national and state Parties and it further constituted a technical expert committee for the evaluation of the voting machines. It unanimously recommended the same in April 1990.
Since 2000, EVMs have been used in 107 General Elections to state assemblies and three General Elections to Lok Sabha (2004, 2009 and 2014). The issue of tampering has been raised before various High Courts since 2001 - Madras High Court, Delhi Court, Karnataka High Court, Kerala High Court and Bombay High Court (Nagpur Bench). Their ruling has been unanimous - the EVMs are credible, reliable and tamper-proof. Ditto was the outcome in the Apex Court when these were contested.
The Karnataka and the Madras High Courts further observed that EVMs were better. The later ruled, "There is no question of introducing any virus or bugs for the reason that the EVMs cannot be compared to personal computers. The computer would have inherent limitations having connections through Internet and by their very design, they may allow the alteration of the programme, but the EVMs are independent units and the programme here is an entirely different system."
It was admitted before various courts that the data or technique brought in use in EVMs in India were not subject to piracy as nobody knows anything about the contents of any type or has any unauthorised or free access to EVM.
Thereafter, the controversy was raised by political parties again after 2009 General Elections to House of People stating that EVMs were not fool-proof and provide scope for manipulation. However, no specific allegation was raised nor could they prove before any court of law.
Some activists approached Supreme Court in 2009 which advised them to go to ECI. It was then these activists opened a dialogue and ECI threw an open challenge to anyone to demonstrate how the machine owned by ECI can be tampered with. However, in spite of opportunities given by ECI – machines opened and internal components shown – no one could demonstrate any tampering with the machine in ECI HQ. The proceedings were videographed.
In an extraordinary measure, the Commission invited those who had expressed reservations about the EVMs to come and demonstrate the points made in their allegations from August 3 to 8, 2009. Those invited included political parties, petitioners before various courts and some individuals who had been writing to the Commission on this issue.
One hundred EVMs brought from ten states namely, Andhra Pradesh, Delhi, Gujarat, Karnataka, Madhya Pradesh, Maharashtra, Punjab, Rajasthan, Tamil Nadu and Uttar Pradesh, were kept at the Commission's office in readiness for scrutiny and for any application to establish its alleged fallibility. The EVMs were offered for such demonstration in the presence of a technical experts group as well as engineers representing the EVM manufacturers, BEL and ECIL. The outcome of this exercise was that none of the persons, who were given the opportunity, could actually demonstrate any tamperability of the ECI-EVMs.
Some activists then showed on TV channel a 'machine' which they claimed can be manipulated. ECI countered allegation that the 'machine' was stolen from EVM warehouse in Mumbai, subjected to changes by activists and thus it was no longer the 'machine' used by ECI.
In 2010, all political parties except a few from Assam and Tamil Nadu, at a meeting convened by ECI, expressed satisfaction about the functioning of EVMs. At this stage, idea of VVPAT was moved for further exploration.
In 2009, in a case before Delhi High Court, all earlier allegations about EVM tamperabilities were raised. However, Delhi High Court satisfied with detailed reply of ECI why EVM cannot be rigged and about ECI efforts on developing VVPAT decided and disposed of the case in 2012 that VVPAT may be developed early in consultation with political parties.
The machine is electronically protected to prevent any tampering/manipulation. The programme (software) used in these machines is burnt into a One Time Programmable (OTP)/Masked chip so that it cannot be altered or tampered with, the ECI had always claimed. Further these machines are not networked either by wire or by wireless to any other machine or system. Therefore, there is no possibility of its data corruption.
The software of EVMs is developed in-house by a selected group of Engineers in BEL (Defence Ministry PSU) and ECIL (Atomic Energy Ministry's PSU) independently from each other. A select software development group of 2-3 engineers designs the source code and this work is not sub-contracted.
After completion of software design, testing and evaluation of the software is carried out by an independent testing group as per the software requirements specifications. After successful completion of such evaluation, machine code of the source programme code is given to the micro controller manufacturer for writing in the micro controllers.
From this machine code, the source code cannot be read. Source code is never handed over to anyone outside the software group of PSUs. Micro controller manufacturer initially provides engineering samples to PSUs for evaluation. These samples are assembled into the EVM, evaluated and verified for functionality at great length. Bulk production clearance by PSU is given to micro controller manufacturer only after successful completion of this verification.
The source code for the EVM is stored under controlled conditions at all times. Checks and balances are in place to ensure that it is accessible to authorised personnel only. During production too, the quality plan is adhered to. Moreover, these EVMs of the ECI are stand-alone machines not comparable to any in the world and additional features are continuously introduced to safeguard these further.
Then again the political parties do test the EVMs' before elections. A 1,000 machines are taken out randomly and tested. Why complain about these now.
The ECI had explained its position to the people several times. Keep doing a good job Kejriwals and Behenjis. Next time the EVM's might defeat the BJP and all your rivals. Until then, these argument sounds like a slant rhyme.
"No worst, there is none. Pitched past pitch of grief
I wake and feel the fell of dark, not day..." Pity these guys who disrespect the Aam Aadmi!
Subscribed Failed...
Subscribed Successfully...