Only civic sense can ensure societal wellness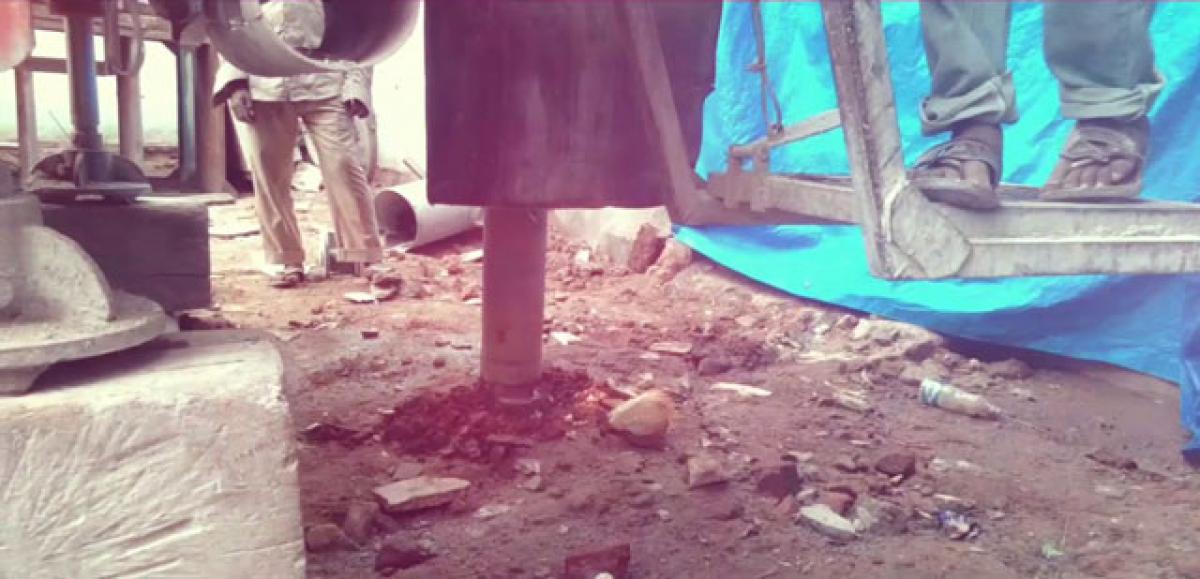 Highlights
The State Government leaves no opportunity to proclaim to the world that Telangana State enjoys top ranking across the national firmament in almost...
The State Government leaves no opportunity to proclaim to the world that Telangana State enjoys top ranking across the national firmament in almost every sphere, more so in adopting state-of-the-art technology. As if the claims were not enough, the policy makers remind us every now and then that technology can not only change one's life but also make it qualitatively better. However, the ground-reality exposes these lofty claims.
Take for instance, the ghastly incident where the authorities failed to save the life of 18-month-old Chinnari in Ranga Reddy district. She did not die because of any disease or road mishap. To put it more bluntly she lost her life because of the inept administration, which cannot guarantee human safety. Danger lurks almost at every thoroughfare. Chinnari died because she fell into a bore well and could not be saved.
Amid heart-rending scenes, a 53-hour collective effort by NDRF, experts from Singareni Colleries and ONGC failed to save her. More than anything, this was a fall-out of the abysmal absence of workable operational apparatus and more importantly the failure to make the civic body accountable for such tragedies.
Doubts are being raised over lack of proper coordination and failure to take speedy decisions by officials of various organizations involved in the rescue operations. When such incidents happen, the administration gets into a knee-jerk reaction. Of course, in some cases it has succeeded in saving lives of those who fell into it accidentally.
The tragedy of our times is that none is working on bringing about a change in the mindset of the officials, who are primarily responsible for plugging loopholes. Scientifically-woven sewerage and drainage systems and safer roads can be effective measures. All that is required is the will to do it.
In the cities, bore wells with smaller diameters are dug for domestic purposes whereas in rural areas they are bigger are they are meant for agricultural purposes. The laxity of the people is such that bore wells that do not yield water are abandoned and subsequently forgotten. They are virtual deathtraps.
If a child falls in them, it will take long for people to realise that a child could have fallen into it. Some bores are 300 feet deep (or more). It is not easy to pull out a child to safety using a vertical shaft. Earlier, a five-year-old Prince, who fell into a 55 feet bore well, was rescued after 49 hours. He survived the ordeal but not all are so fortunate.
In the case of Chinnari, though technology was used, lack of proper planning and coordination was visible. Since the area has hard rock under the ground, it would have been advisable to involve the Survey of India and National Geophysical Research Institute for digging a parallel bore well. Similarly instead of resorting to various experiments, the administration should have sought the help of army immediately but they did not do so.
Despite the regular recurrence of such events over the years nothing substantial has been done to put an end to these harrowing incidents. Way back in 2010, the Supreme Court had to intervene and issue guidelines to prevent recurrences of such incidents. Guidelines require that landowners should take written permission from authorities for digging bore wells.
Registration of all drilling agencies is mandatory as are erection of signboards and barriers around the drilling site, construction of a cement platform around the well casing, capping of well by welding steel plates and filling up of unused bore wells. But when money speaks and as long as corrupt officials enjoy a free run, the rule book goes for a toss.
There is no record of children getting trapped in bore wells. It is time the state government takes up such an exercise. A record of the action taken against the guilty and ex-gratia paid to the kin of the deceased should also be maintained. Such incidents also indicate the callous approach of the society.
With hundreds of bore wells dotting the rural areas and more numbers drilled each year for water, it is unlikely that a few officials of the state can effectively intervene to end this growing menace. Such a thing can happen only if all bore well owners and the community in general coordinate and rise to the occasion. After all, such a calamity may, God forbid, hit any household.
By V RAMU SARMA
Subscribed Failed...
Subscribed Successfully...