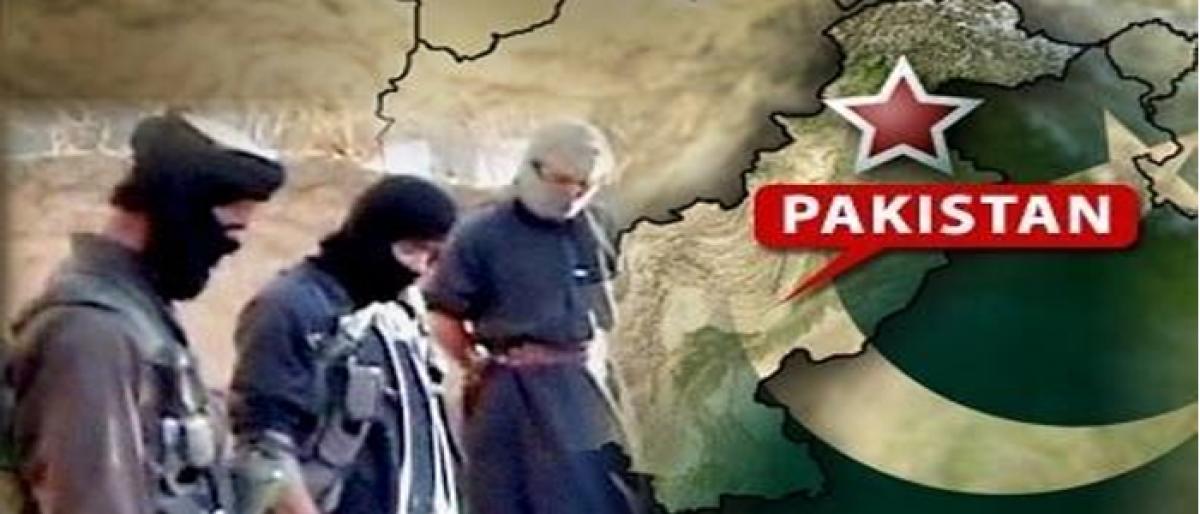 Highlights
The US President Donald Trump's tweet on 14 October had the South Block (India's external affairs headquarters) worried. It got busy in interpreting...
The US President Donald Trump's tweet on 14 October had the South Block (India's external affairs headquarters) worried. It got busy in interpreting the message. He tweeted "We are starting to develop a much better relationship with Pakistan and its leaders. I want to thank them for their cooperation on many fronts," after the Pakistan Army rescued a US-Canadian family from the captivity of Haqqani terror group.
Trump is known for his flip-flops on many policy issues. But this tweet shouldn't be ignored as one of those. What he says is in contrast to their Afghan and South Asia policy announced in August last. He had named Pakistan for supporting the terror groups and warned Islamabad of consequences. The policy added, "Pakistan had taken advantage of US support for years and had worked against US interests."
India was encouraged and emboldened by the US listing Hizbul Mujahidden and Syed Salaluddin and anxiously expected that the US will keep the heat on, especially as Haqqani Group was accused of killing American soldiers in Afghanistan. The same terror group had bombed the Indian Mission in Kabul Killing 58 people.
However, the moot point is, should India be too wary of America's utterances and policy on Pakistan? Should it rely heavily and solely on America to deal with Pakistan, which is aiding and abetting cross-border terrorism that bleeds Kashmir? Why cannot India take independent actions on Pakistan, seven times smaller demographically and eight times lesser in GDP?
In fact, India is all-talks and no-action on Pakistan. It does not back its rhetoric with action, to the detriment of its national interest. Axiomatically, a promise carried out is costly, and a threat, not carried out, is costly. Our mere posturing on Pakistan is proving costly. No action undermines India's deterrent position. Admittedly, it is in national interest that India deals with Pakistan directly, on its own.
There are four ways of engaging with Pakistan. First, the hawkish approach – to cow down Pakistan as it will not restrain otherwise. It can be diplomatically pegged with the 'carrot and stick' approach, but more stick than the carrot. To start with, India should begin to downsize the Pakistan High Commission in Delhi, which is infested with ISI elements.
It should withdraw the MFN status to Pakistan, which was unilaterally given and should leverage the Indus Water Treaty (IWT). Didn't Prime Minister Modi say "Blood and Water cannot flow together?" Instead, India has backslided, renewed the IWT, and given the World Bank a mediating role. India should stop the barter trade across LoC. In PoK, India has made no claim, except objecting to OBOR on the question of sovereignty.
In the 2016 Independence Day speech, Modi raised the issue of Baluchistan, the mayhem and murder committed by Pakistani Army, but since then, there has been no follow-up. To counter terrorism, India is fighting a proxy war in Kashmir.
It carried out surgical strikes in retaliation of the cross-border fires following Modi's surprise visit to Lahore. But, to be sure, such one-off strike will not tame Pakistan. India has to maintain the momentum of heavy retaliation in order to frustrate Islamabad's strategy of "seeking to inflict death by thousand cuts."
India is yet to declare ISI, as a terrorist organisation. It has imposed no sanctions against Pakistan. How does it then expect others like the US to take action on Pakistan, while it is dithering to do so itself?
The second approach to Pakistan is to treat it as a potential friend. We have missed more than one opportunity to solve the Kashmir problem amicably. Yet, if we make a hard assessment, Pakistan could be India's friend, and be treated as such. Despite the nuclearisation in both countries, and China's meddling in Indo-Pak affairs, it is unwise to consider Pakistan an enemy. It may be recalled that during Indo-China war in 1962, Pakistan took a helpful stand.
India and Pakistan should 'pool their destinies together' to lend substance to their symbiotic existence. One has experienced the warmth and affection when the people of both countries meet each other across their respective borders or in a third country. People-to-people bond is too strong to set aside in bilateralism.
The inimical posturing by both countries notwithstanding, there is no serious long-term security threat to each other. It is China that India and Pakistan should worry about which has an unstated territorial appetite. It uses India's neighbours including Pakistan as pawns against India. It has grabbed thousands of kilometres from India and is plotting to have more. New Delhi should follow the 'Gujral doctrine' to deal with its neighbours and keep China at bay.
Recall that as then Minister for External Affairs I K Gujral, who also became the 12th Prime Minister, had articulated his policy towards our neighbours in September 1996, which was called Gujral Doctrine. It had five principles: One, India should show a big heart without reciprocity from smaller neighbours except Pakistan, as the latter was capable of reciprocating; two, no South Asian country would allow its territory to be used against the interest of another South Asian country; three, no country should interfere in the internal affairs of others; four, South Asian countries should respect each other's territorial integrity and sovereignty; and five, South Asian countries should settle their disputes through bilateral peaceful negotiations. Reviving and adhering to this doctrine would ensure peace and security in the region, and restore Indo-Pak normalcy.
The fourth is a long-term visionary approach which calls for high statesmanship to be initiated. If Berlin wall can be demolished, if European Union can be constituted on the ashes of two world wars, and many small wars fought in Europe, a new South Asia can be created to stop rivalries and bloodshed. I am suggesting the creation of a United Nations of South Asia (UNSA). Looking back, the religious basis of creating Pakistan did not hold. Culture became a stronger unit. That is why Bangladesh separated from Pakistan although the former too is a Muslim country.
So, the Indian sub-continent comprising three countries, India, Pakistan and Bangladesh should be reorganised into nation-States; Punjab will be re-united into one, Kashmir will be one consisting of Indian Kashmir and PoK, Bengal would be one again with West Bengal and Bangladesh joining. This will coincide with the 'Akhand Bharat' approach, albeit with a difference.
What is more, Tamil Nadu and Sri Lankan Tamils could be one nation. So, the culture based on language, the biggest connector, would constitute the rationale of nationhood (States). South Asian Association for Regional Cooperation (SAARC) would be replaced by UNSA. It will end the internecine conflict of Kashmir and other such problems of nation-building.
Arguably, UNSA is a long-term vision, but not a Utopia. Moving in that direction will lessen a lot of tension in South Asia, Indo-Pak relations in particular. Such a vision, communicated and shared well, should encourage the countries in South Asia to work in unity and harmony.
To conclude, a South Asian approach towards integration is much better than inviting other countries like the US or China to interferer or mediate. Their association may maintain a 'balance of terror' will not ensure peace, security and prosperity, and certainly, it is the latter we must seek.
By: Dr D K Giri
(Writer is a Professor of International Politics at Jamia Milia Islamia University)
Subscribed Failed...
Subscribed Successfully...