A national mission for breast cancer need of the hour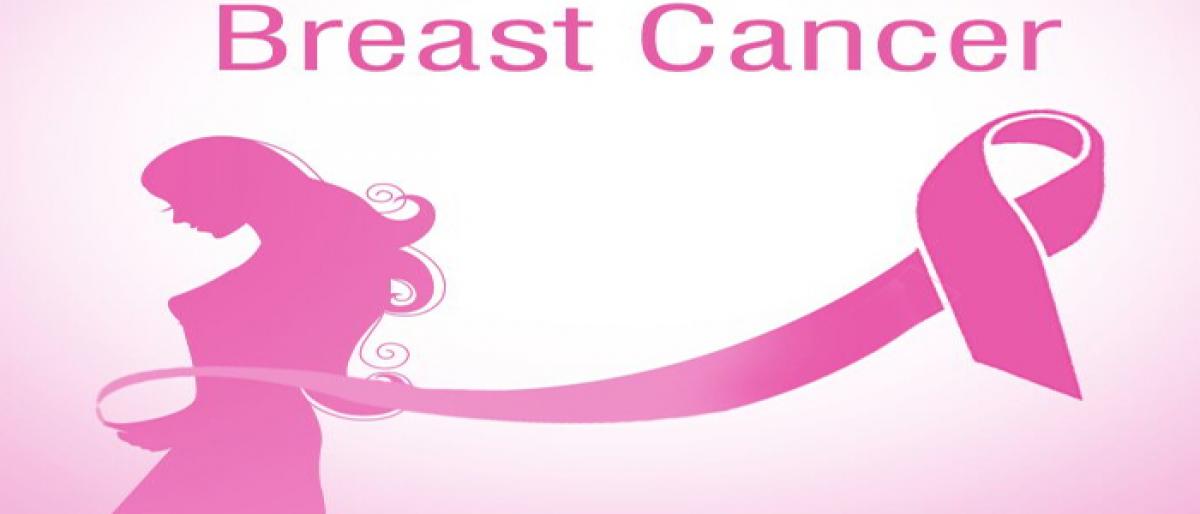 Highlights
Shreelakshmi Inampudis poem on the anguish of a woman seeing her breasts brutally severed, paradoxically for her own survival, is indeed the reality...
"My full moons
Bloodied and severed
On a steel plate
I put my hand on my chest
When I proclaimed the earth was round
Should I say now it is flat?"
Shreelakshmi Inampudi's poem on the anguish of a woman seeing her breasts brutally severed, paradoxically for her own survival, is indeed the reality of a breast cancer victim.
Breast cancer has many faces of distress – one physical, one financial, one emotional and one that hides shame and guilt under the façade of bravado. While the first three are common for any cancer, the last one is unique to breast cancer victims – they carry this huge psychological burden of shame that they are no more attractive to their partners and guilt that they cannot breast feed their children. This new age disease hits a woman at the very core of her womanhood shattering her own sense of self!
Breast cancer and economy
I must say that economy of the nation and breast cancer have a strange relationship – "protect women FOR economic development but protect women FROM economic development."
Let me explain this fragile equation.
From a national perspective, cancer can cripple the economy. It is estimated that cancer costs India somewhere around USD 9 Billion. Though there is no estimate of India's economic loss due to breast cancer, the disease itself has progressed exponentially in recent times, ahead of uterine, colorectal and lung cancers indicating that it could be very high. Studies say that India will have nearly 18 lakh women victims by 2020.
And the fact that the age of the victim is decreasing from 50 yrs to 30 yrs and in some States to even 21 years is in itself a big blow to the economy.
India's GDP will increase by 27 % if women join the workforce in equal numbers as men but it seems that even before the nation can empower women by 'skilling them' cancer is overpowering and 'killing them'!
Lets me show you the other side of the coin. It is established globally today that economic development is indeed the cause of cancer. Developed economies in the West such as in North America and Oceania top the rates of breast cancer.
Today's India, with rapid urbanisation, has a large women workforce that is ambitious and career oriented - they marry late, use contraceptives, have few children, breastfeed less, eat unhealthy, get no exercise, work long hours disrupting their hormones– needless to say all these factors increase their vulnerability to the disease.
Given the urgency to manage this malaise effectively, India should think of a national mission for breast cancer. Unlike other missions, this one should be designed to self destruct - just like some technology gadgets are 'built to die' with obsolescence built into them so that they give way to more relevant variants eventually, this mission can also disappear even as breast cancer risk disappears.
Let me now discuss the contours of such a mission.
Prevention should be the
priority
Given that breast cancer cure will face the exact challenges as Ayushman Bharat because of poor public healthcare delivery system and lack of regulation for private players, it is best to stay with prevention.
We know that ill-equipped primary health centres, crowded hospitals run by poorly trained staff, dubious referral system, long treatment queues and touts have pushed patients towards private providers.
In the absence of regulation - the Clinical Establishment Act implementation (that ensures compliance with ethical standards and minimum standards of facilities and services) private players are likely to continue their unethical practices. A case in point is 'Aarogyasri' scheme of Telugu States where 27,000 hysterectomies were conducted unethically!
Early detection and outreach
In India, today the survival rate for most cancers stagnates between 20% to 30% because patients come for help when the disease is already in the advanced stages. If cancer is detected early, 80% patients can be saved. In developed countries, 80% of the patients survive because of early detection.
Apart from early detection, looking to healthcare startups, encouraging them through seed and second stage funding will go a long way in early diagnosis. Examining images and data is time-consuming and relies on the judgment and skills of highly specialised experts. Startups are using artificial intelligence (AI) and deep learning tools that are almost fool proof - they save time and give accurate results.
Outreach is another important factor in prevention and early diagnosis. It should be a factor in cultural and sensitive issues like not having male doctors, having friendly community nurses, running creative campaigns, distributing coupons for health checkups and finally by not using the dreaded 'cancer screening' but something softer will yield greater results.
We also have to note that though the government has a legal obligation to provide health facilities, health being a 'State subject' this Mission will also be subjected to the whims of States as seen from Telangana and Andhra Pradesh that have not aligned with Ayushman Bharat – Therefore, the demand for early detection should come from women themselves! Outreach programmes should reach every woman of the country.
Research, registries and remedy
India should invest in research to understand why breast cancer is racing ahead of other cancers. Whether it is because of 'genetic proclivity', lifestyle or environmental pollution or a combination of all should be established conclusively.
As far as breast cancer registries are concerned, I doubt if we have anything exhaustive and authentic. Though National Cancer Registry Programme (NCRP) was initiated in 1982 by ICMR, to have a granular understanding of the disease, we must deploy India's capability in data collection and curation, big data analytics and deep mining protocols.
India should not only be in the know of International contemporary treatment protocols but also explore and exploit our own ancient medical systems like Ayurveda for both prevention and cure.
Breast Cancer dear friends is both cruel and capricious.
The very fact that this barbaric beast is pillaging the 'pink' which represents everything 'feminine and healthy' is undoubtedly a red flag warning for the country!
Subscribed Failed...
Subscribed Successfully...