India's Olympic gold dream shattered as Sindhu loses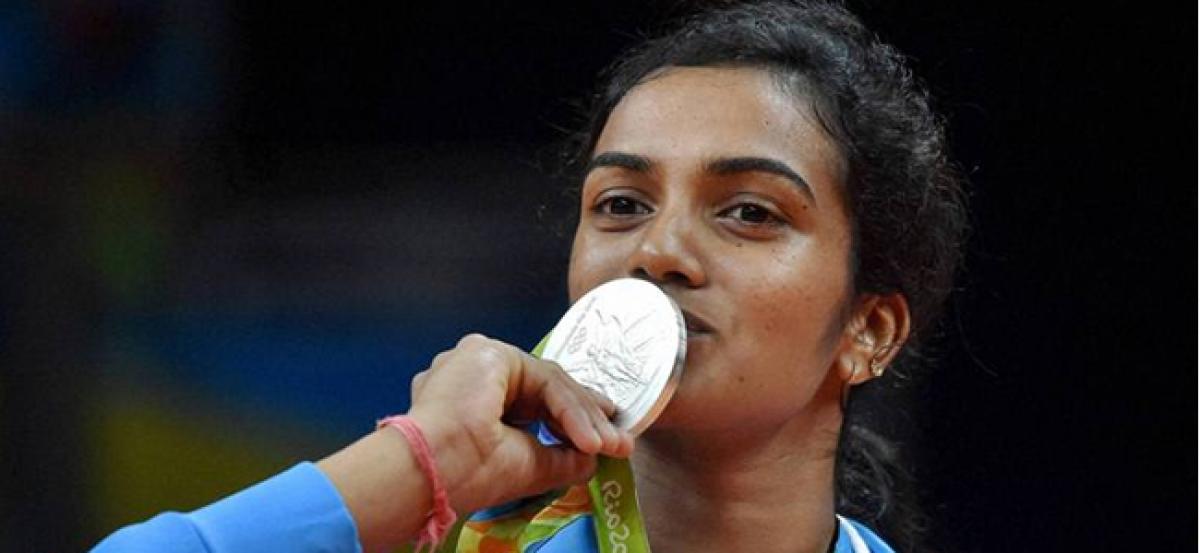 Highlights
All you have to Know about P.V. Sindhu http://www.thehansindia.com/posts/index/Sports/2016-08-19/Check-out-how-Bollywood-celebs-reacts-after-P-V-Sindhu-enters-into-finals-/249348
PV Sindhu who broke the jinx at Rio Olympics for India, lost in the just concluded terrific match which had a nail biting finish.
Sindhu, who had a rather slow start picked up the pace to win the first set. However, her opponent managed to clinch the other two much to the disappointment of thousands of Indians who were betting big on the Hyderabad girl to get us Olympic Gold.
P.V. Sindhu was ruling all over with her excellent performance at 2016 Rio Olympics. After beating the world's No 5 Nozomi Okuhara of Japan yesterday was praised by countless people who sat glued to their TVs and now are clapping for the ace shuttler Sindhu who gave a tough competition to World No 1 Carolin Marin.
P.V. Sindhu was born to P.V. Ramana and P. Vijaya who were former volleyball Players. Ramana who also won Arjuna Award in 2000 for his sport. Although her parents were professional volleyball players she chose badminton over it because her passion for badminton came from the success of Pullela Gopichand who won All England open badminton champion, who was also her inspiration.
She started playing Badminton at the age of eight. She first learned the basics of the sport with the assistance of Mehboob Ali at the Badminton courts of Indian Railway Institute of Signal Engineering and Telecommunications in Secunderabad. After that she joined Pullela Gopichand's Badminton Academy. She would appear on time for the coaching camps daily, travelling a distance of 56 km from her residence is perhaps her desire to be a good badminton player with the required hard work and commitment and she surely proved that she is infact an excellent badminton player.
Gopichand earlier coached Sania nehwal who won bronze at London Olympic 2012 after their end of the patnership he focussed on scounting for young players who could raise India flag .Gopichand is a tough taskmaker who keeps pushing his students to achieve great heights. Even after her win over second ranked Wang Yihan in the quater final, Gopichand felt that she could do better in terms of her defence ability.
On 10 August 2013, Sindhu became the first ever Indian women's singles badminton player to win a medal at the Worldchampionship. On 30 March 2015 she was honoured Padma Shri which was received for India's fourth highest civilian honour. Finally on 18 August 2016, She became the first Indian woman to reach Olympic finals.
Like Father Like Daughter even P.V. Sindhu was honored by Arjun Award by Government of India in 2013 afte she won Macau open Grand Prix Gold title after defeating Canada's Michelle Li. She was 18 when she recevied that award.
In the international circuit, Sindhu won Bronze medal at the 2009 sub-Junior Asian Badminton Championships which was held in colombo. She won silver medal in singles category at the 2010 Iran Fajir International Badminton Challenge. In 2010 Sindhu reached the quater finals of the 2010 Junior World Championships which was held in Mexico. Later she became a team member in India's national team at the 2010 Uber Cup.
In the year of 2013 P.V. Sindhu was the captain of the team Awadhe Warriors at Indian Badminton League. Her team qualified to the semis where they beat Mumbai Marathas but lost in the finals to Hyderabad HotShots.
In the year of 2014 Galsgow Commonwealth games Sindhu reached the semifinal stage in the women's singles competition, where she lost but she created history by becoming the first Indian to win two back to back medals in the World Badminton Championships.
In the year 2015 at the denmark open sindhu reached to her maiden final of Super Series event. While trying to reach finla she has defeated three seeded players, namely Tai Tzu-ying, wang Yihan and Carolina Marin. However in the final she lost to the defending champion Li Xuerui.
In the year 2016 Sindhu won the Malaysia Masters Grand Prix Gold for the women's singles title after beating Scotland's Kirsty Gilmour in the final. After which at 2016 Premier Badminton League Sindhu became the captain of Chennai smashers team. She won all the five matches to help her team qualify for the semis, in the Finals her team was beaten by Delhi Acers.
Read More: Epoch making day
Check out how Bollywood celebs reacts after P V Sindhu enters into finals