Read how David Warner transformed from flamboyant batsman to a responsible captain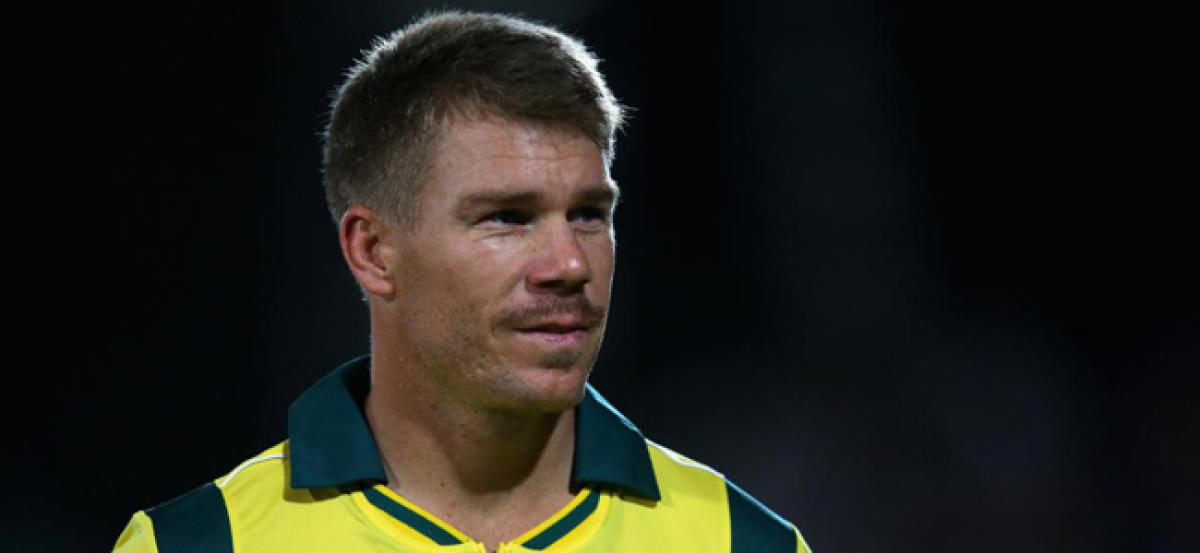 Highlights
Nobody knows whether he is good at doing a particular thing until he gives it a try. Many people spend their whole life assuming that they do not have a particular skill set to do a certain job.  But who knows! They may surprise even themselves by doing that job better than anybody else. Unearthing an unlikely hidden talent in a person that does not reflect his personality is like carving out
Nobody knows whether he is good at doing a particular thing until he gives it a try. Similar has been the case with Australia's opening batsman David Warner.
Nobody knows whether he is good at doing a particular thing until he gives it a try. Many people spend their whole life assuming that they do not have a particular skill set to do a certain job. But who knows! They may surprise even themselves by doing that job better than anybody else. Unearthing an unlikely hidden talent in a person that does not reflect his personality is like carving out a diamond from a coal mine.
Similar has been the case with Australia's hard-hitting, aggressive, flamboyant, and fiery opening batsman David Warner. Although casual and irresponsible in his early international career, Warner used to be a threat to the opposition always due to the aggressive nature of his batting. He was quite inconsistent but has shown immense improvement in the recent years as a batsman.
His batting average has improved, and he has established himself as Australia's premier batsman. Before the start of 2016, one would not have been amazed if he was told that Warner will go on to break many batting records in the coming years. However, the same person would laugh at you if you would have told him that Warner will start emerging as a skilful captain in the next six months.
It is so because aggressive and flamboyant players have rarely gone on to become successful captains in the history of cricket. However, there have been exceptions; the best example among them is India's present limited overs captain MS Dhoni. A flamboyant player at the start of his international career, Dhoni went on to become the most successful captain in Indian cricket history with an ICC World Cup, an ICC World T20, and an ICC Champions Trophy to his name. And now it is David Warner who is showing the same set of captaincy skills as Dhoni.
It has been a golden run for David Warner in 2016 as a captain. First, he led the Sunrisers Hyderabad franchise to win the Indian Premier League title during the first half of the year and now, he has led his country Australia to win back-to-back ODI and T20I series against Sri Lanka after a horrific 3-0 Test series defeat against them.
Captaincy is never an easy thing, especially, for an Australian when he is playing in Asia. Australia have been humiliated time and again in the last decade by Asian teams in Asia, and the trend seemed to continue when Australia came to tour Sri Lanka in the previous month under the leadership of Steve Smith, who hadn't lost a Test match in his stint of 14 matches as a captain prior to this tour.
The humiliation continued as a young Lankan team whitewashed the Australians with a 3-0 victory over them in the Test series. The ODI series started, and Australia somehow cruised to a victory in the first of the five matches. The Lankans came back strong again in the next match and registered a commanding victory over Australia. The tension was back again in the Australian camp and surprisingly, Captain Steven Smith was sent back to Australia. The reason cited was that the team management wanted Smith to have a good rest before the important series against South Africa in Australia.
Although the selectors and team management maintained that the decision was taken in the best interests of the team, it attracted heavy criticism from the fans and the pundits alike. The captaincy duties were handed over to David Warner, and he led a change in the mindset of the Australian players. Australia won the rest of the three ODI matches, thus winning the series 4-1 and later went on to whitewash the T20I series with a 2-0 victory over the Lankans.
He also registered a century, only in his third ODI match as a captain, in the fifth ODI against the Lankans. Often he inspired his team-mates with his solo efforts. Although Glenn Maxwell was the real star of the T20I series, Warner marshalled his troops in an incredible way. In the second T20I, he won the match with his fielding efforts as he converted a couple of half-chances into catches. It is these inspiring moments that matter; this extra energy and effort can add a new dimension and self-belief among each and every player, thus lifting their spirits during tough situations.
Even in the Indian Premier League this year, Warner led his team into the final with his solo batting efforts as he ended up as the second highest scorer of the Indian premier League with 848 runs to his name at an average of 60.57. He has been a prolific performer for the past three years in the IPL amassing over 500 runs in each season.
The most important thing about Warner's captaincy is that he is pro-active as a captain. He always seems to be in command of the game and never gives up even if the opposition is on top of the game. It is always a win-win situation for him; if he commits a mistake then he makes sure that he does not repeat it twice. And the most amazing part is that he enjoys captaincy and has full confident in his ability to lead the side.
The journey of Warner from being an aggressive, and at times casual, batsman to a responsible cricketer, who mixes caution with aggression and looks to bat throughout the innings, has been incredible. He himself sets the bar high for his team-mates with his consistent performances; he makes sure that he can see the same confidence in his team-mates as he has in himself. Now with this performance as a captain of the Australian team, he has certainly given the Australian selectors a headache with the captaincy situation. On one hand, there is Steven Smith who had done a good job prior to the tour of Sri Lanka and, on the other hand, there is Warner who is showing immense potential and promise as a captain. However, it is a good headache to have.
As far as Smith is concerned, 7 Test wins out of 14 Test matches, and 15 ODI wins out of 24 matches are surely good numbers. However, most of the victories have come playing at home. The thing that counts most is the number of away matches that a team can win. Now that Warner has already two away series victories to his name and that too in Asia, his name will always be on the back of the mind of the selectors from now on. If Smith's away record doesn't improve in the near future it is even possible that Warner will be handed over the duties.
But, the fixtures for the next few months is in favour of Smith at the moment as Australia will be playing South Africa, New Zealand, Pakistan, and Sri Lanka, all at home, till February next year. It is quite unlikely that Smith will be removed from captaincy duties in the near future. However, the Australian Selectors should consider Warner's captaincy skills seriously if Steven Smith continues on the same path in away matches as has been the trend.
Credits: sportscafe.in