Real Madrid beats Legia Warsaw to 5-1 in Champions League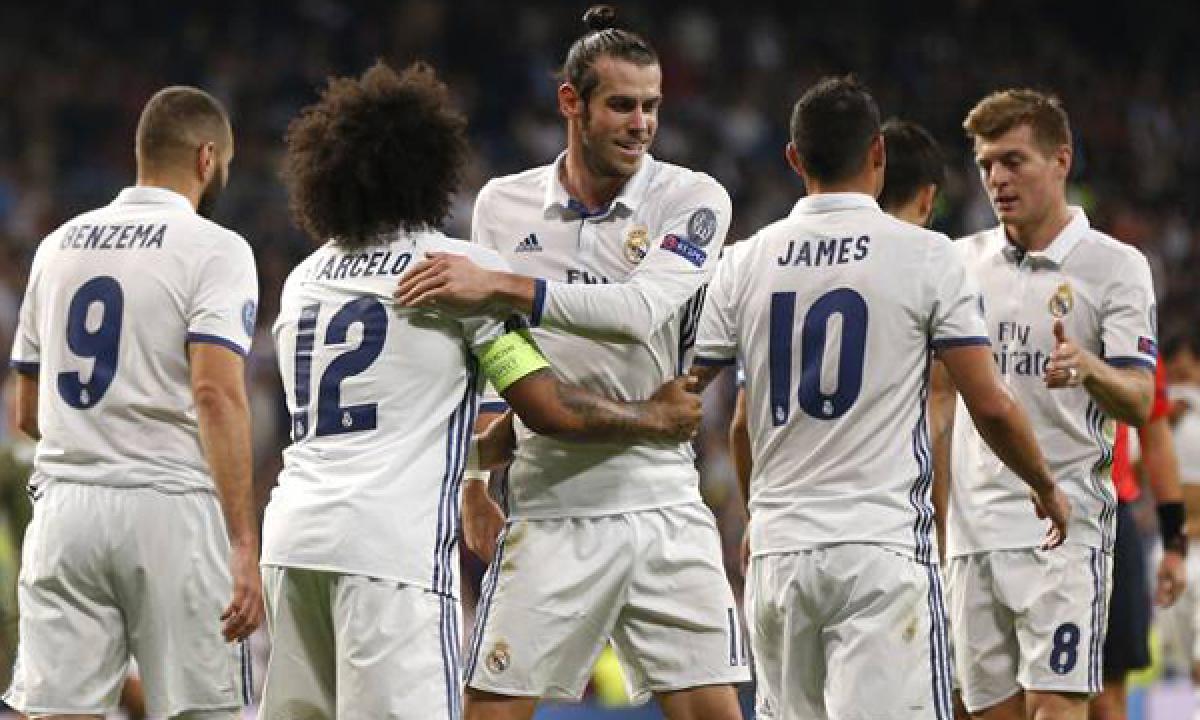 Highlights
Real Madrid hammered Legia Warsaw 5-1 to move closer to clinching a spot in the Champions League knockout stage, while compatriots Sevilla beat Dinamo Zagreb 1-0 in Croatia to post their first away win in seven years in Europe\'s elite competition. In other action on Tuesday, Leicester City topped visiting Copenhagen 1-0 to stay perfect on their return to European football after an absence of 16
Madrid:Real Madrid hammered Legia Warsaw 5-1 to move closer to clinching a spot in the Champions League knockout stage, while compatriots Sevilla beat Dinamo Zagreb 1-0 in Croatia to post their first away win in seven years in Europe's elite competition.
In other action on Tuesday, Leicester City topped visiting Copenhagen 1-0 to stay perfect on their return to European football after an absence of 16 years, reports Efe.
Though Real Madrid led 2-0 after the first 20 minutes of the contest at the Santiago Bernabeu here, they allowed Legia a surprising number of chances and the visitors' lone goal came on a penalty conversion by Radovic after Danilo brought down Kucharczyk in the area.
Gareth Bale, Marcelo, Marco Asensio, Lucas Vazquez and Alvaro Morata scored for the Champions League title-holders, who have seven points from three matches, tied with Borussia Dortmund at the top of Group F, though the German club has the edge on goals.
Dortmund won 2-1 away at Sporting Lisbon with first-half goals from Pierre-Emerick Aubameyang and Julian Weigl.
Sporting trails the co-leaders by four points and Legia seems well on the way to elimination after three losses.
Dinamo Zagreb faces the same situation after the 1-0 home loss to Sevilla, who ended seven years of futility in away games in Europe thanks to a goal in the 37th minute by Samir Nasri.
The victory gives the Spanish side seven points, enough to share the lead in Group H with Juventus, 1-0 winners over Olympique Lyon, who have three points.
Juventus, who would have fallen behind in the first half but for goalkeeper Gianluigi Buffon's great stop on a penalty by Alexandre Lacazette, had to play the final third of Tuesday's match with 10 men, prevailing on Juan Cuadrado's goal in the 76th minute.
Riyad Mahrez's strike in the 40th minute was all Leicester City needed in a 1-0 triumph over visiting Copenhagen.
The defending English Premier League champions sit atop Group G with nine points, five ahead of both Copenhagen and Porto, who defeated Club Brugge 2-1 courtesy of Andre Silva's successful penalty conversion in stoppage time.
In Group E, the first three match-days have yet to produce a clear favorite, as the four teams are separated by only three points.
AS Monaco lead with five points after securing a 1-1 away draw against CSKA Moscow, who remain winless. Tottenham Hotspur and Bayer Leverkusen drew 0-0 in the German city, leaving Spurs with four points and Bayer with three.