IJPL starts its selection camp in Greater Noida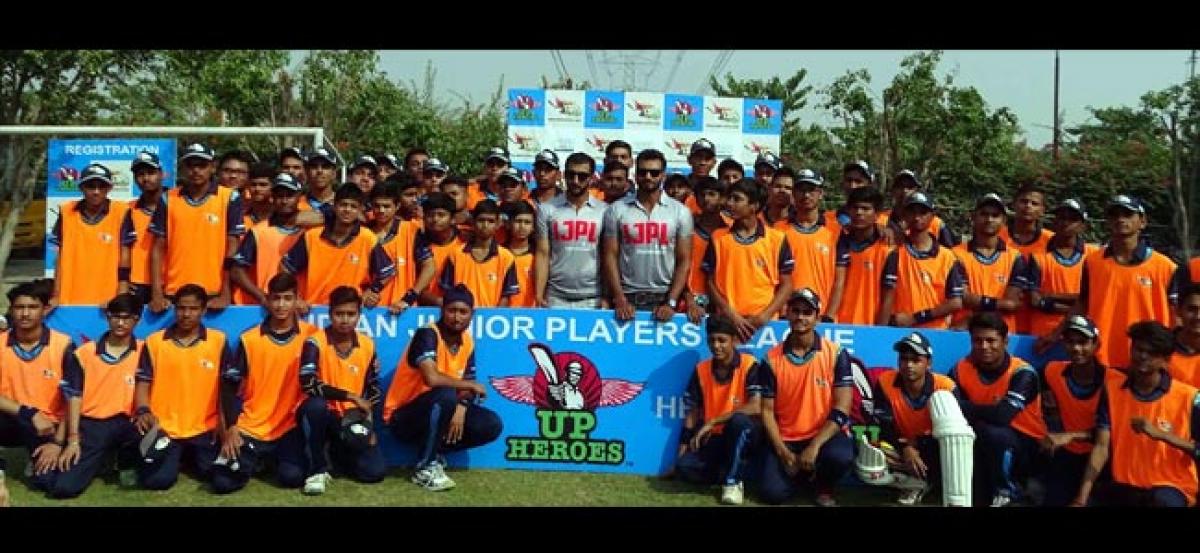 Highlights
Rishi Dhawan mentors young players in Greater Noida for world's biggest cricket talent hunt 
Rishi Dhawan mentors young players in Greater Noida for world's biggest cricket talent hunt
Greater Noida: Grace India Sports Pvt. Ltd and Fitness World have come up with Indian Junior Players League (IJPL) T-20 Tournament, world's biggest cricket talent hunt that is scheduled to screen thousands of young Indian cricketers across 22 cities in 16 states across the country. For this tournament to be played with pink ball, Gautam Gambhir, leading left handed opening batsmen has been appointed as brand ambassador. Ace international cricketers Jonty Rhodes from South Africa and Kieron Pollard from West Indies besides leading Indian cricketers Rishi Dhawan and Paras Dogra have joined this initiative as mentors.
Post immense response from budding cricketers, IJPL has started its three-day selection camps. Of the 22 cities, camps successfully conducted in Delhi, Gurgaon, Hyderabad and Ahmedabad witnessed massive participation. Currently, the selections are being conducted at Greater Noida and Ranchi. 15 cricketers shall be selected at each of these locations to represent their teams – UP Heroes and Ranchi Boosters.
Rishi Dhawan, renowned cricketer and member of the Indian national cricket team and Kings XI Punjab IPL team, interacted with many enthusiastic junior players in Greater Noida today and gave them tips on how to enhance their game. Rishi Dhawan was impressed with love for cricket amidst youngsters and said, "This is for the first time a tournament of this stature is being organized for junior cricketers. IJPL T20 is an ideal platform for budding cricketers, to interact with their role models and cricket stalwarts, and learn the finer nuances of their favorite game from seasoned coaches and players. I wish IJPL T20 participants all the best."
Dr. Dinesh Kapoor, Managing Director, Grace India Sports and Fitness World explains, "Fair trial shall be given to each player over three days and the best amongst them shall make it to the team. This is precisely why we are conducting the camp not just for one day but over three days so that participants get to showcase their mettle. We have instituted an anti-corruption committee headed by senior retired personnel from police services to ensure zero bias. Identity of selectors will not be disclosed and in fact the only identity of participants during these camps shall be a color-coded jersey number only. Performance shall be the only criteria for selection and all registrants shall be treated equally."
According to Jasmeet Bhatia, Founder and CEO, Grace India Sports, "Besides mentoring of students by international cricketers and expert BCCI-certified coaches with Ranji and first-class cricket experience, participants shall be imparted tips on nutrition and exercises as well. They will be told about foods and exercises to be avoided and the ones to be adopted."
Mr. Jawahar Gupta, Director, stated that all selected teams will be flown to Mumbai for a play-off during the 20 day stay.
The winning team will get prize money of Rs 21 lacs, the 1st runner-up team will get Rs 11 lacs while the Man of the series will get a chance to play with minor counties in England.
Other cities where the selection camps shall be conducted include Ambala, Chandigarh, Amritsar, Dehradun, Lucknow, Kanpur, Jaipur, Bhopal, Indore, Guwahati, Kolkata, Baroda, Mumbai, Pune, Chennai and Bangalore.
The 16 teams to be selected include Delhi Dashers, Haryana Hurricanes, UP Heroes, Punjab Tigers, Dehradun Rockers, Rajasthan Roarers, MP Warriors, Ranchi Boosters, Assam Rangers, Kolkata Strikers, Gujarat Greats, Mumbai Masters, Pune Panthers, Hyderabad Hawks, Chennai Champs and Bangalore Stars."
Subscribed Failed...
Subscribed Successfully...